Buying a leather jacket is an investment (but a smart investment, as I discussed in this post.) When you're thinking of buying a leather jacket, especially a pricey one, consider whether or not you can wear it to work.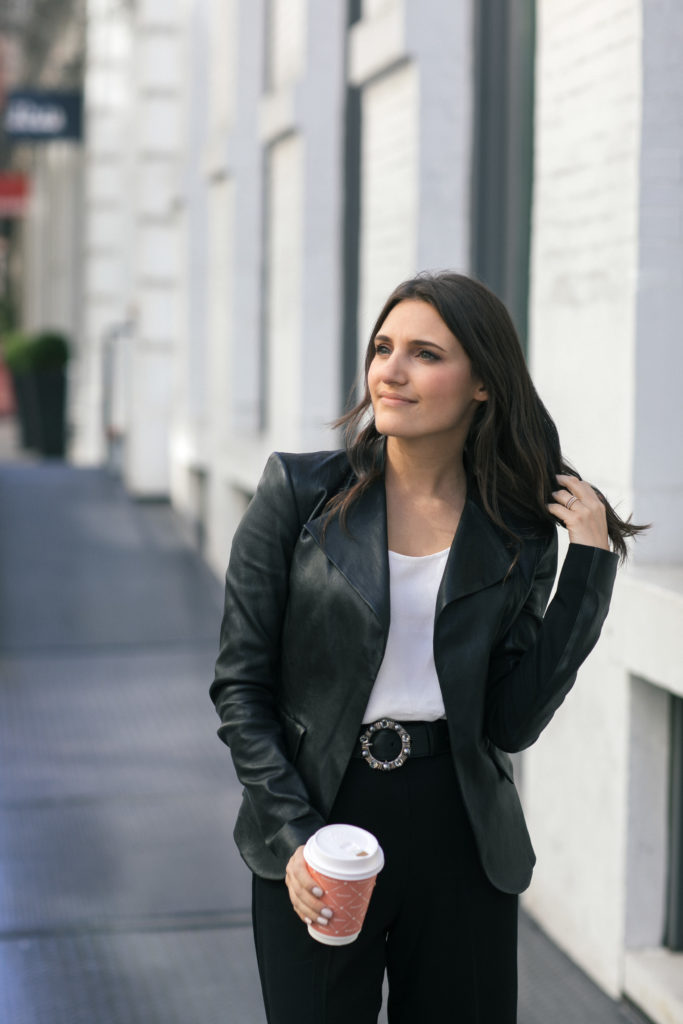 Here's what I think about when styling my leather jackets for the office:
Look for a leather jacket that has a more tailored fit. The leather jacket in these photos is my favorite work to weekend leather jacket that I own. It is slightly fitted, has a sleek peplum detail in the back, and a slightly cropped feel. This  jacket happens to also be 40% off…. just saying! 
Does the leather jacket have hardware on it? What isn't office appropriate? A leather jacket that feels too "biker chick." Although I absolutely love these leather jackets for the weekend, I try to avoid them for the office unless it is a casual Friday or holiday. Too much hardware can make a leather jacket feel very funky and casual and not polished and professional (which is the look were going for in an office setting, right?)
If you're going funkier on top, keep the rest of the outfit relatively simple. I obviously have a thing for black – but you can absolutely mix a simple black leather jacket with other neutrals like burgundy, green, beige, and grey. This peplum leather jacket looks great with a polished wide leg trouser and simple camisole. A wide leg trouser is a perfect way to make almost any look feel professional and polished.
It's all in the fit! Is your leather jacket oversized? Too cropped? Baggy in the sleeves. Any easy way to make a look feel unprofessional is to wear something where the fit is off. Jackets in particular can look really cheap (regardless of price) when the fit is off. They can also look really expensive (also regardless of price) when the fit is on. I get a lot of questions about tailoring my clothes because I am so petite and I really try to avoid it when I can. Tailoring is expensive and a huge pain! The sleeves on this jacket are a bit long on me (despite wearing a size 0) but because they are simple, I am able to cuff under some extra fabric! Leather jackets are typically difficult and expensive to alter, so if the fit is off, don't buy it!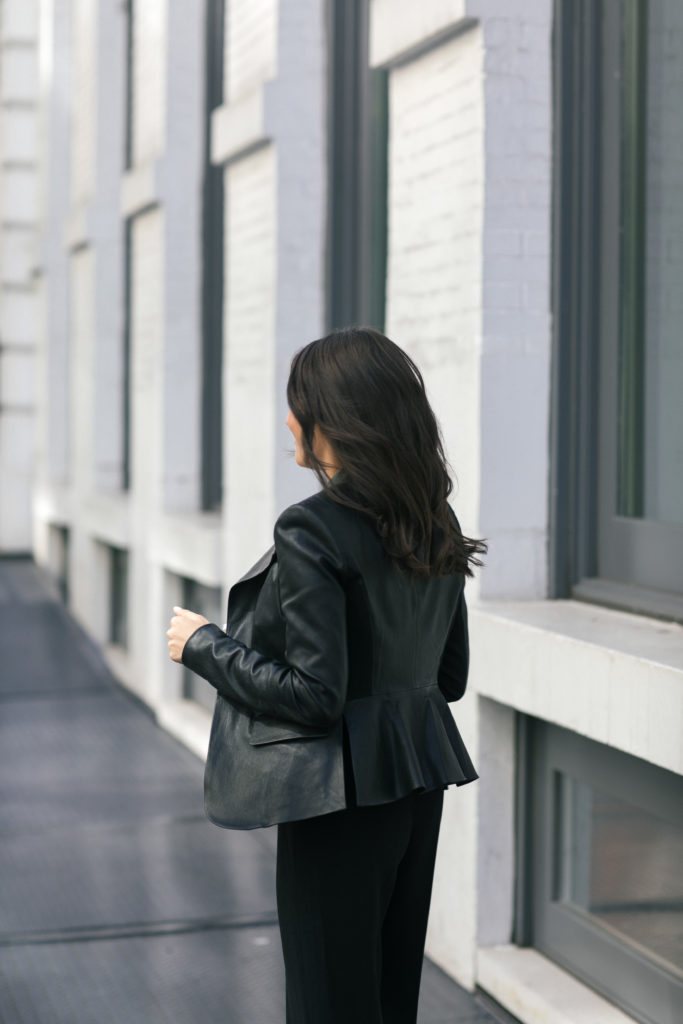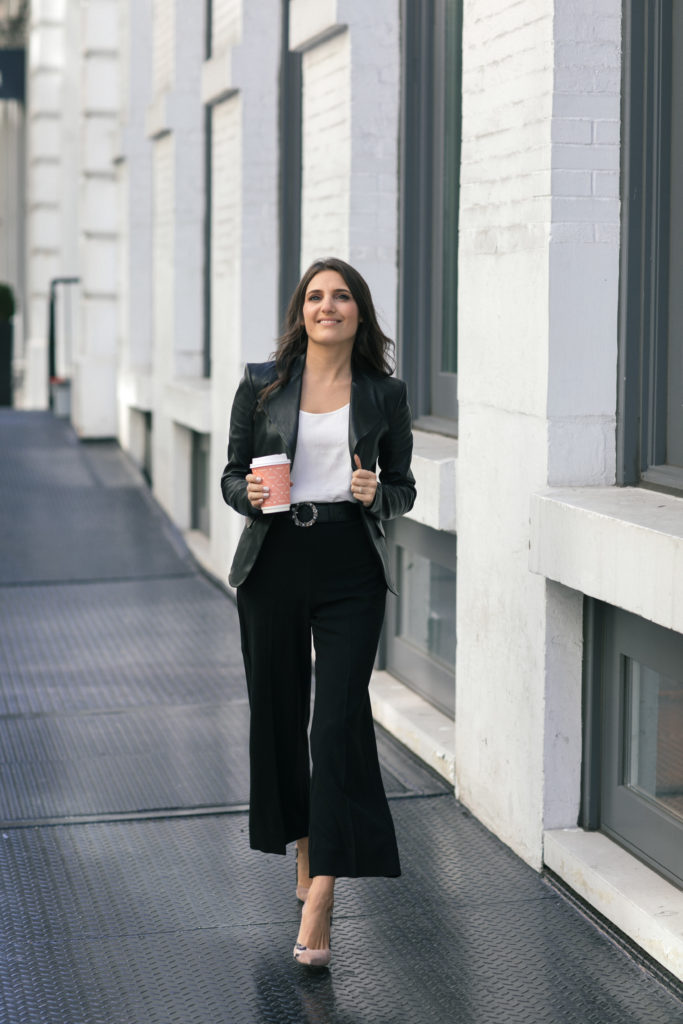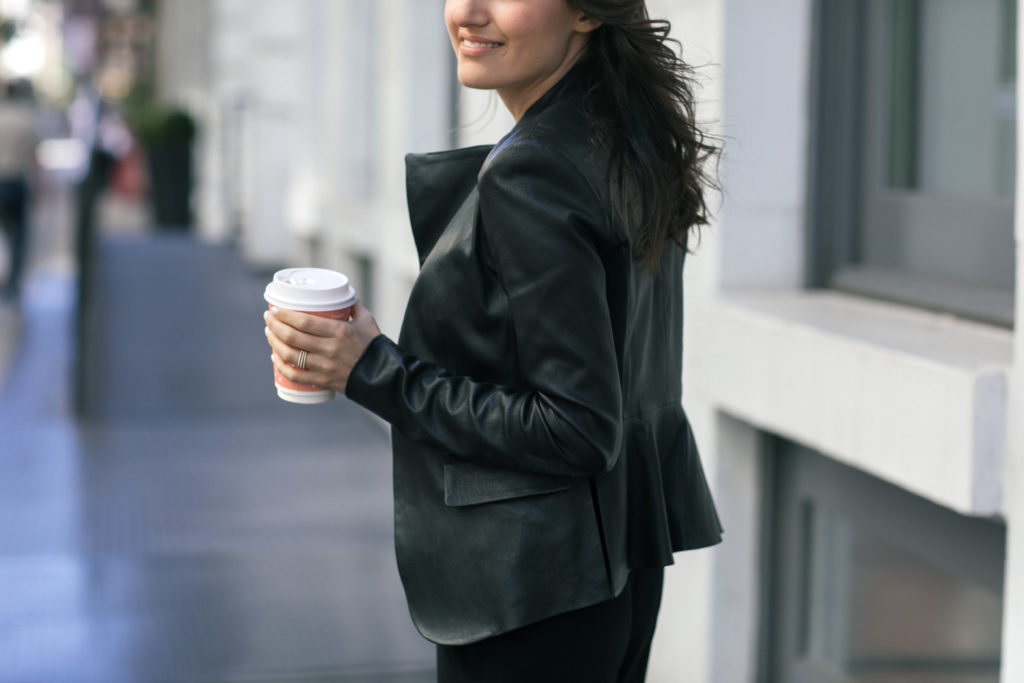 Wearing: leather jacket (40% off... and seriously one of my favorite pieces in my closet) | trousers | camisole | belt | Sergio Rossi pumps (sold out everywhere!!)
Shop the look here!
Save
Save

Share the post "how to style your leather jacket for the office"