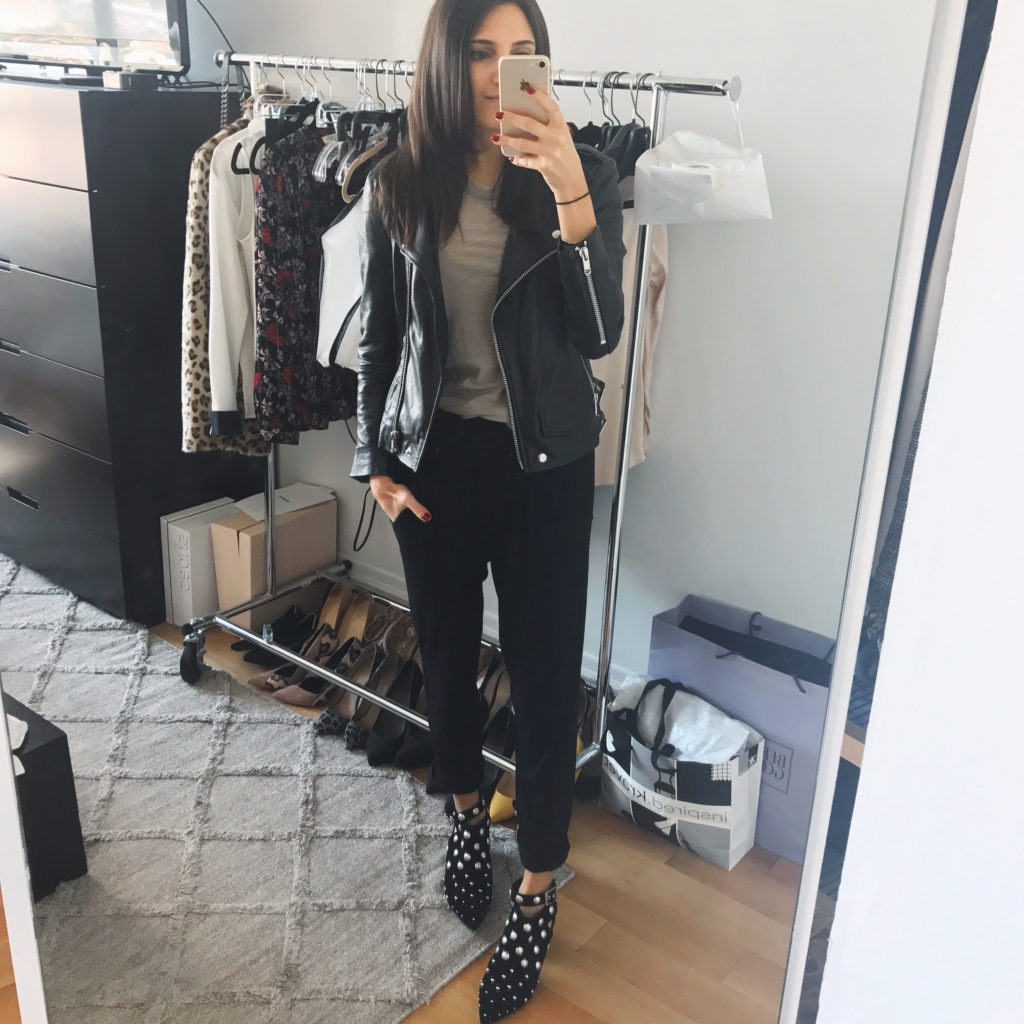 Wearing: leather jacket | jogger pants | t shirt | boots
Leather jackets (especially real leather) are an investment. I read an amazing article once that of course I can't find anywhere, that showed the economics per use of pieces of clothing in your closet. For example. If a watch cost you $2,000 and you wore it every single day for five years straight, that watch cost you $1.09 per use. On the other side, let's say you spend $59.99 on a really trendy Zara top, that top cost you about $30 per use. Which is the better investment? Now, I'm not saying that we should all go out and buy $2,000 watches instead of Zara tops, but (although I know this is obvious) it's important to truly consider how many times you are going to wear something to justify the price.
This leather jacket is one of the best purchases (if you consider cost per use!) I've ever made. It's real leather, and cost under $500 and I wear it at least three times a week in the fall and spring. In the winter, I'll layer it over a sweater and wear underneath a real jacket. It will probably never go out of style because it's not overly trendy and the fit is perfect. I can even wear it to the office because it isn't too "moto." The leather is incredibly soft and the hardware details aren't overwhelming. Many comparable leather jackets I've found have been well over $750. Although the jacket is certainly an investment, if you consider how much use I get out of it and the quality and fit – it is one of the best investments in clothing I've ever made!
I found a few other similar leather jackets that you can shop below! I also know that not everyone wants to spend ~$500 on a leather jacket, so did find a great one that is only $95 (obviously that one isn't real leather though, but it looks pretty good!)
Sa

This is definitely a very casual look for the office, so I wouldn't recommend it for every office setting. However, if you do work in a more casual setting – or you're looking for a great weekend look – these pants are very on trend, and VERY comfortable. The jogger pant trend is basically an excuse to wear sweatpants out and about and look cute doing it. And I am certainly not complaining about it!
The boots are a little funky for me, but when I saw them, I had to have them! I do think they make jogger pants look a little more polished, rather than wearing them with sneakers. Going back to the beginning of this article, I try not to spend too much on "funkier" items, like these studded open back boots, that may only get me through a season or two. These boots are $135, and if you assume I'll wear them once a week in the fall and probably again in the spring, it's not too bad! $5.63 per use if you want to be exact 🙂
Shop the rest of my look here!
Save
S

Save
Save
Share the post "How much does your leather jacket actually cost?"