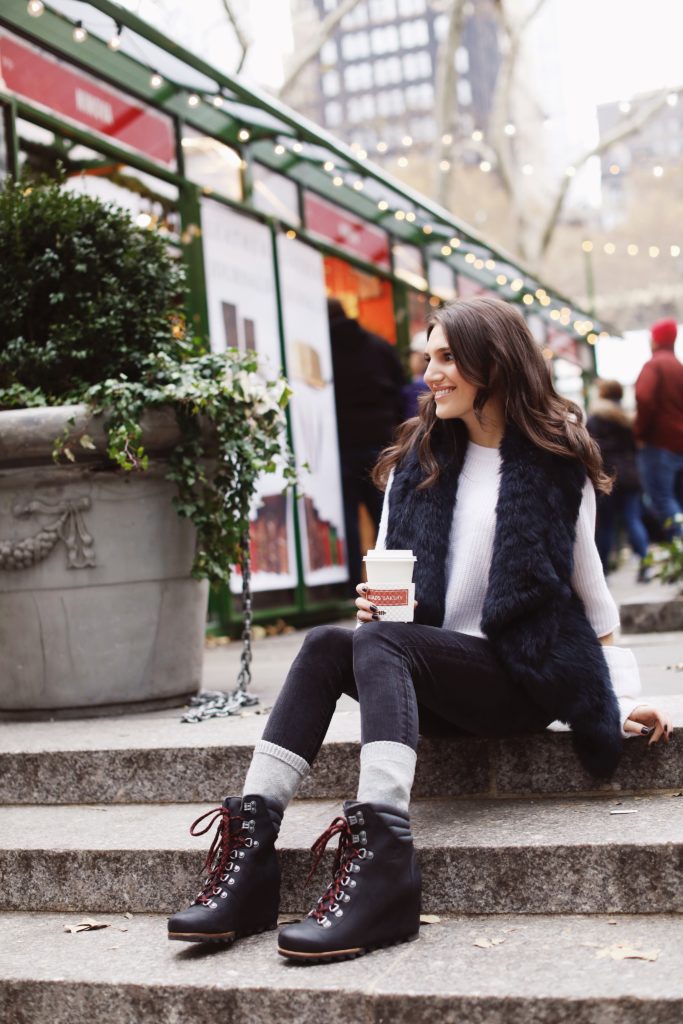 Wearing: boots | socks | jeans | cashmere sweater | fur vest
Winter in New York
I begrudgingly dragged my husband to move out to New York from LA about four years ago. Although I think he has (finally) embraced New York City as his home, he still debates me on the weather. He says, "you can love New York so much, but you can't possibly prefer the weather here." Yes, I can appreciate 75 degree, sunny weather 365 days a year, but I LOVE the holiday season in New York and wouldn't trade it for anything! There is something so magical about the seasons changing in New York. I love wearing my coats and cold weather accessories, putting on cozy socks, and running around in my favorite boots. I love sipping hot chocolate and feeling that instant relief when my cold hands grip the hot cup. And I love the energy in all of the department stores during the holiday season!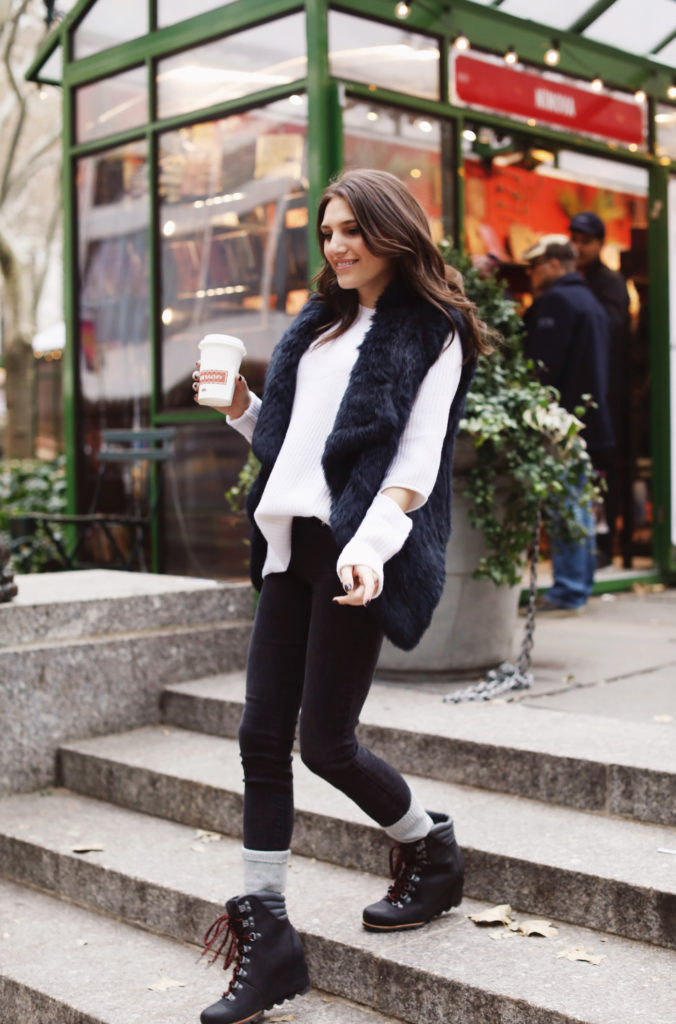 Bloomingdale's is my go-to for cold weather accessories
Not only for myself, but for gifts too! They carry a very wide selection of brands, have a very customer friendly return policy, and have so many different style options that you can really find a gift for anyone. I recently picked up some new cold weather accessories to stay warm and look cute on the weekends and on my walks to work.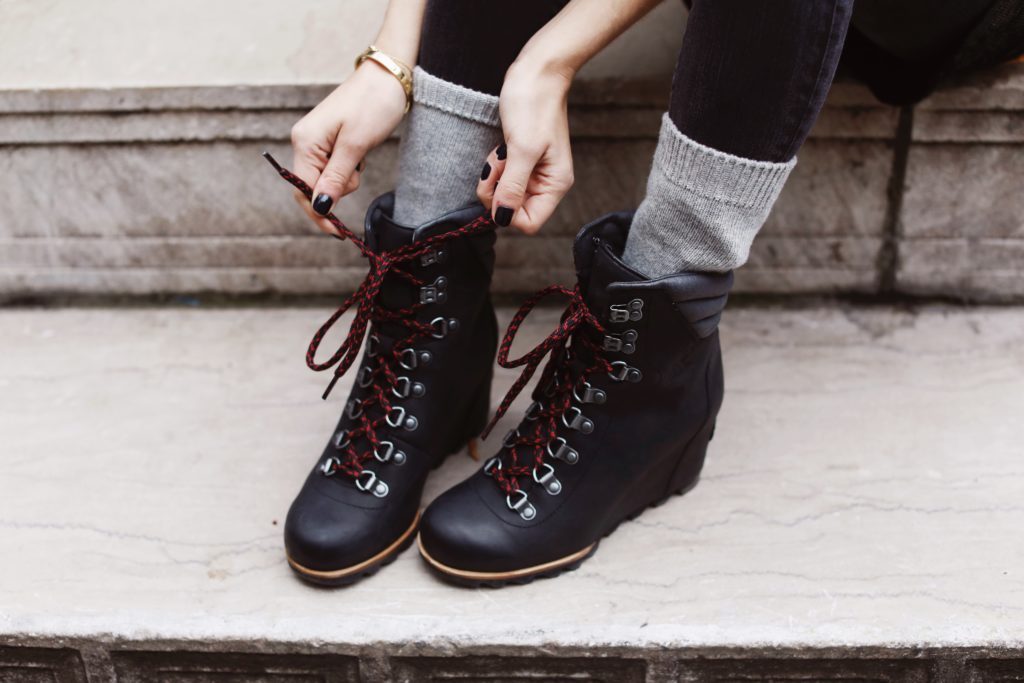 A cooler all weather boot
These Sorel boots are a cool new take on an all weather winter boot. If you've never owned a pair of Sorel boots before, they are the absolute best for getting through any winter weather. These boots have a hidden wedge (great for my petite friends) with a rubber, gripped bottom which makes it easy to trek through most winter conditions in them. . If you are wearing them to work, you don't have to worry about longer trousers dragging on the floor in the rain or snow. I also love the pop of color with the red laces – lumberjack chic, anyone? They are functional enough to wear on my commutes, but stylish enough that I feel good putting them on during the weekends.
My younger sister taught me that its cool to wear a cozy pair of socks out of your boots. I used to always tuck my socks under my jeans but I think this look is a lot cooler. These socks are an essential cold weather accessory (what is worse than cold feet!?) but also make for a great gift. Socks are usually one of the last things I ever want to buy for myself. It also looks great to through a more festive printed sock underneath.
My favorite cashmere sweaters
I mentioned this in my Black Friday guide but in case you missed it – these Aqua cashmere sweaters are the best out there for the price, quality, and style. I now own about four of them. This winter white cashmere sweater with cut outs around the elbows. There are a ton of Aqua cashmere sweater options form everyday basics to more trendy like the one I'm wearing, and most are well under $200.
I threw a black fur vest on top to stay warm. I've been wearing fur vests under and over everything as the weather has gotten colder in New York. It's one of the most versatile winter pieces I own. When its FREEZING, I through this vest under my heavy down jackets. When its a bit warmer I'll wear it over a leather jacket.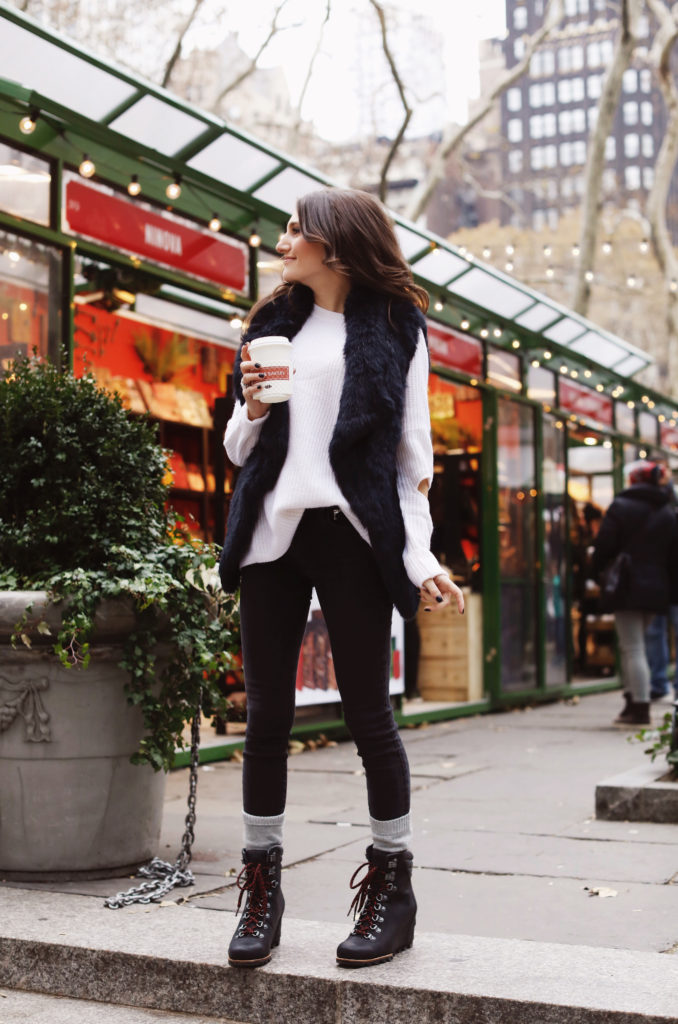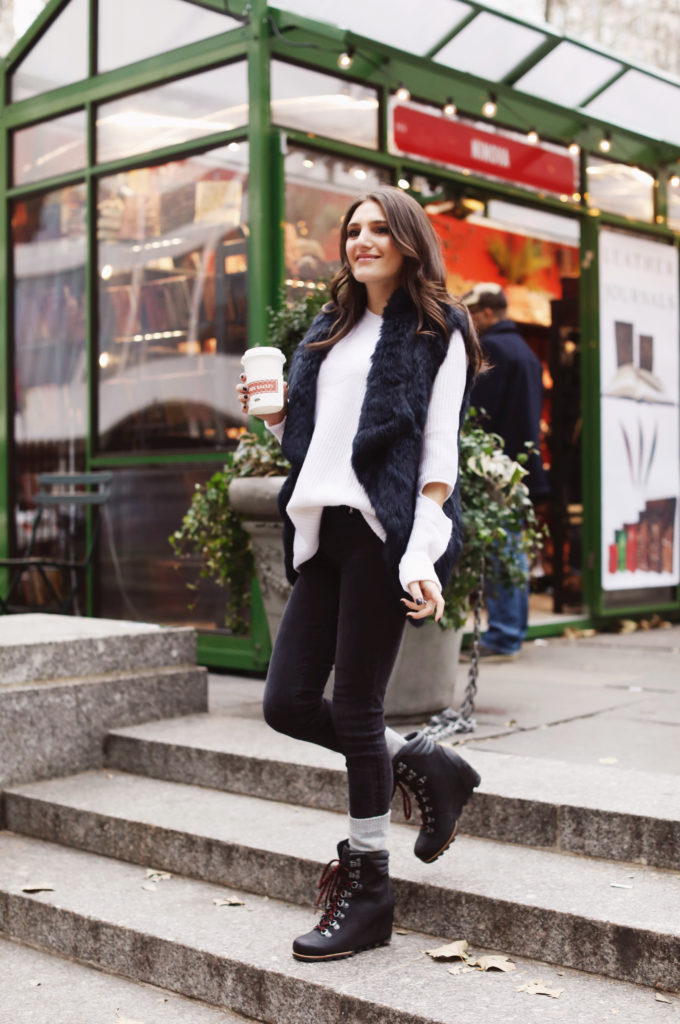 Shop the look below!
Post sponsored by Bloomingdale's