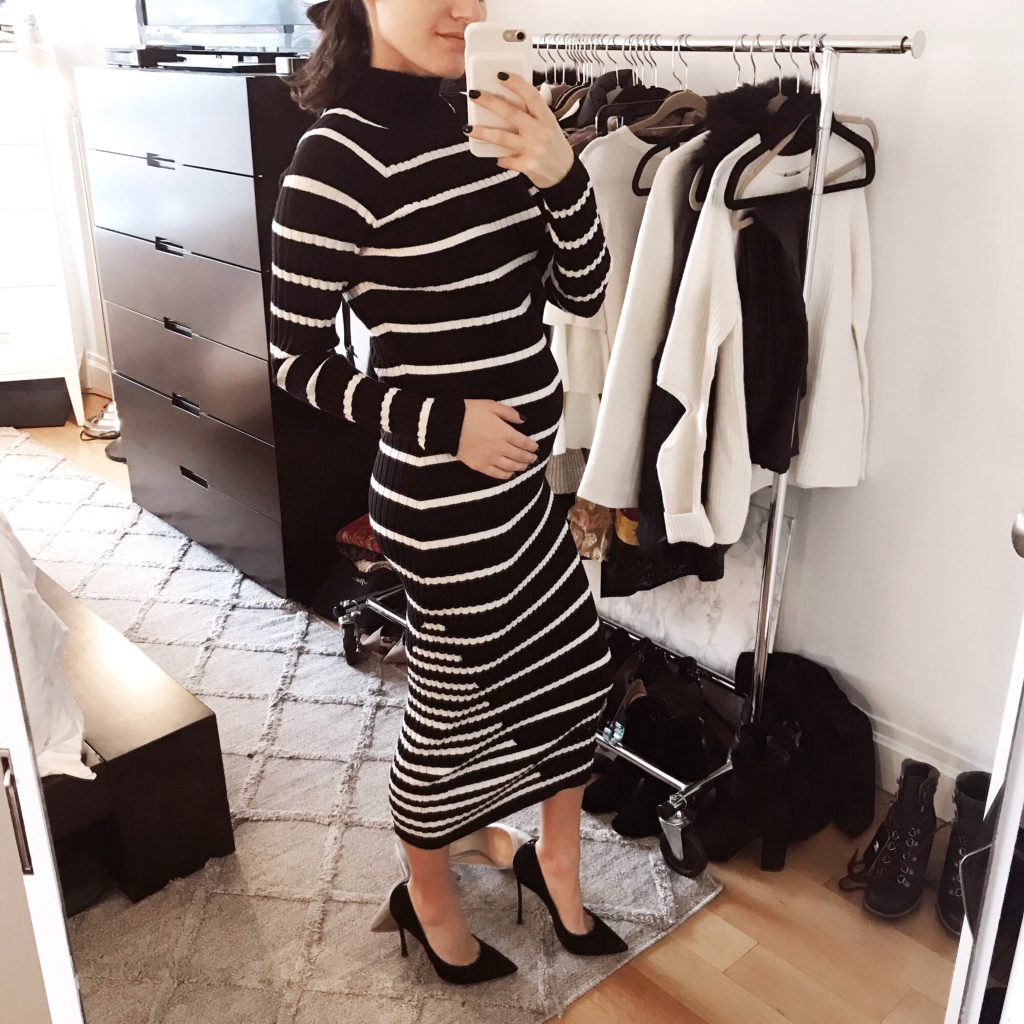 Wearing: dress (60% off!, now under $200) | pumps (similar) | nails
Monday will mark 20 weeks into my pregnancy, the halfway mark! Although every day that goes by feels like a milestone, 20 weeks feels particularly exciting. By 20 weeks, the baby can hear and taste and is about 6.5 inches (the size of a banana if you're into comparing the baby to a fruit!) At 20 weeks, most doctors recommend a detailed anatomy scan where they take measurements on all of the baby's body parts. By now, we can see her profile on the ultrasound and her face is becoming so "human-like"
We are off to Hawaii for the holidays in two weeks as I've been told this is the best time in pregnancy to travel! For long flights, some doctor's recommend taking a blood thinner (either a baby aspirin or a small injection… both of which I am on.) As that isn't always necessary, I've been told its best to get up every hour or so to walk around a bit while on planes. I'm a little uneasy about getting back in a bathing suit because the bump is still so small that I may come off more "thick" than pregnant… but will embrace however it looks when I get there! So long as I can find a bathing suit that fits…
Since 12 weeks…
The bump!
As you can see from the picture above, my bump has started to pop out! I already feel "huge" even though I know I have a lot more growing to do! In the morning , it still looks pretty small, but after lunch it becomes more and more noticeable. Although I don't love not being able to fit into many of my clothes, I absolutely love my growing belly! From time to time I look down and remind myself, "oh wow, this is really happening." I didn't gain much weight in the first trimester, but now I seem to steadily be gaining about a half a pound a week.
Food
I feel so much more normal with food. I'm not 100% back to my old eating habits but finally was able to eat a piece of salmon last night (heavily coated in a buttery breadcrumb mixture…) which I had not eaten in four months. I don't really have any unusual cravings but am still pretty averse to red meat. I get that "I'M STARVING" feeling way more frequently now, but also feel full faster than usual as I eat. I still love croissants and french fries and have been eating at least 3 bagels a week 🙂
Linea Nigra
The Linea Nigra is this thin dark line that  appears in the middle of your belly during pregnancy.  Starting at 19 weeks I started to see this!
Kicks
Not yet!! My doctor told me I should start feeling some movement any day now so I am anxiously awaiting! Depending on the placement of the placenta, some women don't feel anything until 21 – 24 weeks (this seems to be what is happening with me.)
Workout
Now that my energy is much better, I've started working out again! I try to get to a gym class 2 -3 times a week, but if I'm ever not feeling 100% I don't push myself. I've been told that it is okay to continue any workouts you were doing pre-pregnancy as long as you know how to safely modify. I had been doing a form of pilates, SLT, since I got engaged four years ago so am very comfortable with the machine. I also read up a ton on which moves are pregnancy safe and which are not. Some instructors are amazing at keeping an eye on me and my modifications, but SLT is not typically a class with a ton of pregnant women so I probably wouldn't recommend it if you haven't done it in the past.
I've also started taking barre classes which are way more pregnancy friendly. I really love Physique 57. The instructors are always extra attentive to pregnant women and  constantly adjust my form to make sure I'm not doing anything potentially harmful.
I wanted to try taking yoga… but I get too bored in that! I wish I could get into it…
Baby prep
Especially after what I've been through, I am pretty superstitious and trying to buy as little as possible in advance of the baby. With that said, doing research has been so fun! Over the past few weeks, Jason and I have become experts on every stroller we see on the street, I've browsed through the newborn section at Bloomingdale's, and I spent a morning at RH Baby and Home to start thinking about furniture! Is this not the cutest thing you've ever seen!?
What I've been wearing
Dresses
Stretch dresses and sweater dresses have been my go-to's. At this point in the pregnancy, I think it looks best to "flaunt" the bump instead of trying to buy it. Shop some of my favorite maternity friendly dresses below (FYI – most of these are not actual maternity dresses, so even if you're not pregnant, there are some really cute ones!)
Pant guide
The rubber-band trick started feeling a little uncomfortable at around 18.5 weeks. I'm still squeezing into my Rag and Bone Simone pants for work but have to wear the zip half open!! I decided it was finally time to buy some maternity pants and tested out a ton of different brands. I'm so mad at myself that I forgot to take pictures as I tried them all on, but here are my reviews:
Shop all the jeans I tried below: