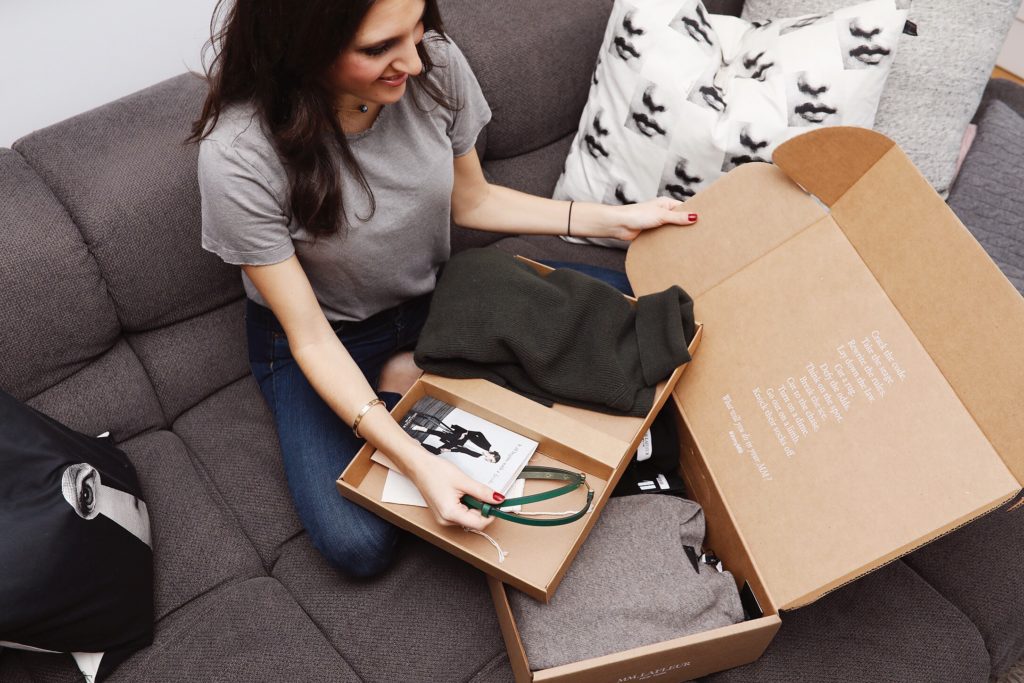 I have an obsession with workwear and still constantly struggle to find brands who truly "get me" and my needs as a working woman. Yes, I love trendy clothes and getting inspiration from bloggers wearing crop tops and hot pink matching pants and tops on Tuesdays. But, no… that style of clothing is typically not suitable for what I need to wear everyday to my professional office setting.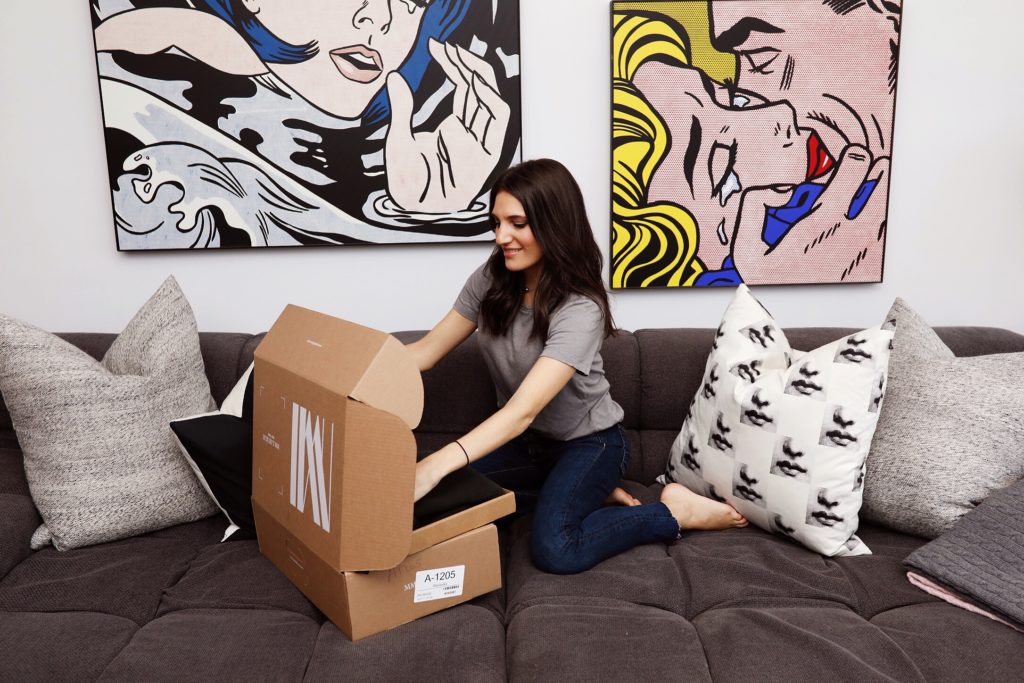 I recently discovered MM.LaFleur and finally feel like there is a brand out there who completely understands us. They understand that we like looking polished, but it doesn't mean we have to look frumpy. They understand that we enjoy style and cool trends but need to make those trends office appropriate. And most of all – they understand that we are busy and buying something that is convenient is almost just as important as what it is we're buying.
My first bento box
MM.LaFleur is a brand made by working women, for working women. Although you can shop their individual pieces directly from their site, I tried the Bento Box last week and it was such a pleasant shopping experience. The Bento Box includes 4 – 6 staples, which are mailed directly to you in this cute box. Many of the pieces can be easily mixed and matched together and will also likely match with the rest of your work wardrobe.
The week I got my Bento Box in the mail I was stressing over an interview, trying to reach a deadline for a huge project I was working on, and had four networking dinners that were exhausting me! It was one of those weeks where everything was hectic and time was not on my side (I'm sure you can relate…) I was already grumpy and when I opened the box on that Saturday morning and remember thinking to myself – there's no way I'll like everything in here. I was surprised when not everything fit (which is hard when you're petite!) but I loved everything. They give you a survey to fill out, which is used by stylists to pick out customized items for your box. Both from a style perspective, but also regarding your fit. Also, the quality of everything I got more than justified the prices and the pieces were tailored beautifully. There's this chunky knit green turtleneck sweater with an asymmetrical hem line that I have literally been living in (from work to weekend!)
My two favorite work looks from my Bento Box are below – but what I love most is the ability to mix and match. You'll see I'm wearing a stretchy black top in the first look and a similar looking stretchy black skirt in the second. These two pieces also looked amazing together – and even better when I threw the green belt on top.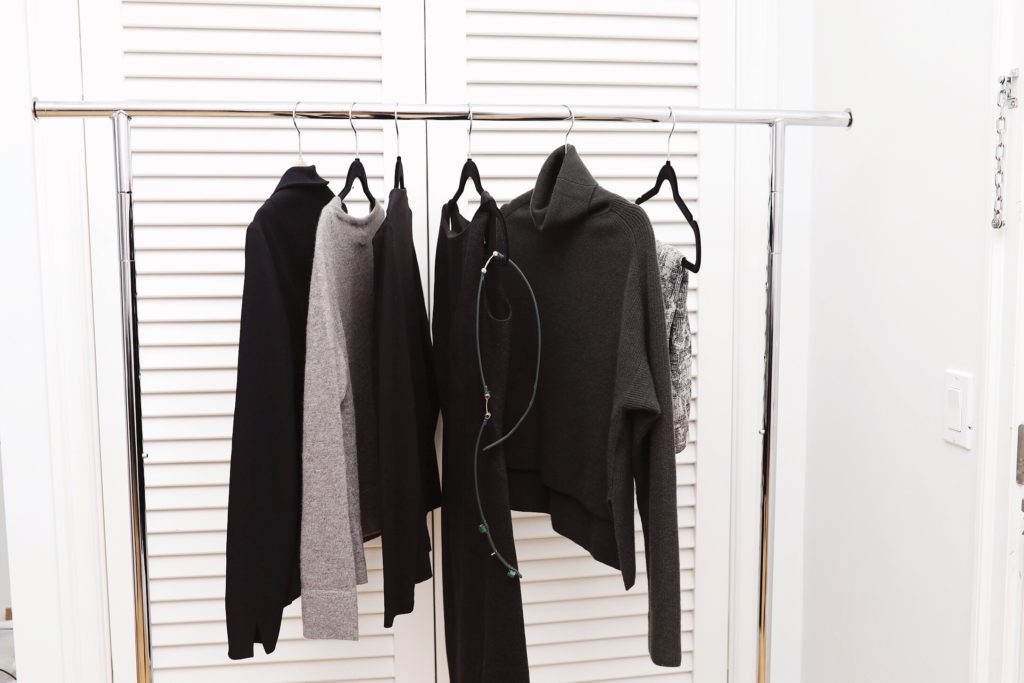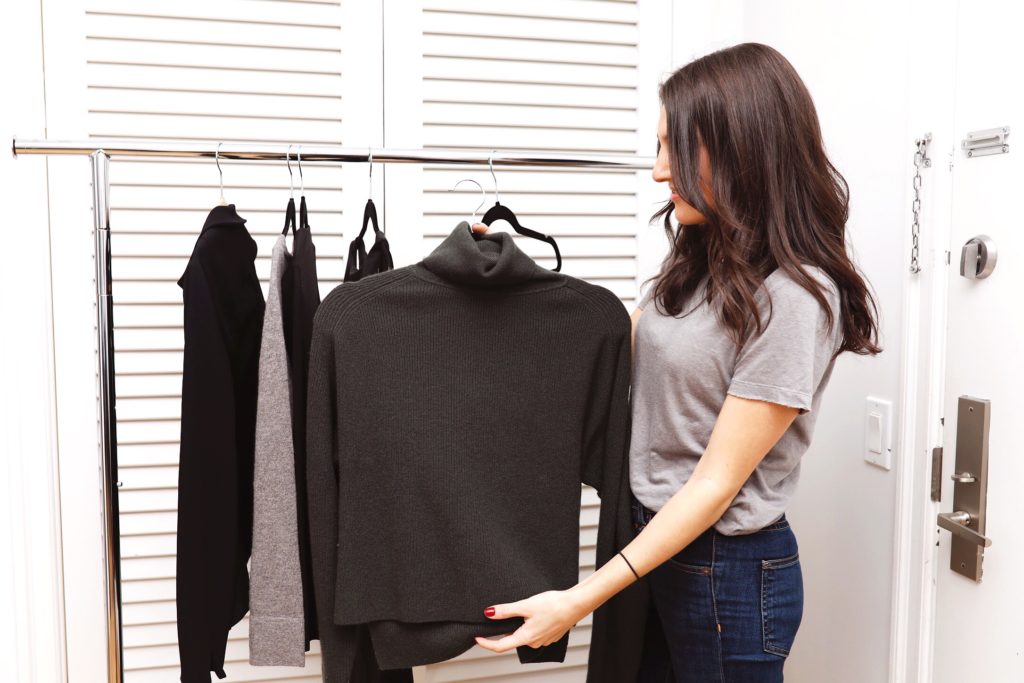 A pencil skirt with a twist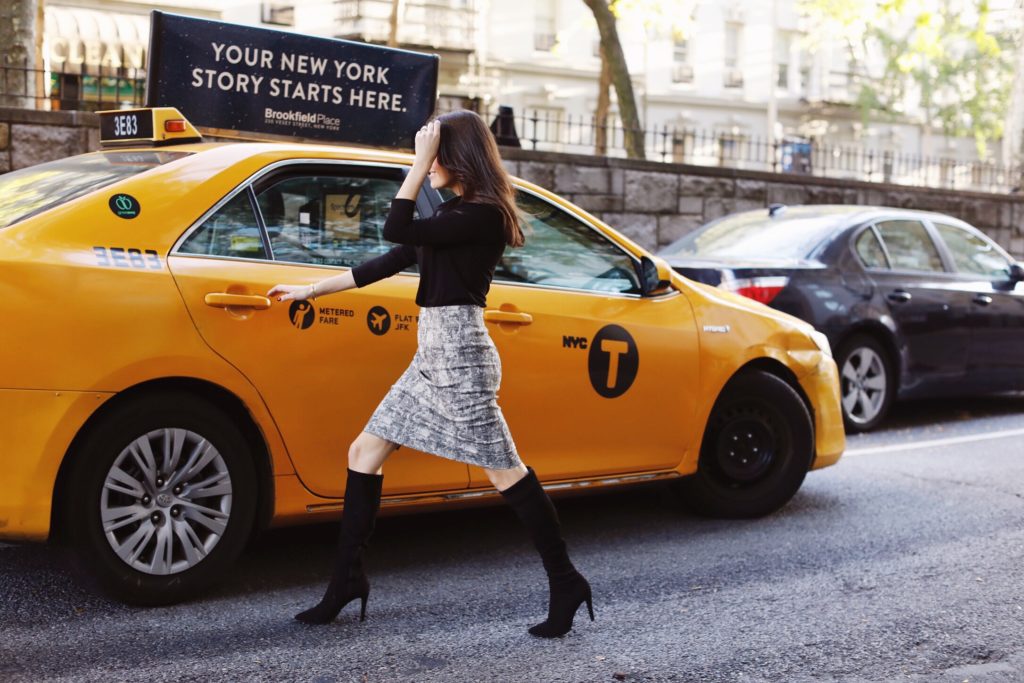 I thought the print on this skirt was so cool. You can't tell in the photo, but the fabric has a little texture to it and the skirt has the right amount of stretch that it is comfortable to wear all day. As a short girl, I really appreciate the selection of petites that MM.LaFleur has. The 0P skirts fit me perfectly (although I'll probably be needing to size up soon given my growing belly!)
The top I am wearing is one of the most versatile pieces from the whole box. It's an incredibly flattering, black, stretchy, long sleeve top with ruching detail around the collar. Aside from working well with the skirt in these photos, it also looks great with the skirt I show in the next look, and almost any pants (especially looser fitting ones.) I even liked it with an old burgundy leather skirt I had for the weekend.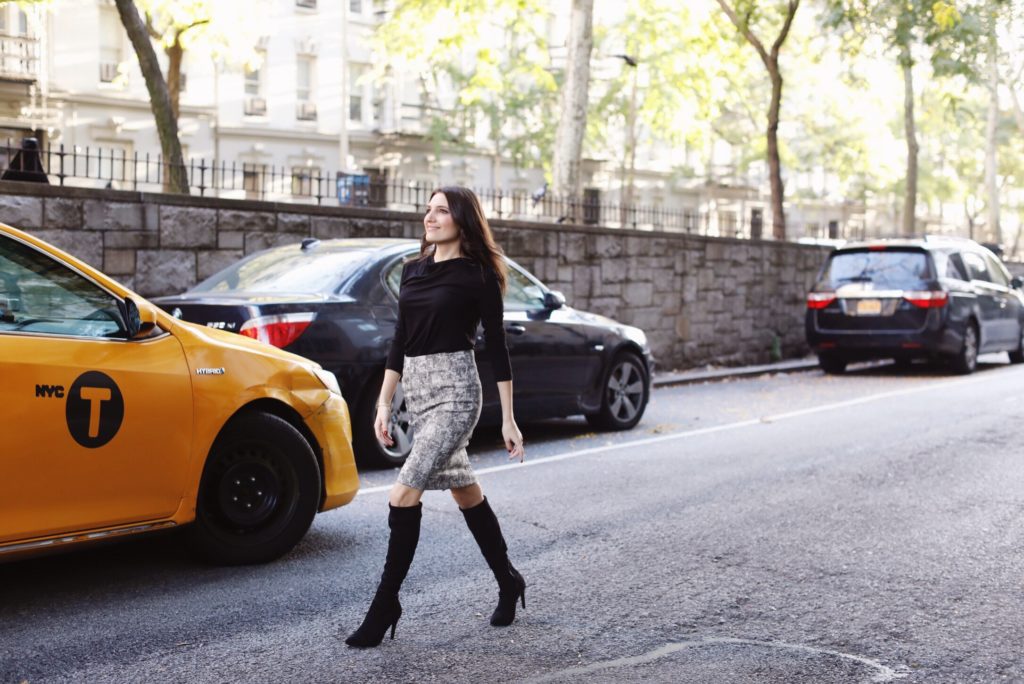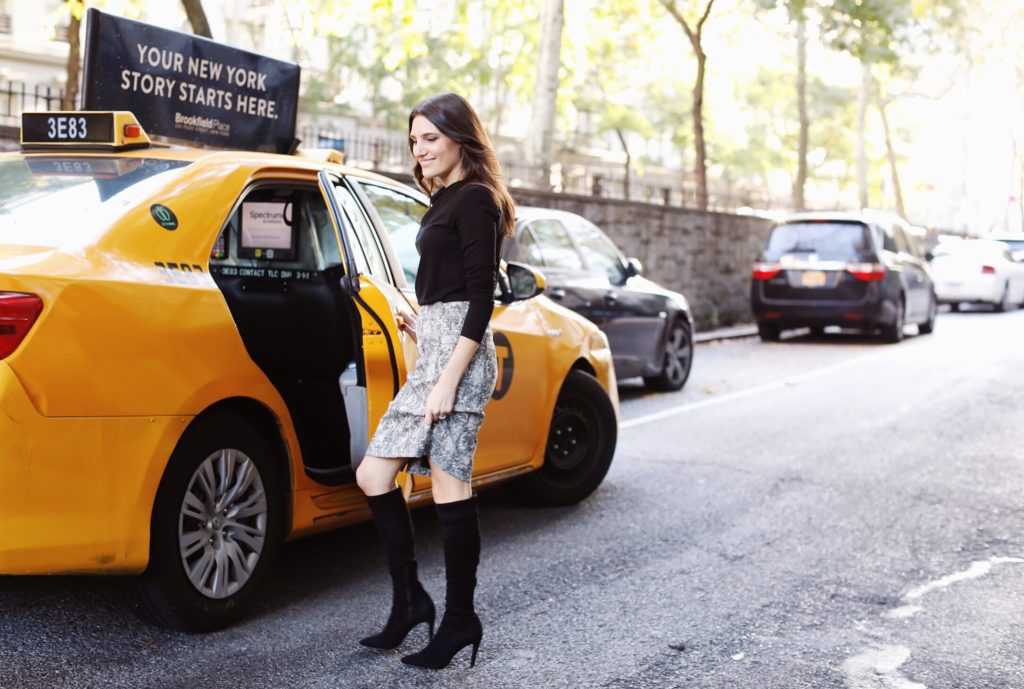 The cozy sweater that still looks professional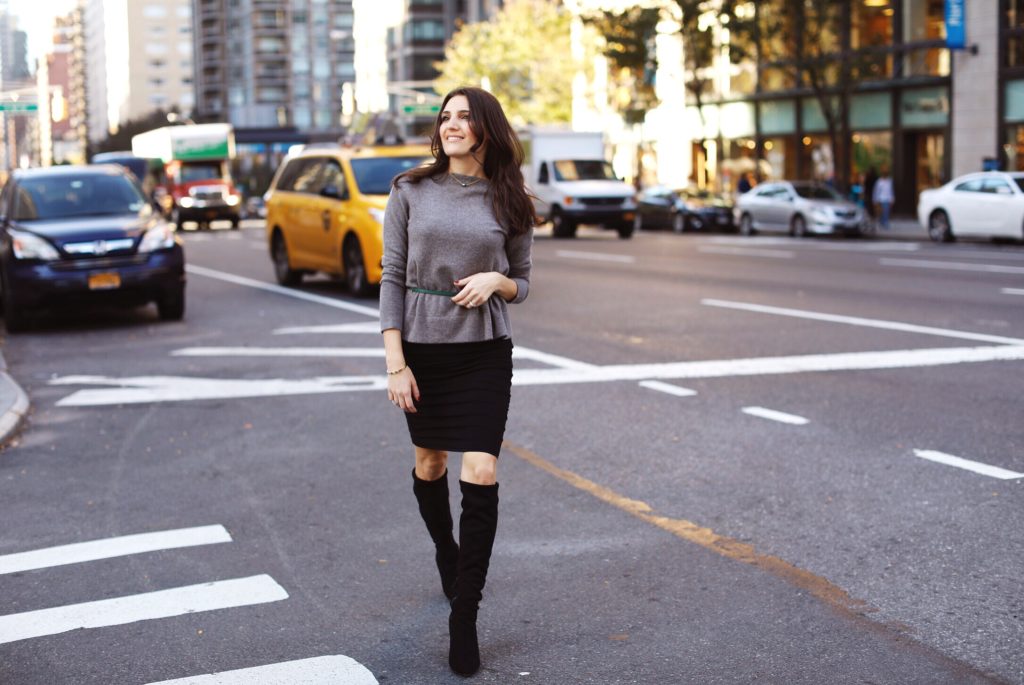 Wearing sweaters to work is my go to in the fall and winter. Sweaters are easy, comfortable and keep me warm in my freezing office. Why is it that my office is always always so cold!? I feel like I have to be careful when wearing loose fitting sweaters to not come off sloppy. Try throwing a belt over a sweater, especially a cute green one with nice hardware details, to make your chunky ones feel more professional. This sweater is such a great color. Its a neutral, but not quite as bland as a typical grey or beige. Without the belt, it has a nice peplum shape that looks great with skinny pants.
The skirt is a stretchy black skirt with ruching along the side. I have a feeling I am going to live in this over the next few months!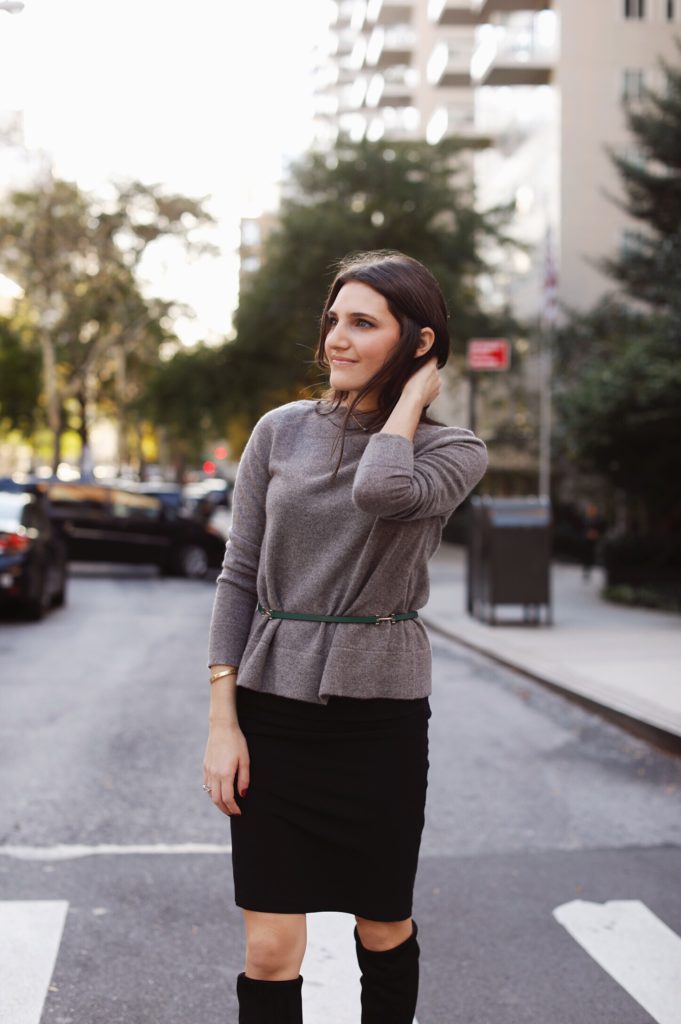 How to shop
Shop the individual pieces from my Bento Box below… Or you can sign up for your own Bento Box! You can easily sign up online or if you want to try things on in person, hop on over to their NYC, D.C., Boston, or SF showrooms – I went to the showroom and it was such a fun, easy experience!
Post sponsored by M  M.LaFleur.
Save
Save
Save
Save
Save
Save
Save
Save
Save