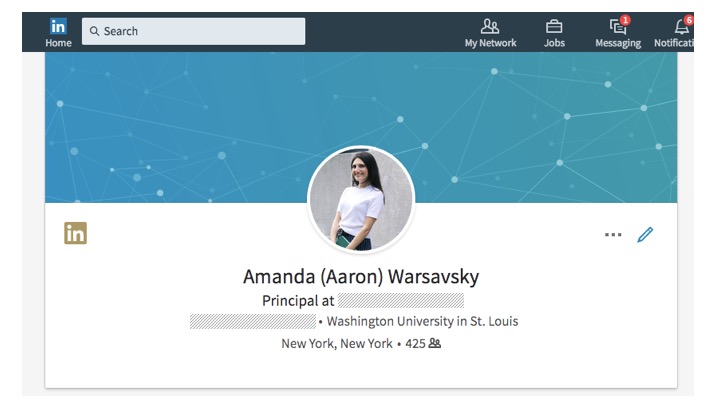 First impressions in business are incredibly important. I don't want to come off like I am preaching for a superficial world where women should be obsessed with appearances, but if you want to be taken seriously in business, it is so important to make a strong first impression. And, especially in today's digital world, the first interaction future colleagues or clients will have with you is by looking you up on a firm website or social media page to find your picture.
Headshots are tricky. They can be incredibly awkward, contrived and painful to take but if you get a good one, it's definitely not something you need to update regularly. I remember I was starting to interact more with clients and a senior woman I worked with told me I really needed a headshot. I tried logging into the company portal to sign up for a professional photo but they had no availability for 6 months (ROFL.)
So… that morning, my friend and I decided to slather as much makeup as we could find on our faces, sneak up to our firm's client floor, which had sprawling views of the city, and take photos of each other that we could use as head shots. If it isn't obvious from the description, these photos were not usable and we failed miserably. I wish I could find the photos to show you but was so embarrassed I deleted them all! I learned a lot that day about what not to do:
Nailing your headshot
Yes to makeup, but no to a lot of it
Don't wear too much makeup, the camera will pick up the cakey foundation on your face! If you aren't one to wear a lot of makeup to the office, don't feel pressure to slather it on for your headshot.
But you should wear just a touch more than you do for the everyday. At the least, try some tinted moisturizer to even your skin tone, some neutral color lipstick or lipgloss and some mascara. I find that my face looks flat in photos if I'm not wearing a tiny bit of blush, too.
Save the patterns for another day
Simple outfits are best for headshots. Bold patterns, particularly tight stripes, really don't photograph well.
A professional photo doesn't need to look busy, so a simple neutral colored top is a sure thing with any background. I'm wearing a white crew neck short sleeve sweater in my LinkedIn photo, but I also love a crisp white or light blue button down.
A dress will always look professional, as long as it isn't too low cut or revealing (obviously.) Your headshot is not the time to be sexy.
I don't think blazers are a must and actually prefer more of an "everyday" look. It shows that you're not a newbie and are confident.
Red photographs well, if you're one of those people who look great in it, go for it!
Pose like you're not trying
It's totally okay to look at the camera and smile! Just because you're trying to be professional, does not mean that you need to strike some overly serious pose.
It is best when your eyes are looking directly at the camera, but if you want to angle your body, that totally works.
More times than not, the fake laughing or talking shots look contrived.
Although I'm not a huge fan of the crossed arm "boss" pose, the only pose I would really  avoid is the hands on hips.
Remember, you are trying to look professional and approachable and not intimidating.
Be understated
Save the big jewels for another day but it is perfectly acceptable to wear either a nice pair of earrings or necklace as long as they are not too large or bright. Try not to wear any jewelry that will distract from your face.
Natural light is your friend
If you are working with a professional photographer for your headshot, they'll know this. Although its nice to have someone professional, its not a must have. If you find some nice natural lighting and a simple background, you can use your iPhone to get a great shot.
For backgrounds, city landscapes (if you are work on a high floor) or neutral building walls look great.
Brush your hair!!
Brush your hair!! The camera will pick up messy hair.
Don't experiment with new styles. I find that simple and sleek is best. Try a neat pony tail, low bun, or simply down. Shy away from headbands, or any other hair accessories unless they are a part of your daily identity (you know what I mean…)
Some outfit suggestions
Bow blouse
Bow blouses are a sure thing. You can tuck them into a simple trouser for a very clean, sleek, look on top! Just make sure you tie the bow nicely, and if you can't, ask a friend to!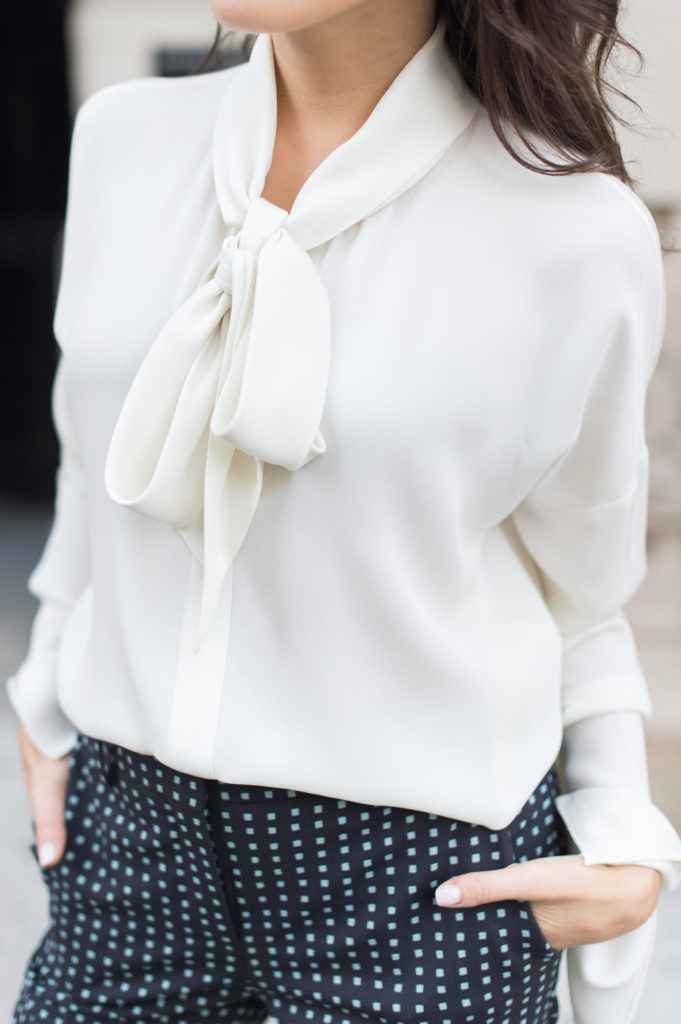 Button down
A crisp white button down always looks professional. Add some depth to the photo by throwing a cashmere sweater or tweed blazer on top.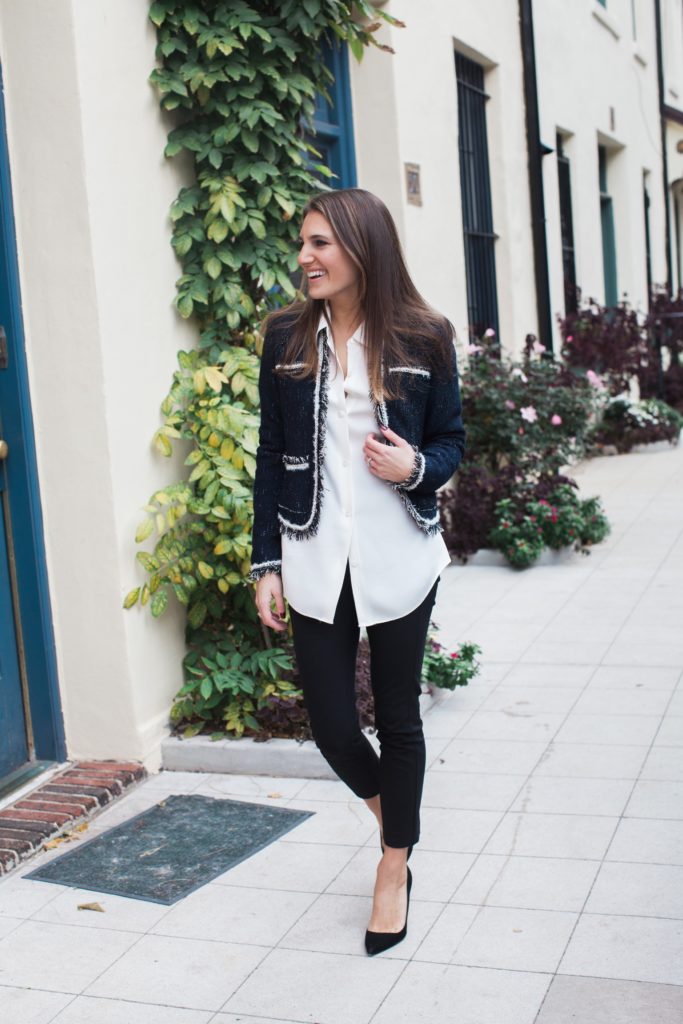 Make a statement in red
There is a time and a place for color. Your headshot is one of those times where it can either work really well, or really badly. I actually love red for a headshot. It makes a powerful statement and can be really bold and professional if done right. The key is to keep the look and accessories simple.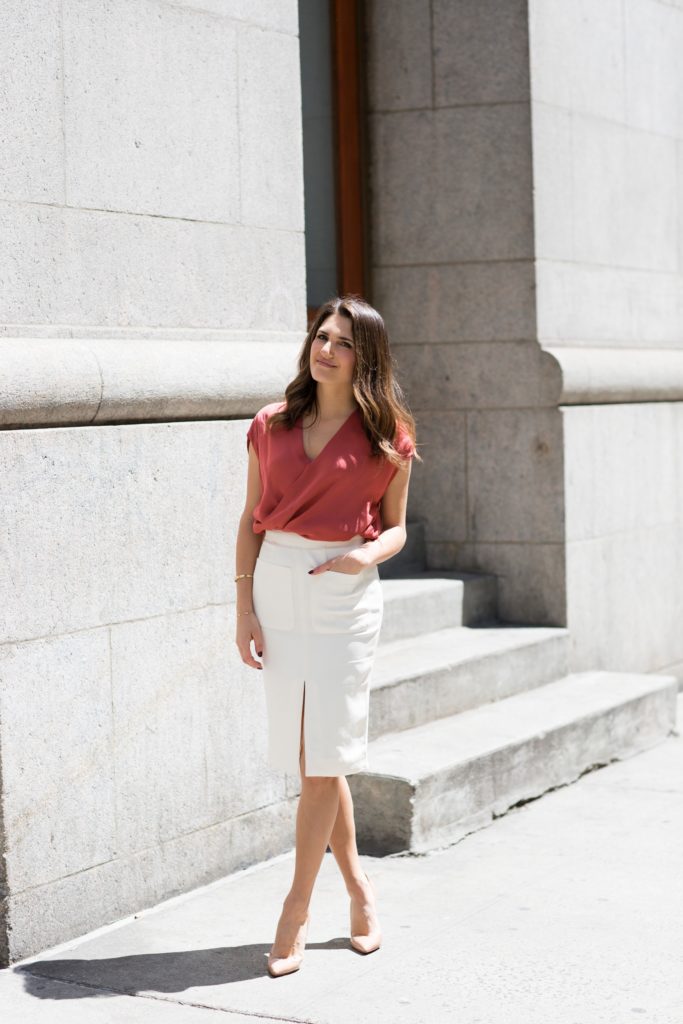 Save
Save
Save
Save
Save
Save