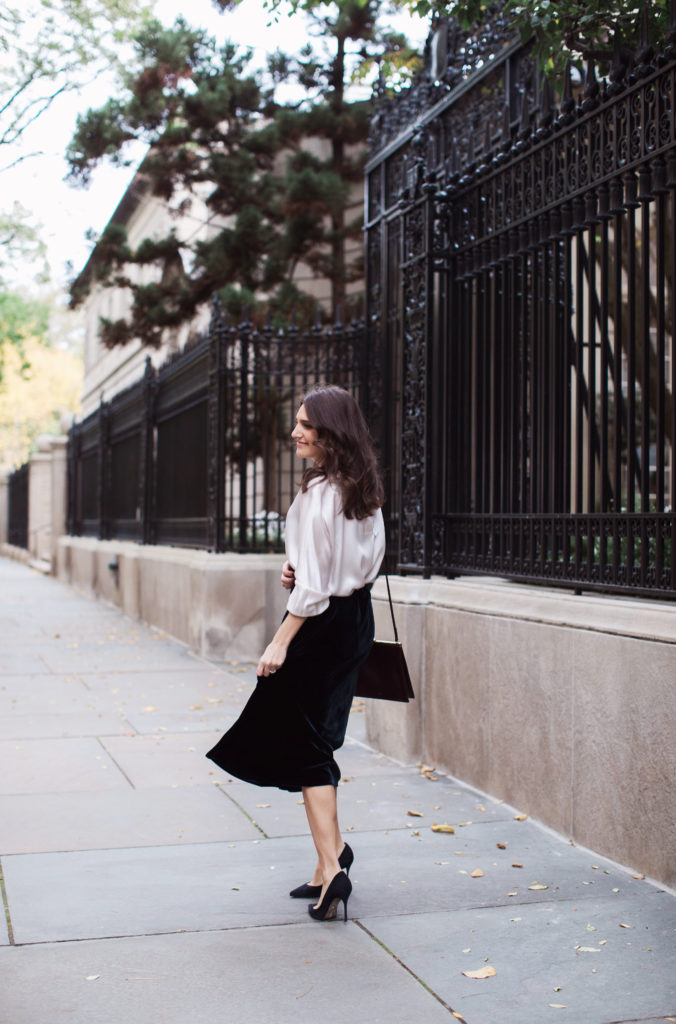 Happy Friday! So before I talk about this amazing velvet midi skirt, quick update on me and my bump! As you can see in some of these pictures, it's definitely starting to make an appearance! Getting dressed for work is becoming a little more challenging and I actually finally caved and ordered some maternity pants yesterday (I'll let all my other mamas to be know if I find anything decent.) Now that my everyday pants have started to feel uncomfortable, I've been wearing a ton of dresses and skirts.
My new job has been great so far. I'll talk more about the new role and my decision to switch in another post. Change is always weird at first and then starts to feel great. It is sort of like running. For me, the first few minutes of a run (or jog/walk if  I'm being honest here since incapable of cardio workouts!) absolutely suck. After an intense struggle in the beginning, suddenly endorphins kick in and I start to feel amazing (until I decide I can't breathe anymore!)
Anyway… enough about me! Scroll down for details on this look: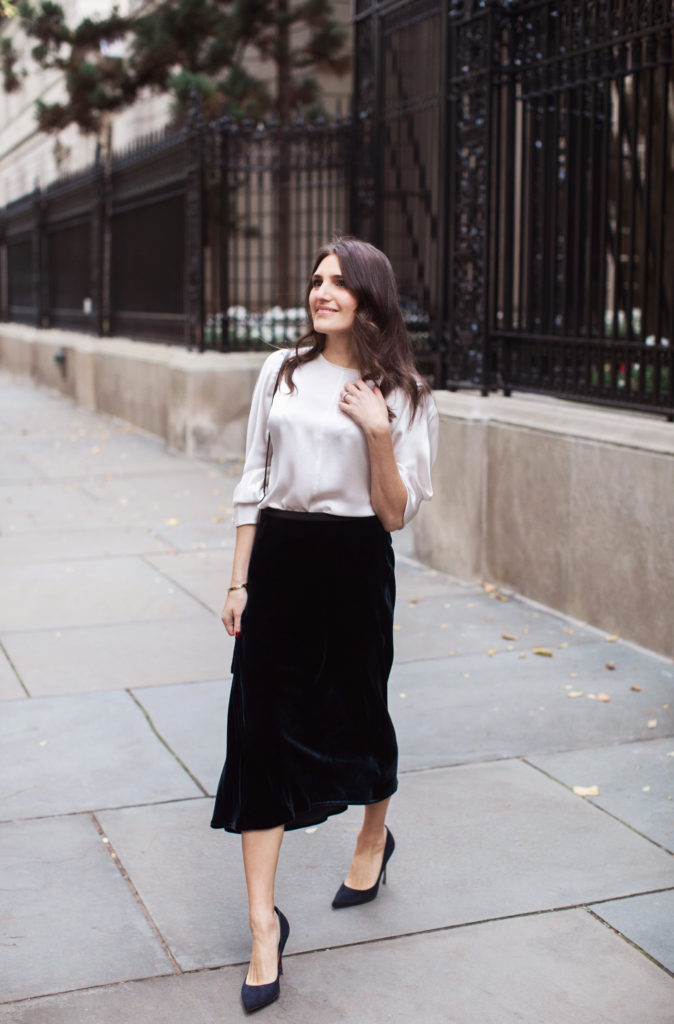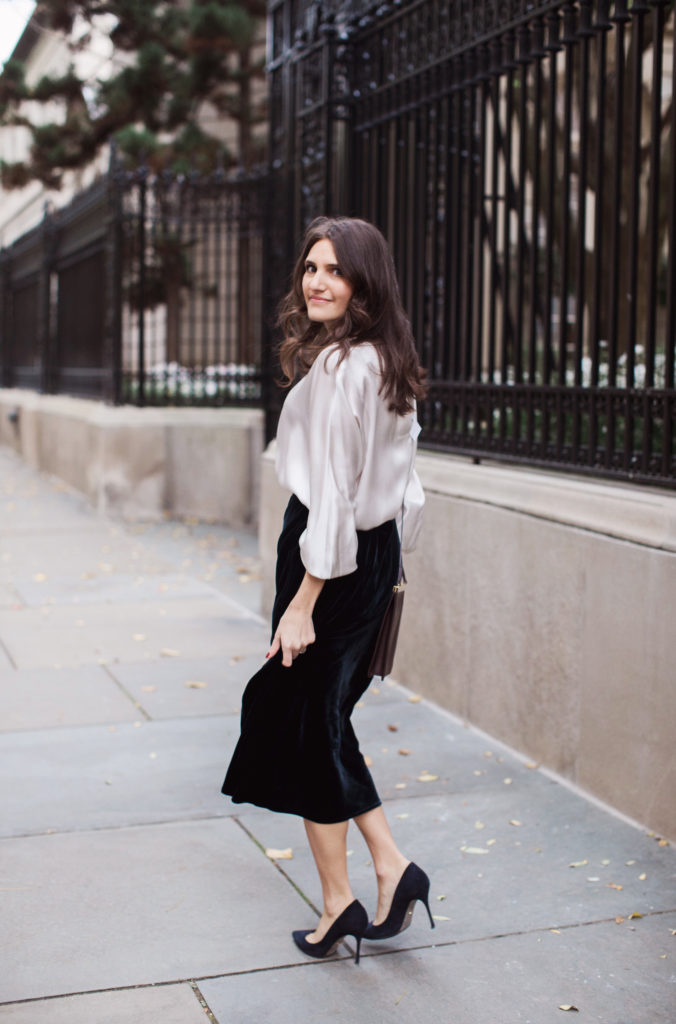 The velvet midi skirt I'm wearing here has been perfect for me. It has an elastic waistband and runs a little on the big side. I think I may be one of the few weirdos who loves the cold season! I get so excited by all of the holiday lights and prefer fall and winter styles to summer ones. Velvet is such a festive texture, and this skirt can morph into a funkier weekend look or holiday party outfit, perfect for this time of year. This is a great version that looks similar is currently on major sale! Also – this is the same skirt in a satin fabric that is on MAJOR discount!
I styled the skirt for the office with a simple silk blouse. Although the blouse has a pretty basic silhouette, the "color" is amazing. It's called "whipped cream" and is a mix between a silver, gray and white. I'm telling you there is just something really beautiful about the color in person.
I threw on a simple navy suede pump to add another texture. I think a simple gives the look a bit more of a professional look, which I love for the office.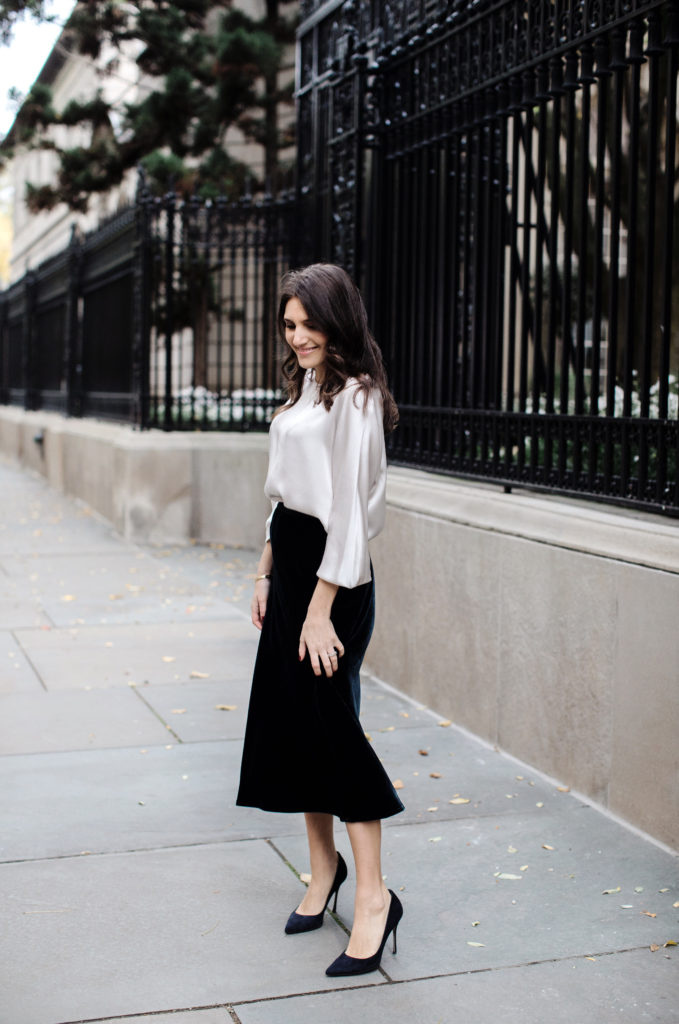 When thinking about other ways to style this: Throw a faux fur crop jacket over this and a wintery suede sandal (I love these sandals with pearl detail… that are only $150!) and this look can take you straight from the office to a holiday party. Pair the skirt with a cool white sneaker and t shirt and its a great, casual weekend look.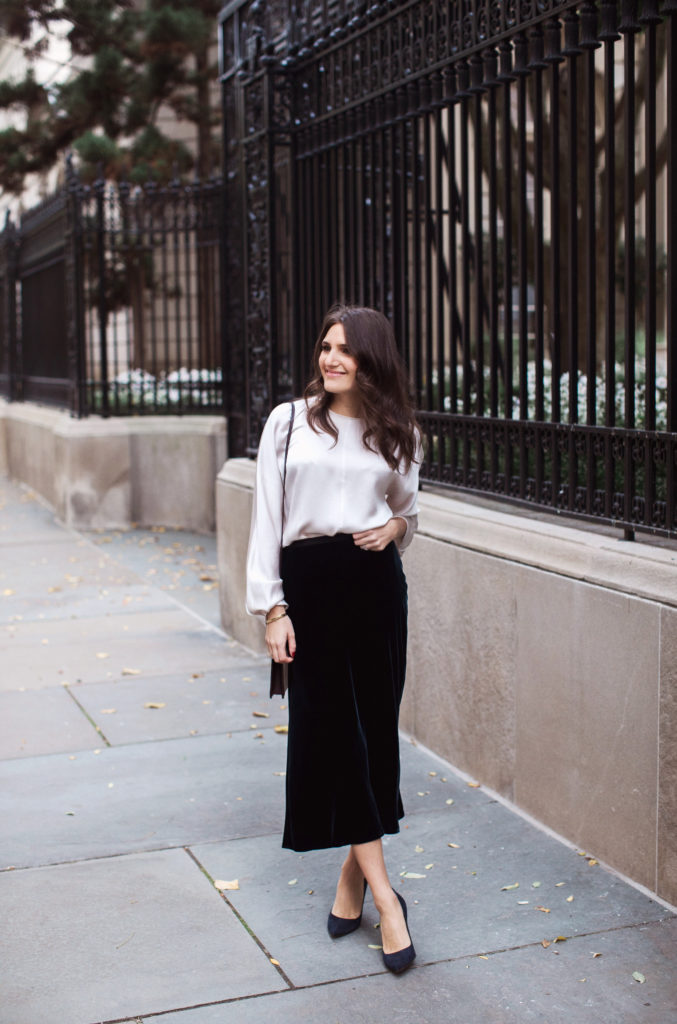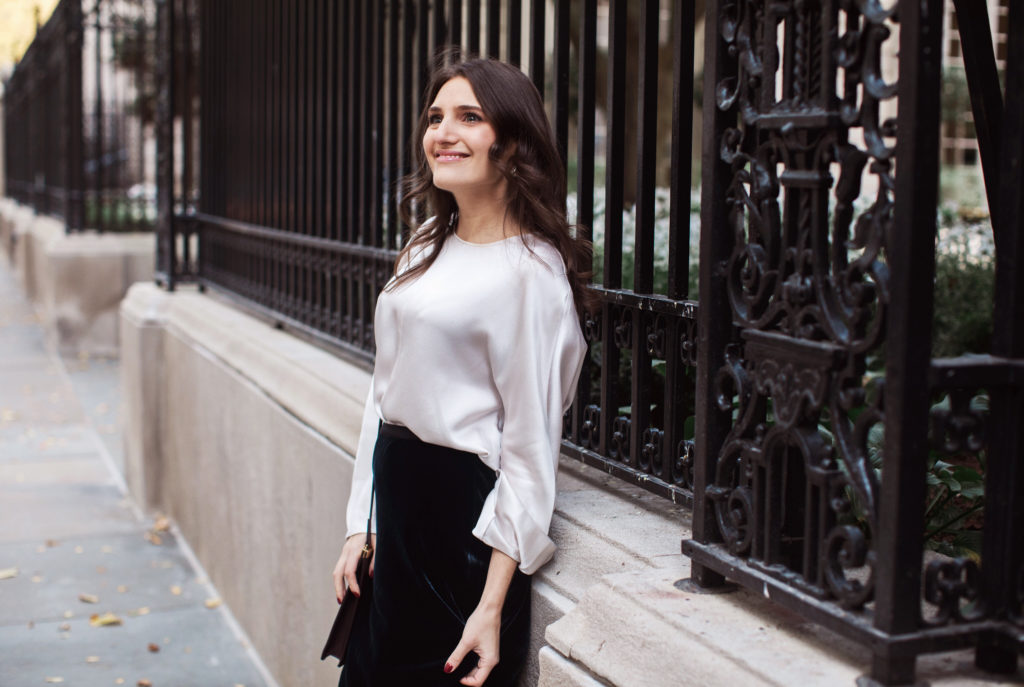 Black Friday is right around the corner so its a great time to start eyeing some pieces that you want to buy! Just, don't miss out on some of the early sales! Sometimes, by black Friday, items I've been eyeing are sold out and I realize after the fact that they went on sale a few days early!
Shop this look below but also scroll down for some great sales starting this weekend:

Some amazing sales to check out this weekend:
Vince – Men and Women new styles on major sale (its a good time to get started on some holiday gifts for your significant other!)
Intermix – EXTRA 50% off sale (they usually do 40% so this is awesome)
Bloomingdales – Up to 50% off select items + 3x points + $25 off every $100 you spend!
Neiman Marcus – They just added a ton of new styles 40% off!
Asos – Up to 60% off many full, new style looks!
Moda Operandi – Extra 50% off with code FRIENDS50
Coach – 30% off with code THANKS17 (also great for gifts!)