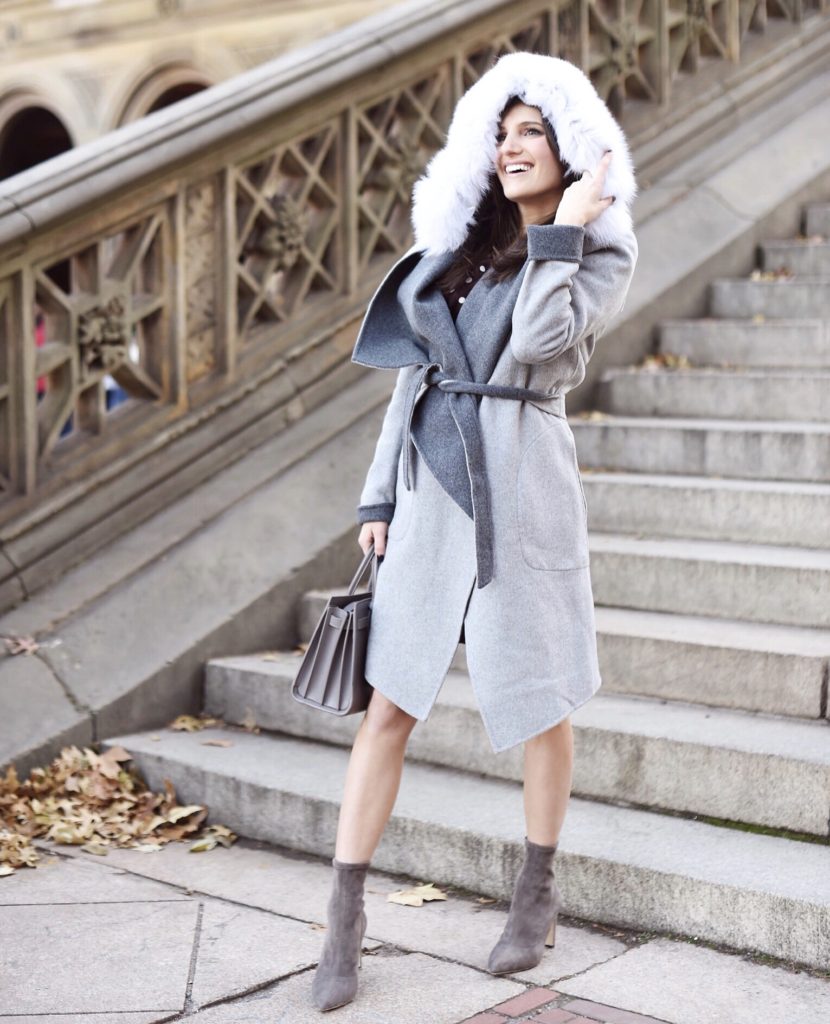 I absolutely love the fall! I spent the day yesterday in Central Park and despite the crowds, it is so magical this time of year. I'm just about 18 weeks pregnant – and a baby on the way has been such a special  way to bring the whole family together. My family has a tradition to go around the table every Thanksgiving and say what we are thankful for. It's a reminder to appreciate everything good in your life and reflect on the new year ahead. Despite the fact that my clothes aren't fitting well, the fact that I'm not sleeping well, and the fact that I still can't tolerate eating many of my favorite foods (like salmon…ew) I am so thankful to have made it to 18 weeks and just pray the rest of my pregnancy goes as smoothly as the first half.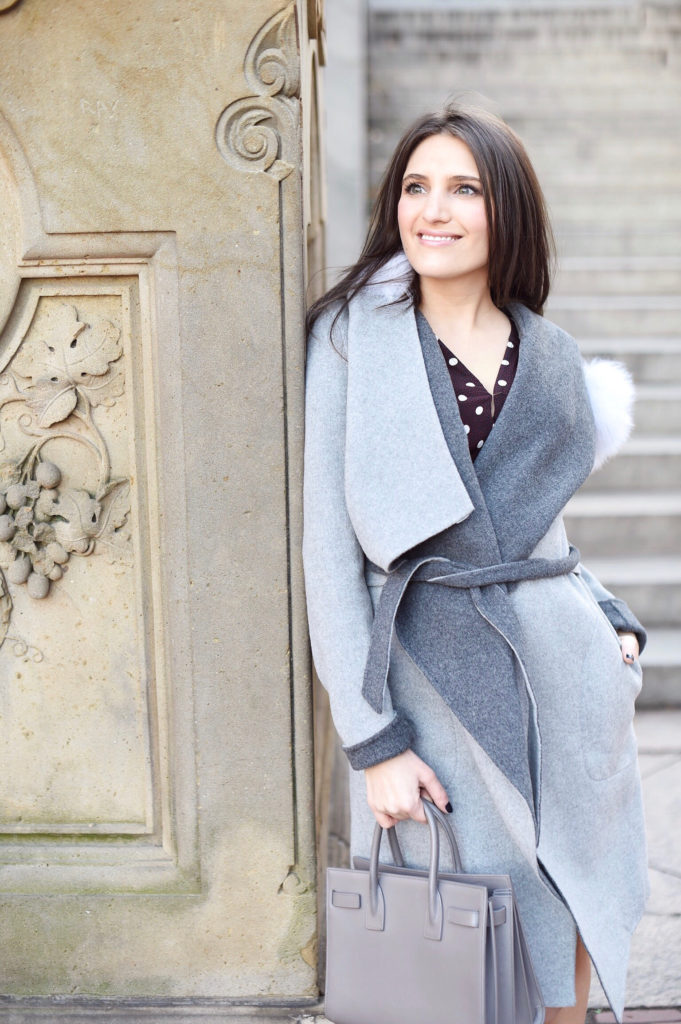 Coats on Coats
When it gets colder in a few more weeks, you'll be regretting not buying a discounted winter coat! Before I talk about this look, don't miss some of these amazing coats that are on major sale (ending Monday!!)
Shop some of my favorite work to weekend coats (all on sale!):
These are more polished and have that professional/ dressy feel

A few of you have asked me for some  fur and faux fur trimmed coats – here are some great options! Not all are work appropriate as an FYI. I'm thinking of buying this $90 faux shearling moto for the weekend!
Shop some of my favorite fur and faux fur sale options here!

The perfect wrap coat
Although I'm definitely not trying to hide the belly anymore, there are definitely pieces that are more flattering than others. Maybe for fun, I'll show you some of the things I ordered online that really didn't look good! I love that this jacket has room in it for me to grow and a tie at the waist that is adjustable. The jacket is reversible, which makes it SO functional, and has a cute hood detail with a fur trim. It's not often that you see a hood on a wrap coat, which is what my eye initially caught on this particular coat.
Wrap coats usually look silly on me because I am so petite, so I was also really pleased to finally find one that fits well!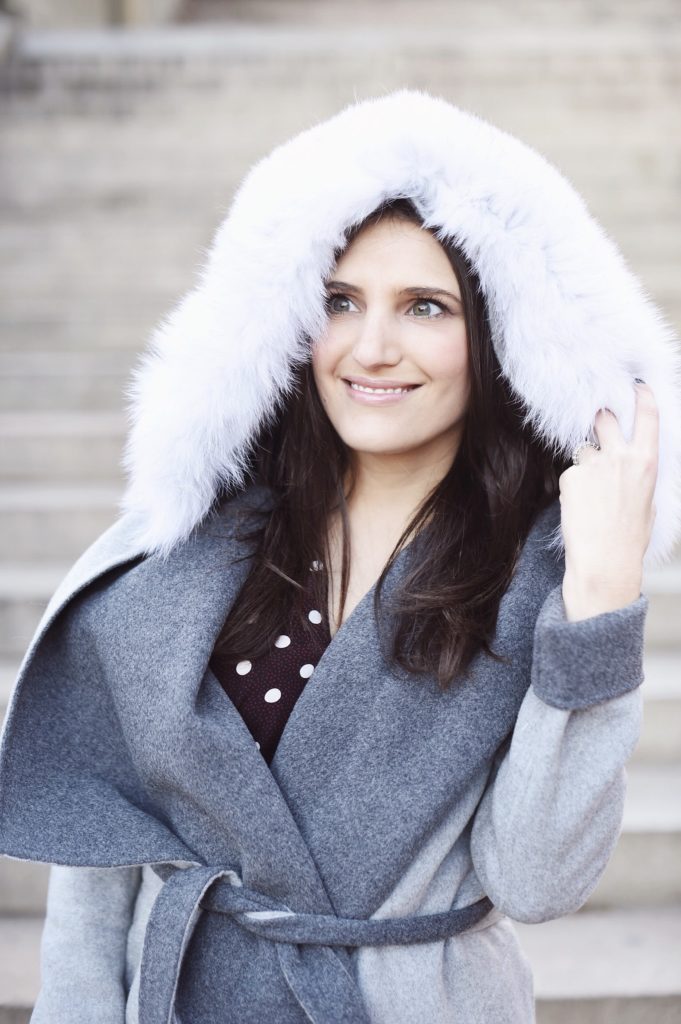 These boots..
I saw these gray boots in my moms closet and was beyond envious of her purchase. I thought they were the perfect boots to wear with dresses or tucked under work pants or jeans. The color matches just about anything and the tightness around the ankle makes them incredibly easy to wear. I never expected them to go on sale but have kept an eye on them! Sizes left on sale are low, so if you're interested, I would definitely take a look today (here and here)! I found a few other ones that are similar (tagged at the bottom) for you to browse as well!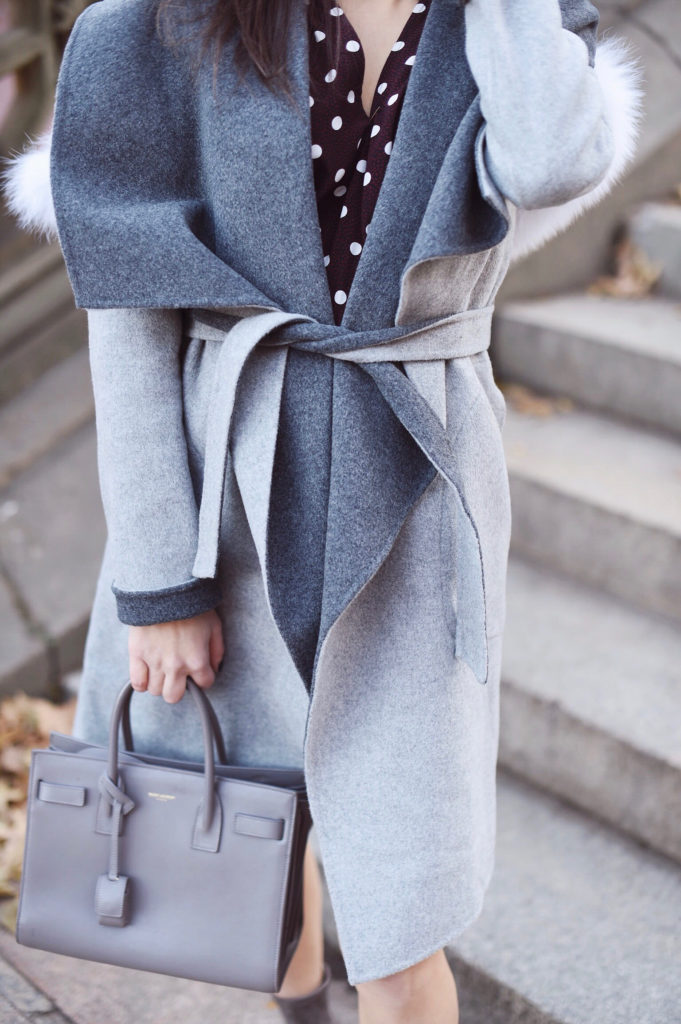 This dress is one of my non-maternity dresses that I can still squeeze into! It is last year Veronica Beard and I wear it all the time to work. Although I couldn't find this exact version, they do have the same style in a different print on sale! …. And Veronica Beard doesn't go on sale often!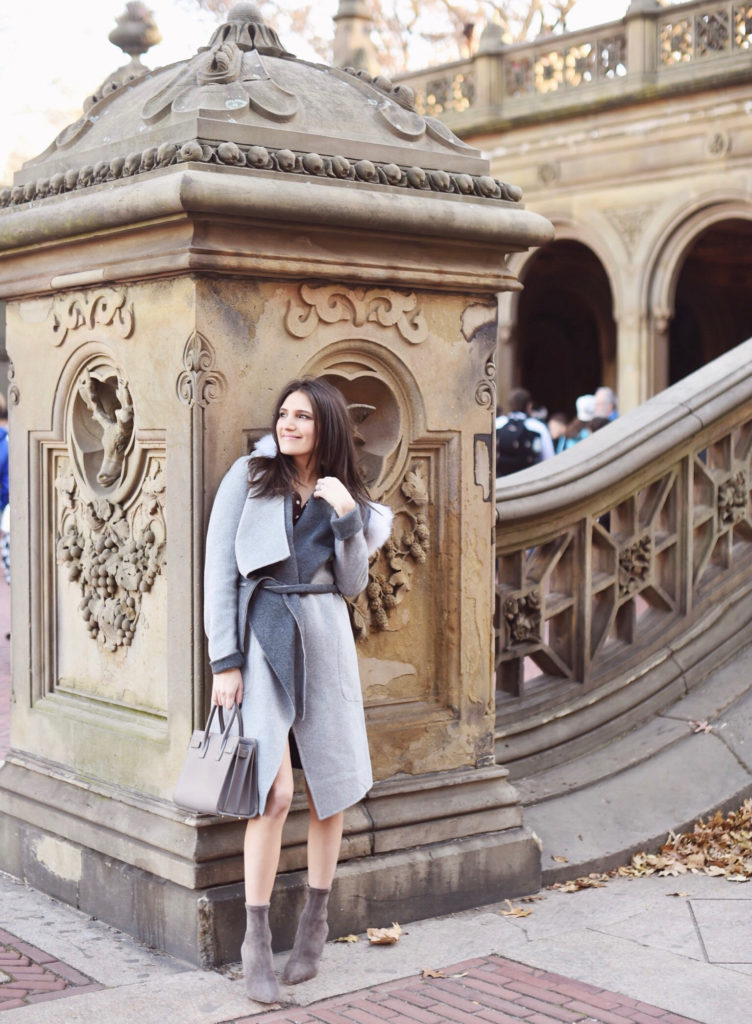 Wearing: Coat (up to 30% off) | Boots (40% off) here also if those sell out | Dress (40% off) | bag
Shop this look below: