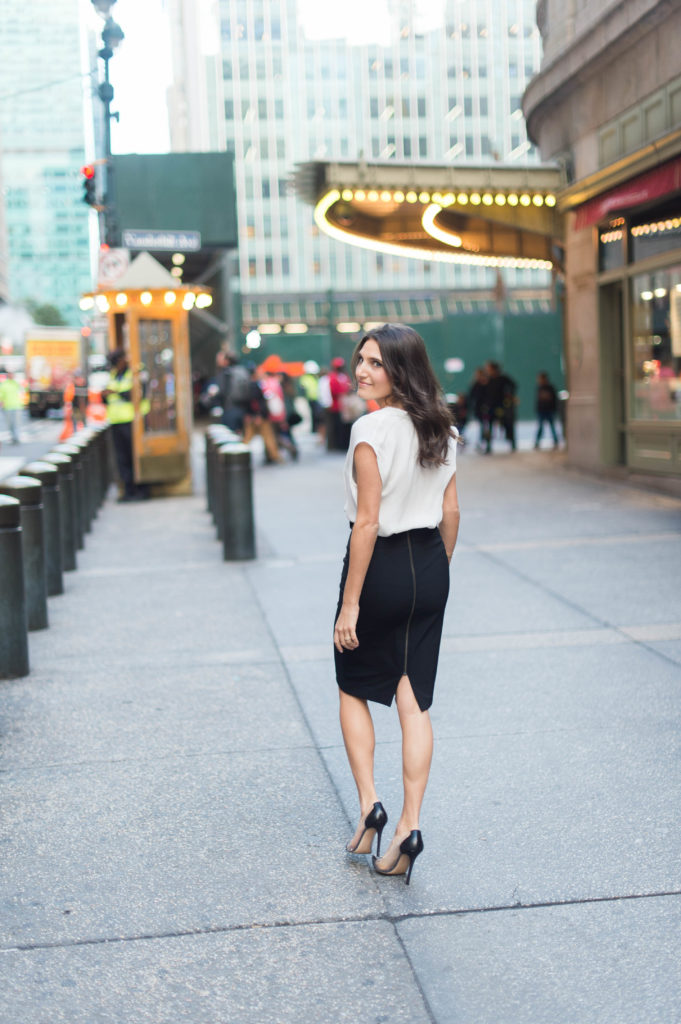 Pencil skirts make for great interview outfits (just please trust me that you do not need to wear them with a matching blazer!) so I thought it would be fun to think back on some of the interviews I miserably failed (and interviewees who miserably failed with me) and put together a "How to Fail an Interview" guide a la Andy in How to Loose a Guy in 10 Days (one of my all time favorites.)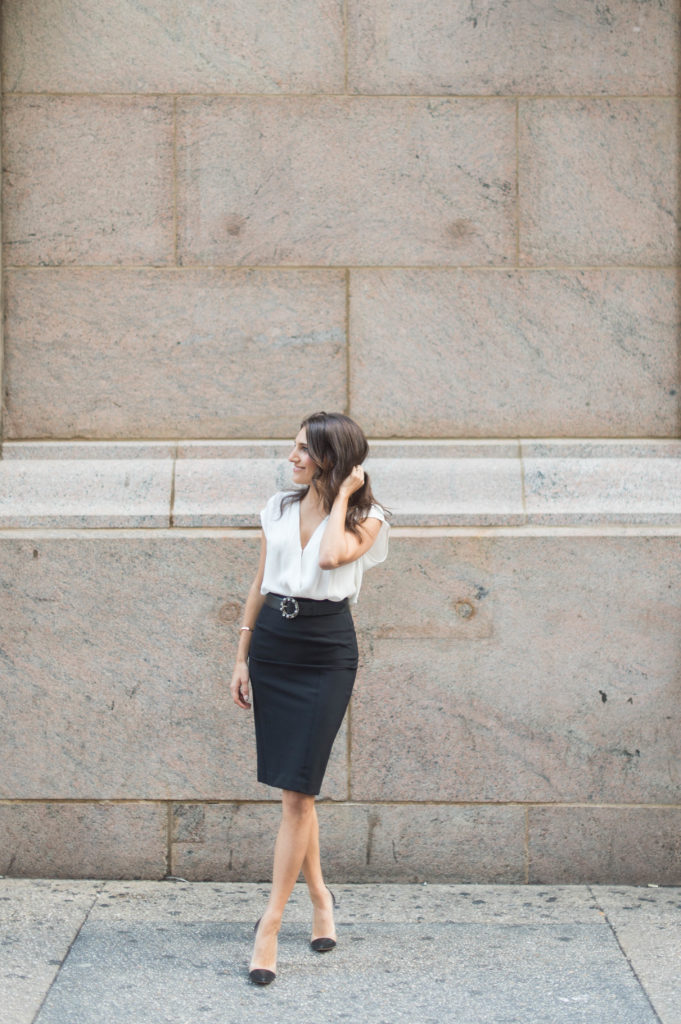 how to fail an interview
I know my examples are finance geared, since that's my experience but I do think these concepts apply to all industries. Any non-finance people out there? Shoot me some of your tips on How to Fail an Interview so I can incorporate into the next version! thatpencilskirt@gmail.com.
Pretend you know an answer that you don't. This is the most guaranteed way to fail an interview. When I was applying to be an analyst, I had one two-on-one interview with  Executive Directors from the Brazil team. We started talking about Latin America and I knew immediately that this was a rabbit hole I probably shouldn't have entered. We were in a back and forth about oil and the deeper the conversation went, the less I knew about the topic. The ball was back in my court and they asked my thoughts on some new regulation that was passed at the time. I finally smiled and said "I know that both of you know way more about this topic then I do so I won't pretend I know the answer." I was shaking as I said it. The guy grinned ear to ear and replied "I was hoping you'd say that. There is nothing worse than a know it all." Thankfully, I learned this lesson very early on in my career and was able to carry it with me through meetings, interviews, projects, etc.
Dress presumptuously. First impressions mean just as much as your actual conversation in most interview settings. Want to screw up an interview? Make a bold statement with your outfit choice. Try a top that is too low, a skirt that is too short, or a dress that is too fitted.
Under prepare. With these interviews, you typically have one shot. The interview I was given for the bank I ultimately ended up working for came at a less than ideal time. I found out three days before that I would be flown out for a super day (after a phone screening the week before.) The super day was on a Friday, and that Friday happened to be our Senior trip out to Chicago that I was so looking forward to. I ended up skipping the trip and working around the clock to study anything and everything related to Private Wealth and the markets. With only three days and zero experience with other finance interviews, I knew if I didn't study as much as possible, I'd have no chance of landing the job.
Name drop. Another way to assure yourself a failed interview is to name drop excessively. Of course, if you happen to know someone important at the firm you're interviewing at, it could make sense to subtly mention it. BUT – you don't want to be that person who spends more time talking about who you know than what you know.
Be a robot. You have to ask yourself what the purpose of an interview is. As an interviewee you are looking for someone to join your team. Who wants to work for a robot? Sure, you can tell your interviewer that all you do is study the markets all day, every day, and in your free time you trade stocks and read books. Yes, they'll probably think you're very smart, but will they want to sit next to you for the next X years? Maybe not.  One of my favorite interview questions (I know its a little cheesy,) is "tell me something about yourself that isn't on your resume." I look for people who are multi-dimensional: interested and

interesting

.
Sit back and just take the questions. Knowing how to steer a conversation is just as much a skill as being able to answer tough questions. Don't let the conversation take you down a path where you can't shine (like I did talking about oil in Brazil…) and instead steer the conversation to what you know well. When I was applying for Private Wealth Management roles, I prepared a few stock pitches. I felt really confident with my Proctor and Gamble pitch: I remember I had this whole story down about how they were going to be expanding Pampers in China and were undergoing a huge marketing campaign to teach Chinese consumers the benefit of disposable diapers as opposed to cotton ones. This is a very specific conversation point, but somehow I found a way to weave it into almost every conversation. "What do you think about Asia right now?" "Well, there's a ton of American companies trying to break into the growing Asian consumer…" Rather than "I think they are going to experience a soft landing."
Use finance jargon Speak in acronyms and esoteric finance phrases to assure you're interviewer that you have no idea what anything actually means. If you want to impress your interviewer, throw all the jargon out the window and speak in plain English.
Memorize answers. Your interviewer will see right through this. Even if part of your studying technique is to memorize formulas, etc, make sure you understand the concept because memorizing doesn't get you anywhere on the job.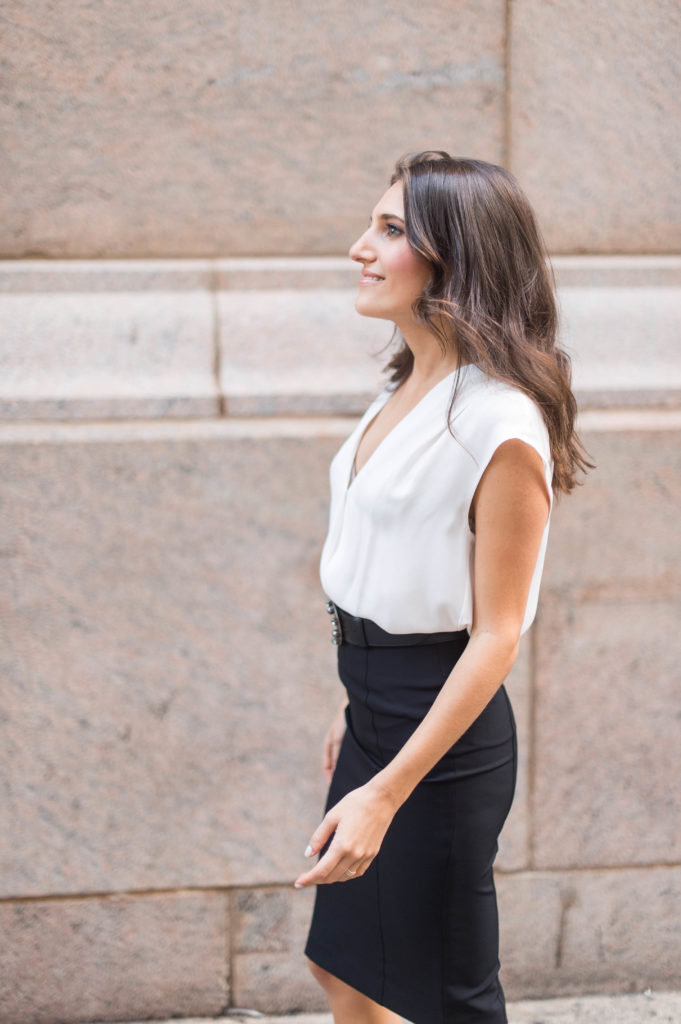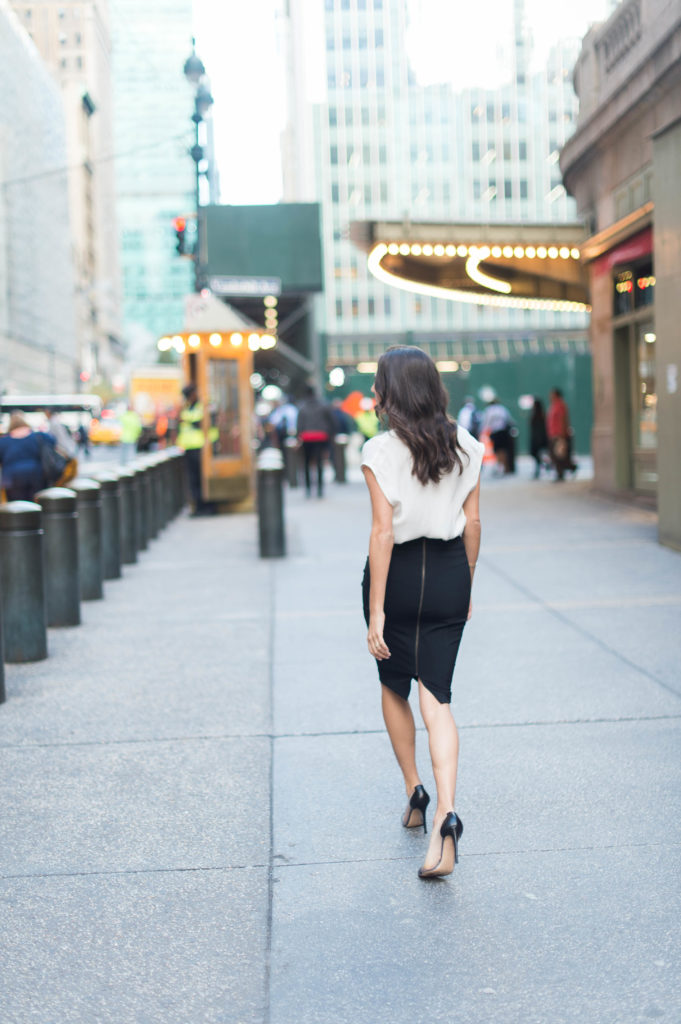 the look
Here I am, That Pencil Skirt wearing a… pencil skirt. Unlike my name suggests, I actually don't own many pencil skirts because most of them remind me of the times when women had to wear matching skirt suit sets to work and rarely held executive positions. This pencil skirt, though, is badass. To me, this look embraces being a modern woman in the workplace proud to be wearing a skirt rather than trying to blend in with the men in pants and I can't think of a better statement to make when going on an interview.
I love how the look is pulled together with (my new favorite) embellished belt that almost makes it look like a dress. This drape front blouse is also a great work staple that can be worn with almost any bottom. When I wear it to the office, I typically where a fitted white tank top underneath so it isn't see through (not pictured above.) As you can see, the top is just a little bit l0w-cut on me so the tank top is critical!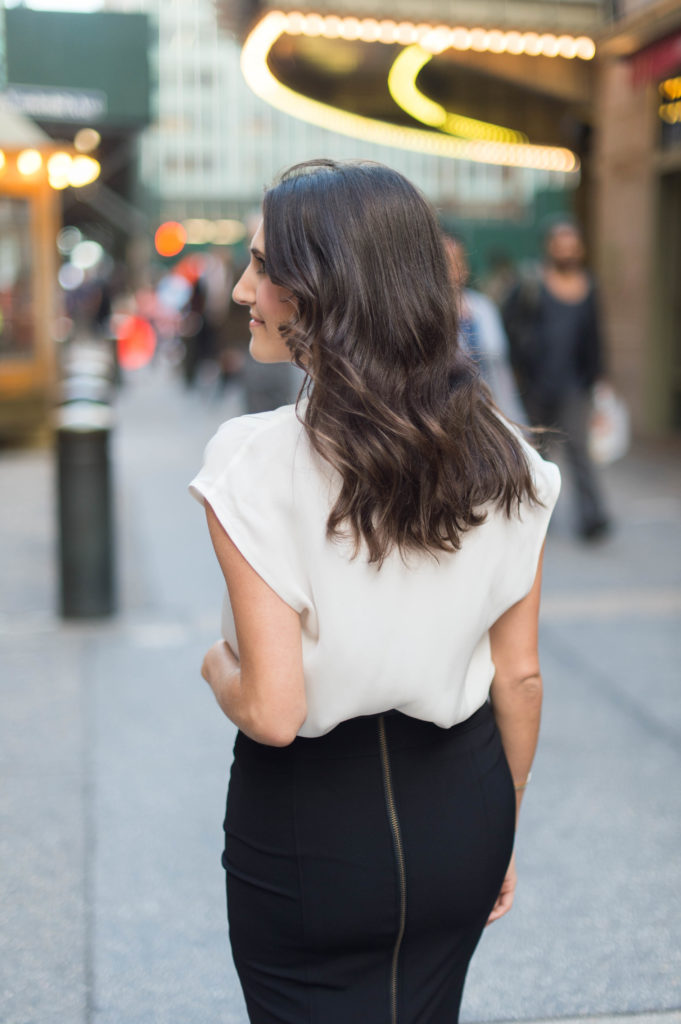 wearing: pencil skirt (similar)| top (similar) another option here | belt | pumps
Shop the look below:
Save
Save
Save
Save
Save
Save
Save
Save
Save
Save
Save
Save
Save