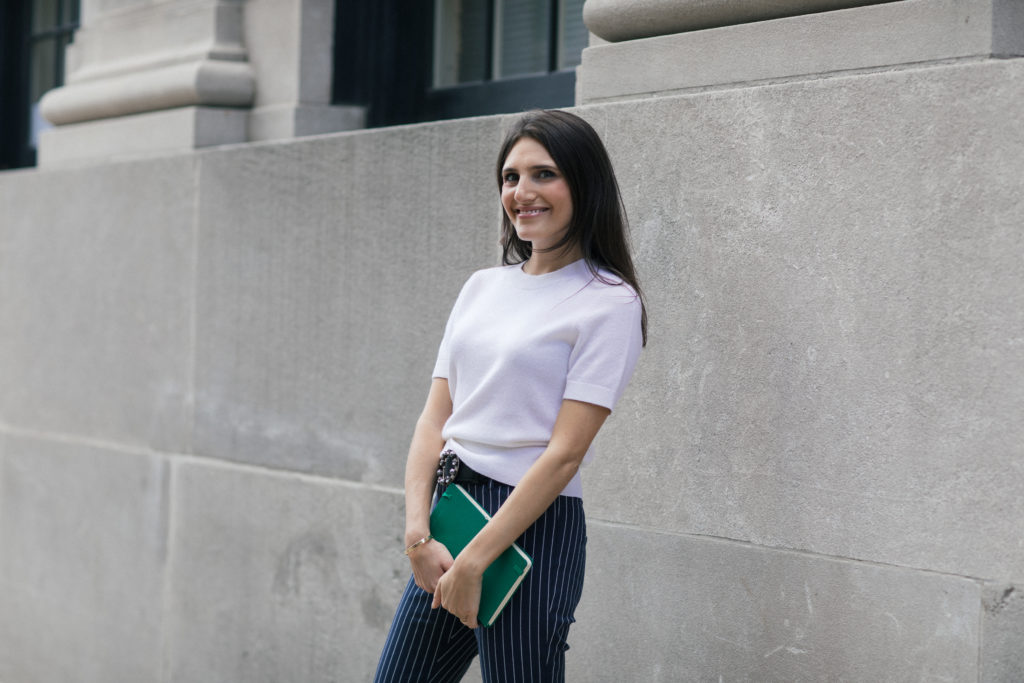 Fashion week kicked off in full steam last week, and I must say I'm ready for it to be over! Although I am guilty of participating in some events, I find most of the outfits on my Instagram feed to be completely opposite to the way I dress everyday! It's definitely fun to see a few wild outfits and get inspiration on what the hottest trends will be for the season, but I get a little tired seeing women dressed up in these over the top outfits all over New York City's streets. The good news is that more and more brands are doing "ready to shop" fashion shows (like Rebecca Minkoff and Banana Republic) but I think the industry still has ways to go to make the week feel more approachable for the average, stylish women – especially the ones who work every day! Anyone else agree!?
I wanted to post this look today because its fashion forward, but still relatable and wearable. I wanted to give all of you some real outfit inspiration in the midst of all of this craziness!
The look:
If you live in a place that experiences all four seasons, this is always a funny time of year to figure out what to wear every day. If you're like me, you're ready to dust off your fall and winter wardrobe, but its still pretty warm out! This is why one of my go to pieces for early fall has become the short sleeve sweater. It makes any of your more summery pants have a more "fall vibe" without keeping you too warm. It's also versatile enough to be used as a layering piece over a button down or under a blazer when it gets colder out.
The pants are AMAZING. I cannot tell you how comfortable they are, and crop flare length gives them just enough of a fashion statement to feel fresh. Pinstripes are a total #girlboss print to wear if styled correctly. These are another great pair in case you wanted something more affordable (I actually own this exact style in a few other colors.) The masculine look is really cool, but to avoid looking frumpy, I like adding some feminine touches – like this embellished belt that I've been getting so much use out of. Also, I haven't styled it this way yet, but how cool would this exact look be with a denim jacket on top and a pair of white sneakers on the weekends? Side note: I actually just ordered this denim jacket and it is only $34.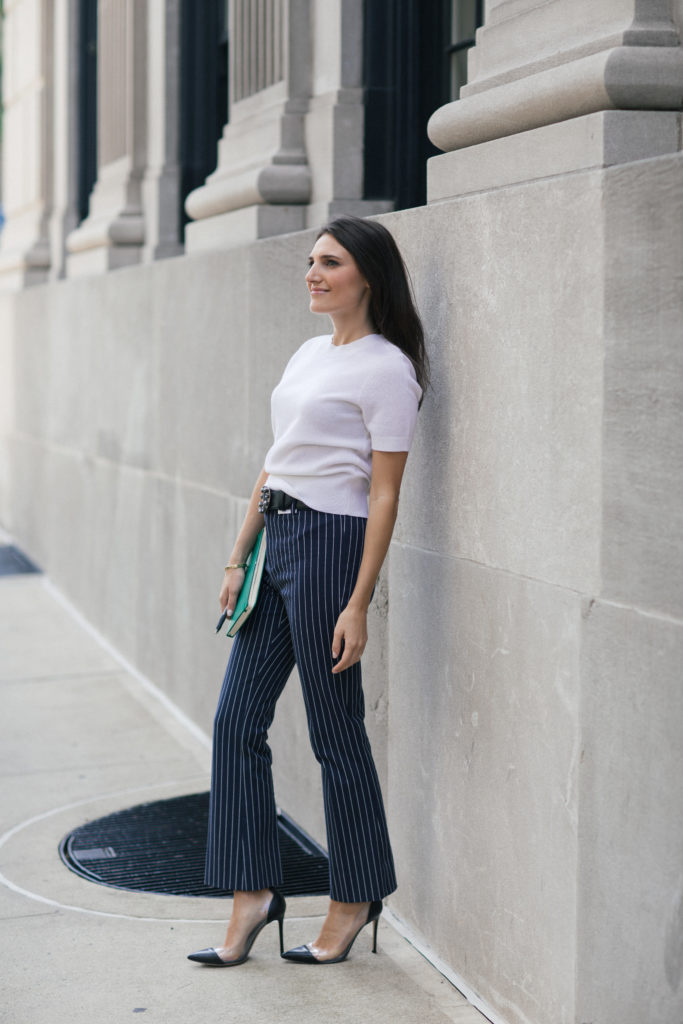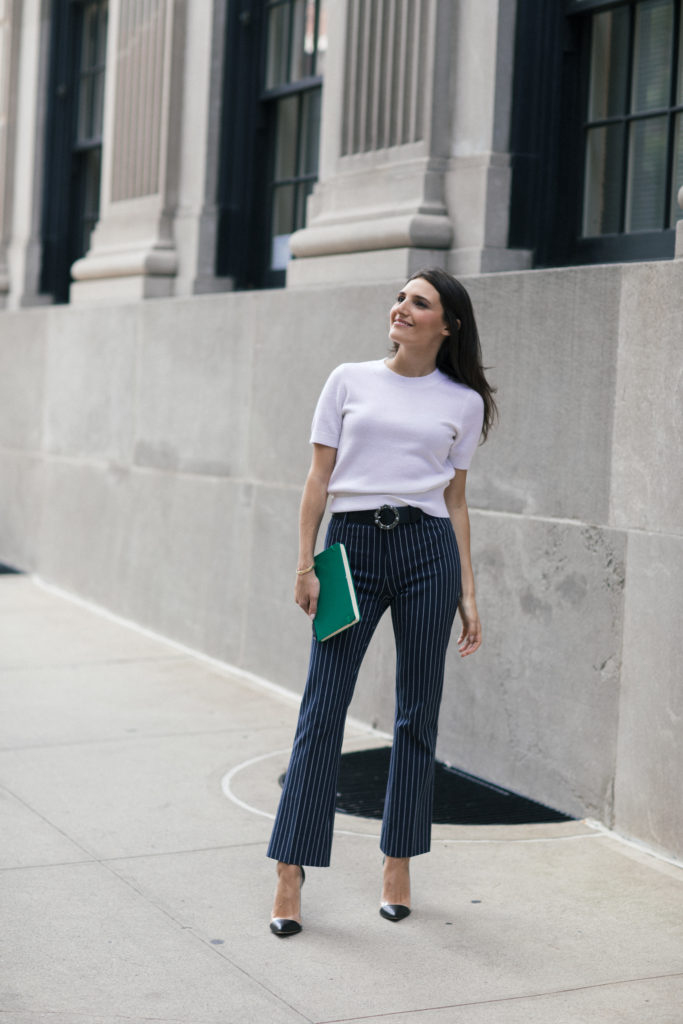 Reflecting on 9/11:
Totally unrelated to everything about this post, I  feel like I need to take a minute to reflect on 9/11. As the years go by and we all get busy with everything else going on in the world (i.e. Hurricanes Harvey and Irma, fashion week, that big pitch at work…) its easy to start feeling more and more distant to this horrific day. Every year when 9/11 passes, I feel so lucky to be a New Yorker and to be a part of the city that showed the world the definition of rebuilding and coming back stronger.
September 11th is my dad's birthday, and although I was in middle school out in the suburbs in 2001, he was in the city. I remember being called down to the principal's office and seeing my mom standing there with tears in her eyes. She didn't know how to tell me what happened, so she put me in the car and turned on the news. We sat in the car speechless just praying that the horrors of the day would stop and that my dad would make it home. We picked up my little sister from her school and headed to the grocery store together to get canned food – in case of emergency, and cake mix – to bake my dad a cake. We sat in the kitchen for hours, mixing the cake mix with upmost care, with our eyes glued to the door waiting for it to open. I am so lucky that my dad worked in midtown, and did in fact, make it home. The emotion and utter fear I felt that day has scared my memory forever. My heart goes out to anyone who lost friends, families or colleagues. #NeverForget.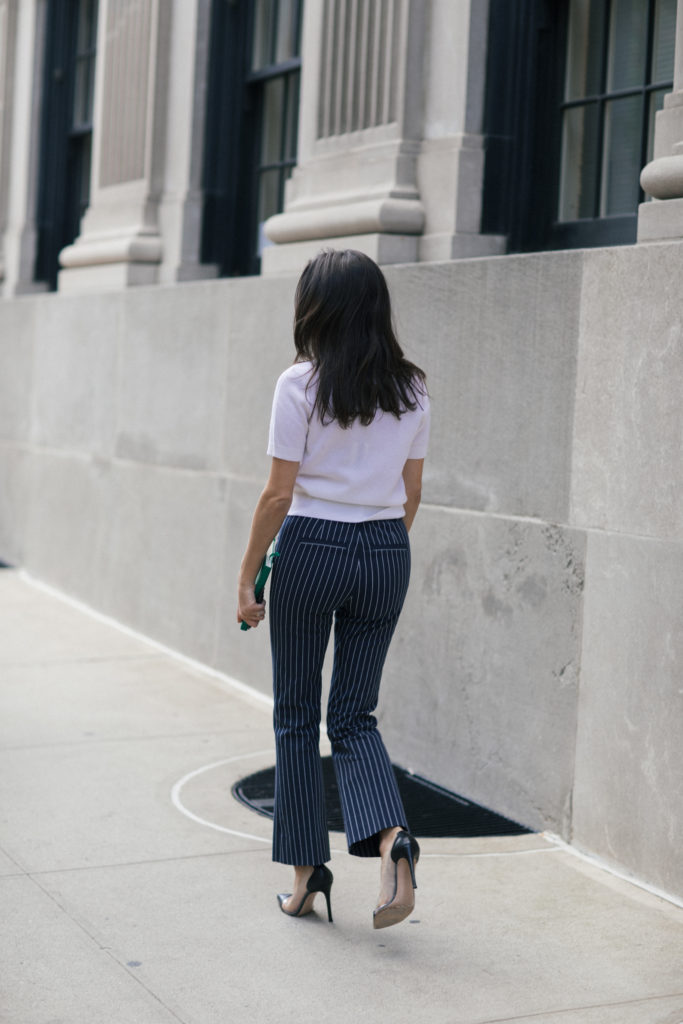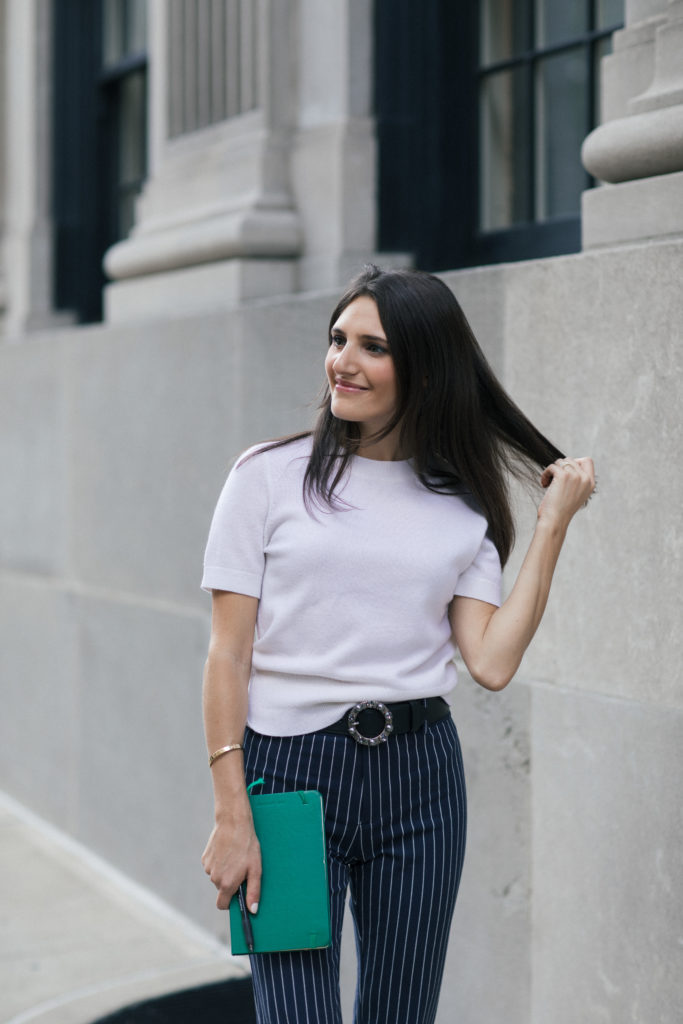 Wearing: pants (similar) | sweater (similar) | shoes | belt
Shop the look below:
Save
Save
Save
Save
Save
Save
Save
Save
Save
Share the post "An everyday look in the midst of fashion week"