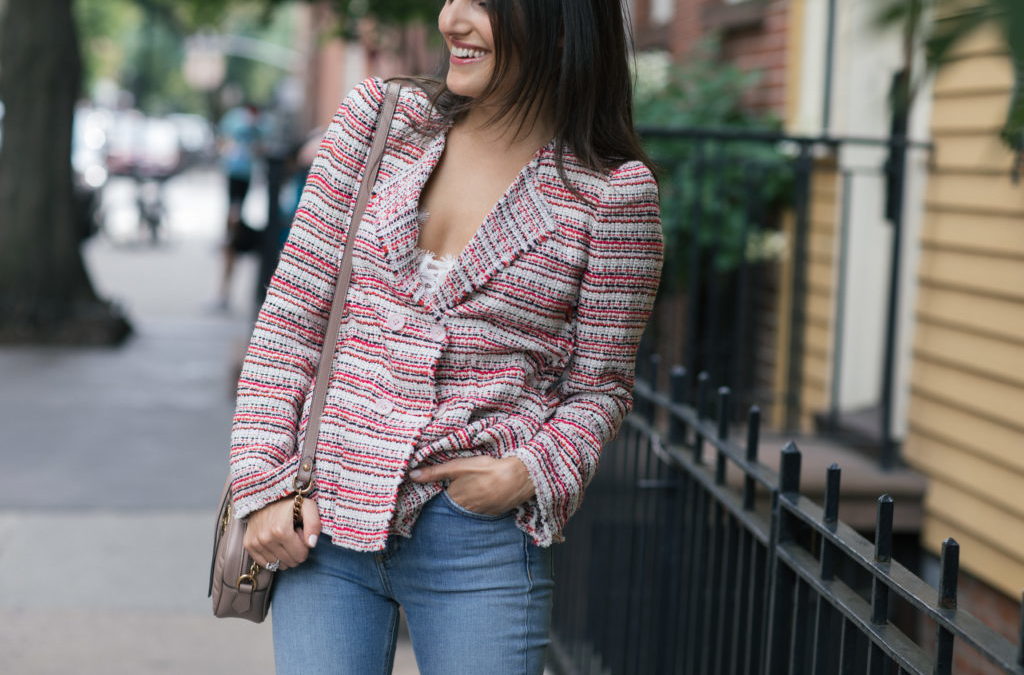 Happy Friday everyone!
Quick update on me:
It's been a busy week for TPS. I'm working hard towards the launch of my new website (tentatively coming in September!) where I will be completely expanding my content! Going forward, I'll be sharing way more work looks, some markets commentary and funny stories from my own work experience. If anyone has any thoughts or wants to hear more of anything, shoot me an email at thatpencilskrit@gmail.com. I LOVE hearing from you!
For all of you who asked, things are still moving forward on the fertility front and as soon as I have news to share, of course I will. I'll also plan to share more details on my own personal journey when I feel the time is right. In the meanwhile, if anyone else has stories they would like to share (anonymously or not) send them my way.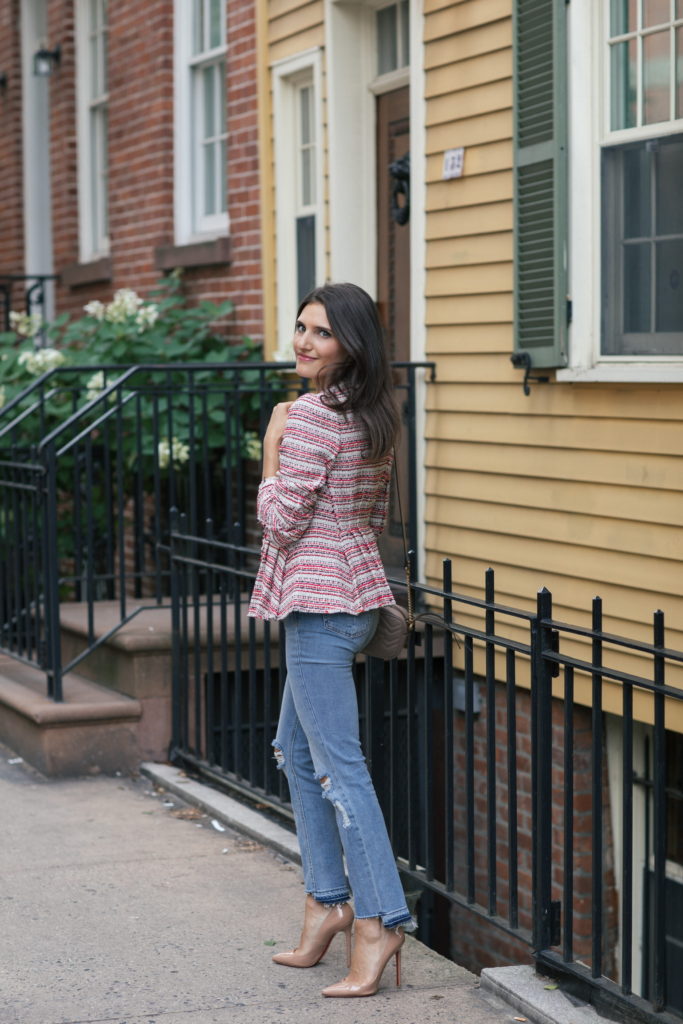 Now for this look:
It makes sense to start by talking about the blazer, but I think I have to start with the jeans. Especially for all the petite women out there, these jeans are perfect and on trend for fall. They are meant to be a crop jean, but hit right above my ankles (I am 5'1.) It is difficult for me to find jeans with cool hems that fit right because I always need to alter them and ruin whatever stylistic hem was applied. These seem to have been made for little people like me – finally a pant I don't have to hem! Okay, okay, I know I'm getting a little too excited… Aside from the length, I also love the amount of stretch and the color. These have that, old school Levi's, not too high, not too stretchy feel with a washed color that could easily be dressed up or down.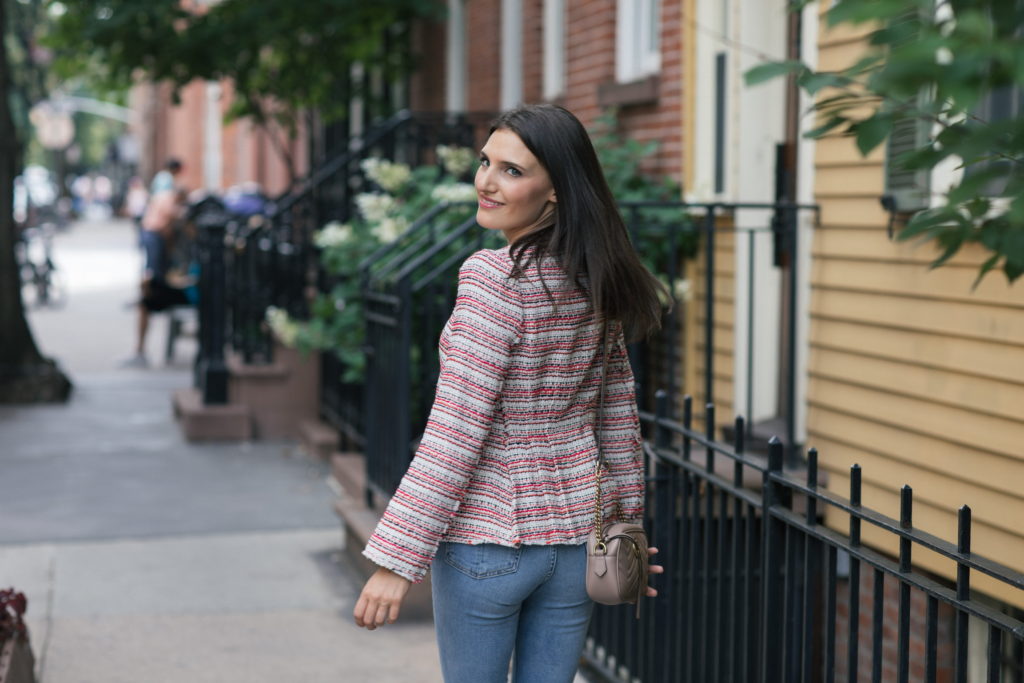 This blazer reminds me a lot of a blazer that I actually wore a ton last year to work, but I find this color and print to be way more versatile. I'm wearing the blazer buttoned up, but it also looks great worn open. If you do choose to wear it buttoned up, it looks great with a white, lace camisole underneath that just peeps out ever so slightly. I'm also really into the the slight peplum shape at the waist that doesn't appear  too tailored or fitted. I even think this would be cool with a pair of white sneakers (these happen to look just like my from Common Projects but for a fraction of the price) to meet friends for brunch. It's pretty versatile. And did I mention… It's also 40% OFF here!
The shoes are a pair of Christian Louboutin's that I bought six years ago. I actually had to go back and think about how long I've had them for. They were one of the first designer shoes I bought and I remember feeling so proud when I took the box home. As expensive as they are, I have to say they have worn really well (and I am very tough on my shoes!) If you have any nicer shoes, I  highly recommend having your shoemaker stick a rubber sole on the bottom to protect them against the pavement – or even unexpected weather. I really think that is the reason mine have held out so long.
The style I decided to get is the So Kate pump – which they still make. Although I still love them, looking back, they really aren't work appropriate because they are so freaking high (120mm.) They work well when hidden under wide leg pants, but otherwise, I feel slightly uncomfortable when I put them on in the office. For a more versatile pump, I'd recommend the Pigalle pump. These are still 100mm (which is high) but they are more appropriate for everyday. I should also mention that you have a much higher likelihood of not tripping and falling on your face in these…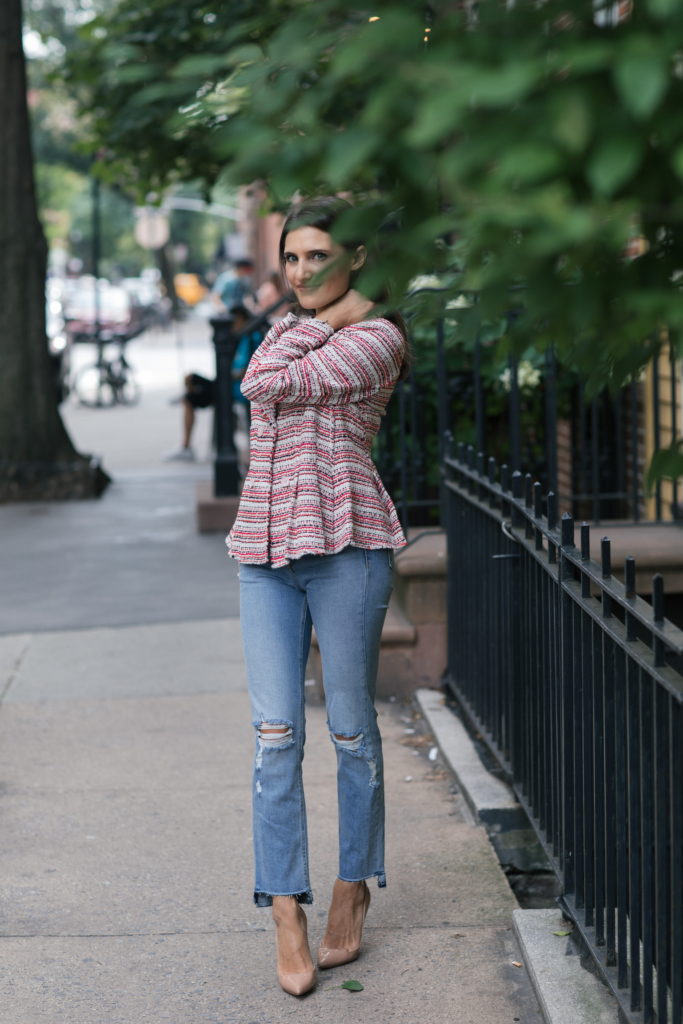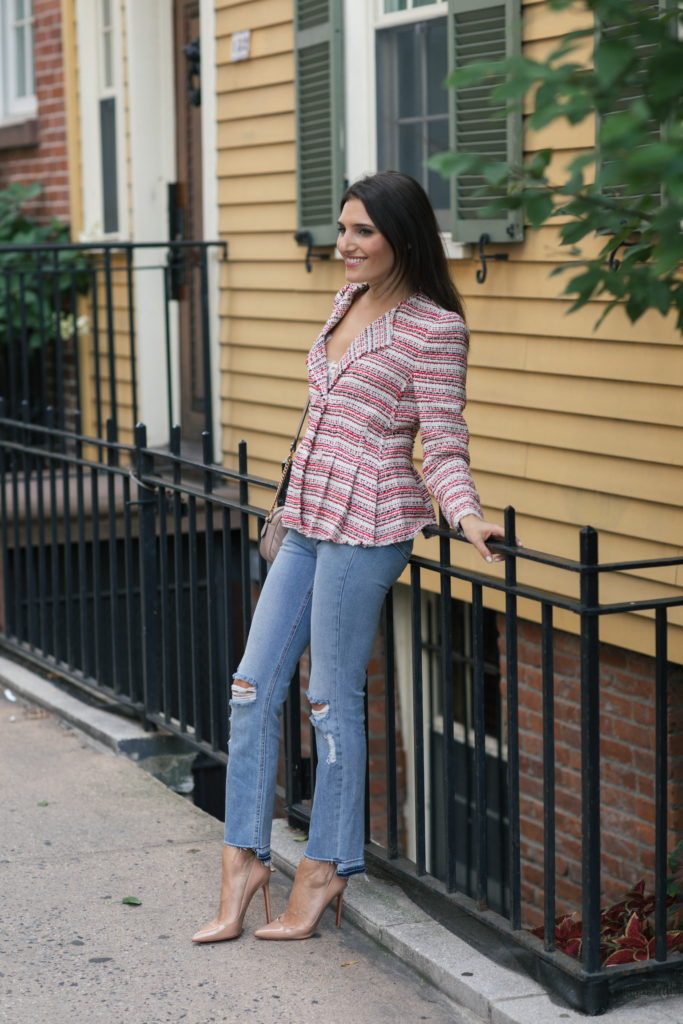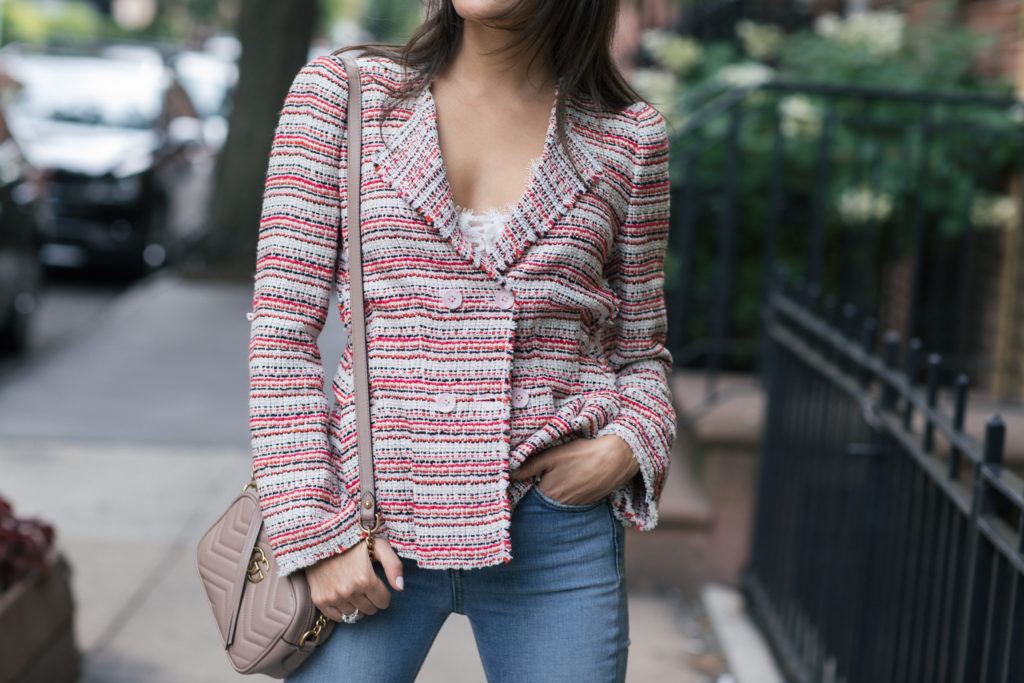 Wearing: blazer (40% off!) | jeans | camisole | bag | shoes
Shop the look below:
Save
Save
Save
Save
Save
Save
Save
Save
Save