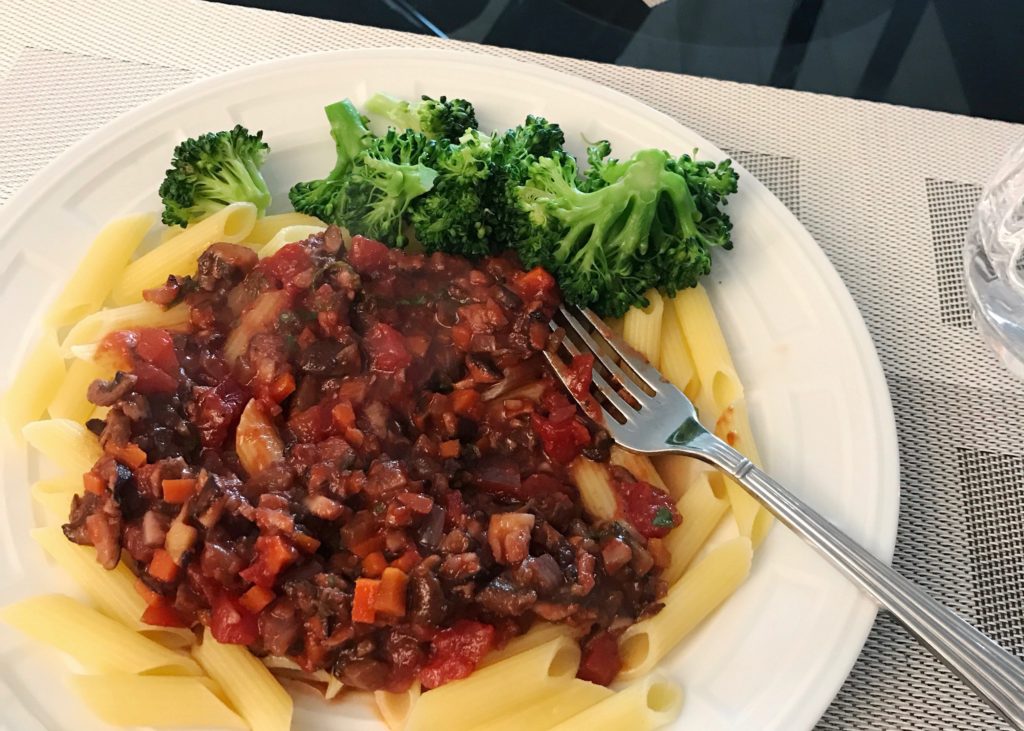 There's this thing we used to joke about at work called the "first year fifteen." Its similar to the notorious "freshman fifteen" that girls dread gaining when they head off to college but there is one exception. With the "freshman fifteen" you're drinking, going out, eating late night meals with your friends and having fun. So although its never fun packing on unwanted pounds, it's probably worth it. The "first year fifteen" results from feeling so bad for yourself while you're a first year analyst eating breakfast, lunch and dinner at your desk most days of the week that you wind up ordering in feel good, comfort delivery food (i.e. I went through a breakfast for dinner phase consisting of french fries, eggs over easy and a side of french toast… every. single. Tuesday.)
Once I entered my second year as an analyst and my hours eased up a bit, I made a commitment to cook as much as possible and smartly plan on Sundays for the week ahead. Cooking is definitely a commitment, but its sort of like working out – you feel so good afterwards. This Mushroom Bolognese is an adaptation of Ina Garten's Weeknight Bolognese  (which has been a Sunday staple in my apartment) and a great recipe that you could pack up and bring to work throughout the week. I created the recipe after watching What the Health on Netflix and experimenting with eating more plant based meals. No, I did not last as a full vegan for more than a few days, and yes, I did read all of the press about how What the Health is a "scare video" and not all true. But, regardless, I feel better when eat Vegan style at least for a few meals a week!
This mushroom bolognese surprisingly tastes "meaty" without having any strange ingredients. I use a dry, red wine and tomato paste to deepen the flavors and make my own pomodoro base using crushed tomatoes. Unfortunately, for health reasons, I'm back on my gluten free diet, so I paired the sauce over some gluten free pasta and broccoli but I'm sure it would be even better with the real thing! Side note, if anyone is looking for some good gluten free pasta, I tested a few different brands and find Barilla to be the best, by far. The texture is a little chewy (as you'd expect) but the flavor is not so off from real pasta – especially when it's covered in sauce!
Amanda's Mushroom Bolognese
Ingredients:
1 lb mushrooms (I like to mix Shitake, Mitake, and Oyster mushrooms)
1 clove minced garlic
1/4 cup finely chopped carrots
1/4 cup finely chopped celery
1/2 finely chopped yellow onion
1 tablespoon dried oregano
1/4 tsp crushed red pepper
1 cup dry, red wine
1 28 oz can crushed tomatoes (I like San Marzano per Ina's suggestion)
2 tablespoons tomato paste (divided)
1/4 tsp nutmeg
1/4 cup chopped fresh basil
Instructions:
Rinse and finely chop mushrooms. Sautee over low heat in a fry pan with salt and pepper.
While the mushrooms are cooking, heat 2 tablespoons olive oil in a large saucepan. Stir in carrots, celery, and onion and let cook for 5 – 7 minutes (or until softened)
Add in garlic, and season with a little salt and pepper. Cook for another two minutes
Stir in oregano and 1 tablespoon of tomato paste.
Add wine and scrape up brown bits from the bottom. Let the wine come to a boil.
Add in crushed tomatoes and bring to a boil.
Reduce heat to simmer.
By this point the mushrooms should have been cooking for around 15 minutes. If they do not seem cooked through, allow them to cook a bit more. Once nicely browned, add in 1 tablespoon of tomato paste.
Transfer mushrooms into saucepan stir and simmer for another 10 minutes.
Add in nutmeg, and fresh basil.
Simmer for another 5 minutes and serve hot
Save
Save
Save
Save
Save
Save