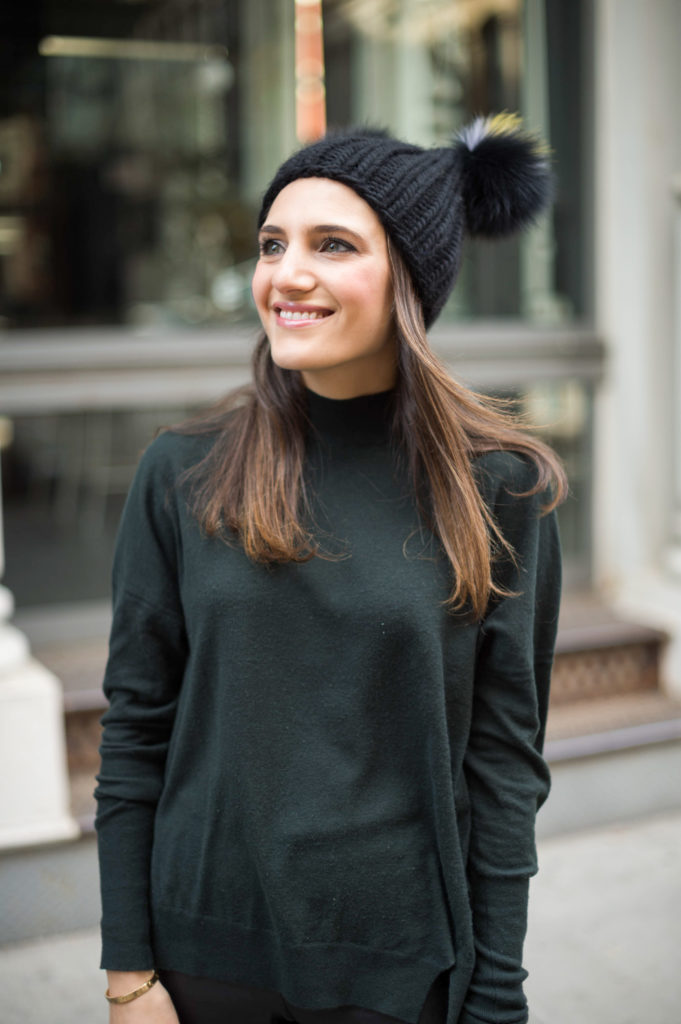 There are so many things I am thankful for today. I'm thankful that I went to Vegas five years ago and met my husband, I'm thankful that I grew up with a warm and loving family who are still my favorite people to hang out with, I am thankful that I'm surrounded by people who share in my successes but also criticize me when I need to be better. I am thankful that I go to an office everyday and find ways to challenge myself and I am SO thankful that I get to come home after work and do what I love, write, for all of you! Thank you for following my That Pencil Skirt journey over the past two years and for your continued support and interest in my crazy obsession with office style.
I hope everyone is enjoying their Thanksgiving surrounded with family and friends! I am currently sitting on my parents couch watching Girl on the Train (I'm a great multi-tasker!) I'm sitting with my parents, my 86 year old grandmother (who is a WWII survivor, and a Greek immigrant who makes the best pastolikas on the planet,) my sister (who is a commercial real estate broker and food blogger extraordinaire @letsgabaoutfood) my husband (who always makes me laugh, even when I am trying so hard to concentrate on watching this movie and writing this piece) and my husband's sister and parents who make an effort every holiday for us all to be together. Days like these are my favorite. There is nothing glamorous. It doesn't matter what we're wearing, or what we have going on in the week ahead – all that matters is that we are all together, laughing, drinking wine, and enjoying every moment 🙂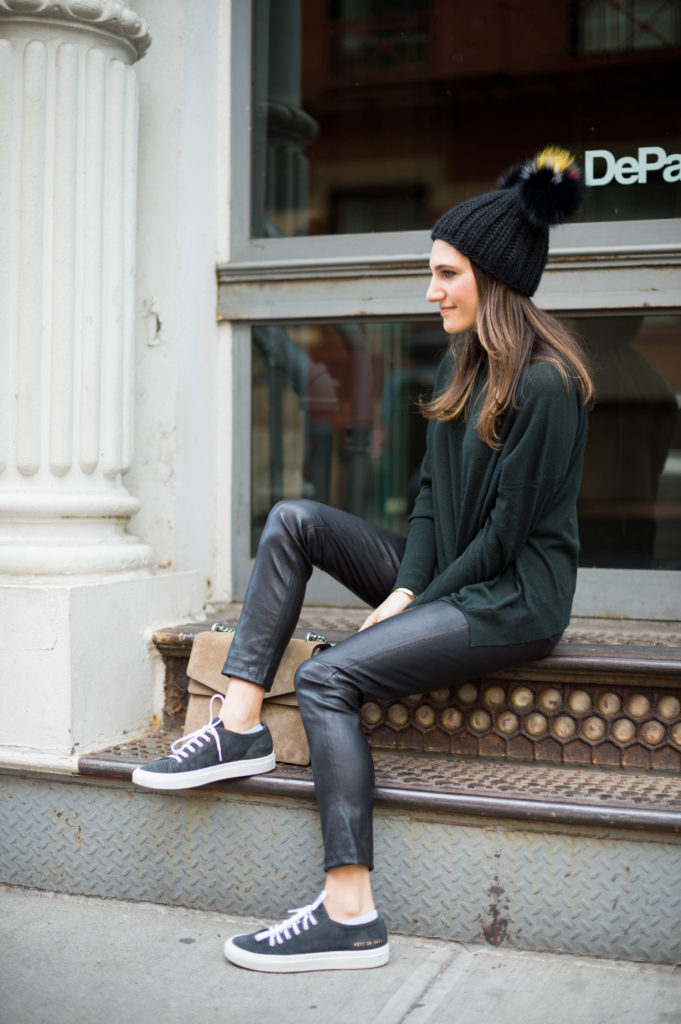 On a lighter note – we can all be thankful for all of the sales today!! The look below is a go to outfit I wear on the weekends and at work. I should add that I am so thankful that my work colleagues never judge me for pushing the envelope with my outfits! I live in these leather pants on the weekends and finally decided, why not wear them to work? This weekend look: leather pants with my favorite J Brand turtleneck (in gray on sale 40% for $130 at Bloomingdales) could easily be worn to the office if you swap the sneakers for pumps and throw a black blazer on top.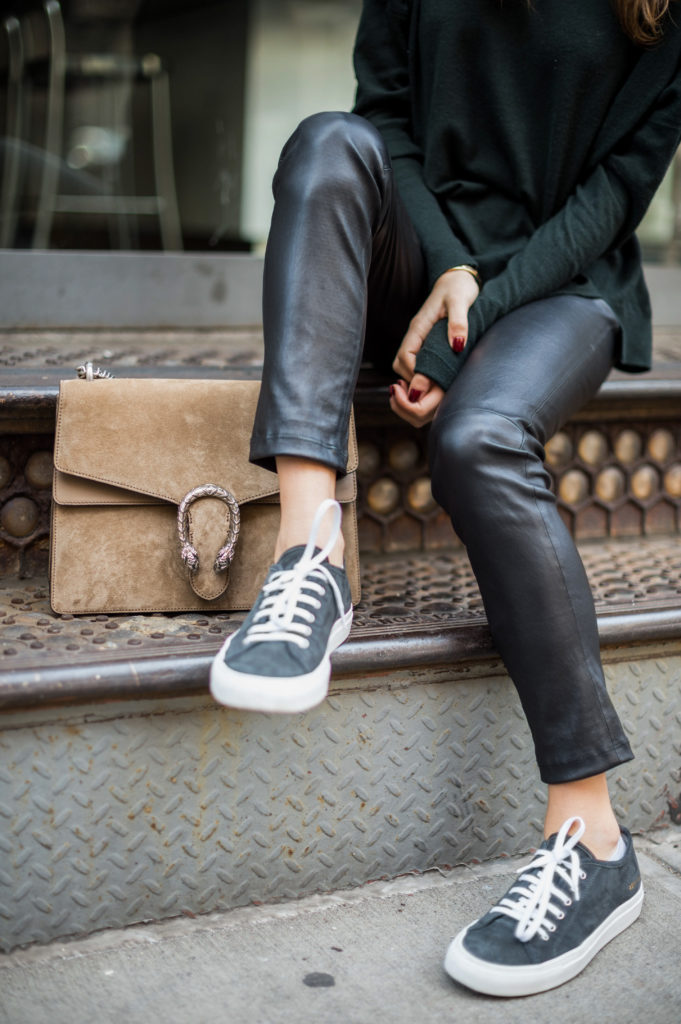 Work or weekends, you always need warm weather essentials (especially if you live in a cold city like New York!!) I know it seems silly, but this Eugenia Kim hat is so warm that I have been wearing it on my walk to work! It's been a great a conversation starter when I get to the office! "Why does your hat have two pom pom's on it?" "WHY NOT?!"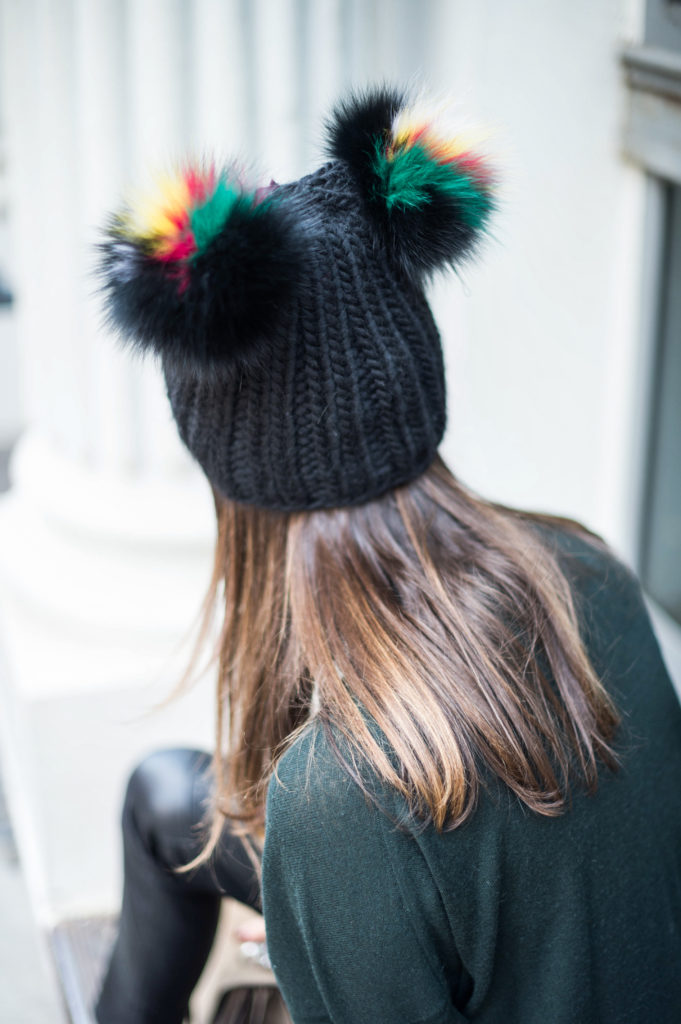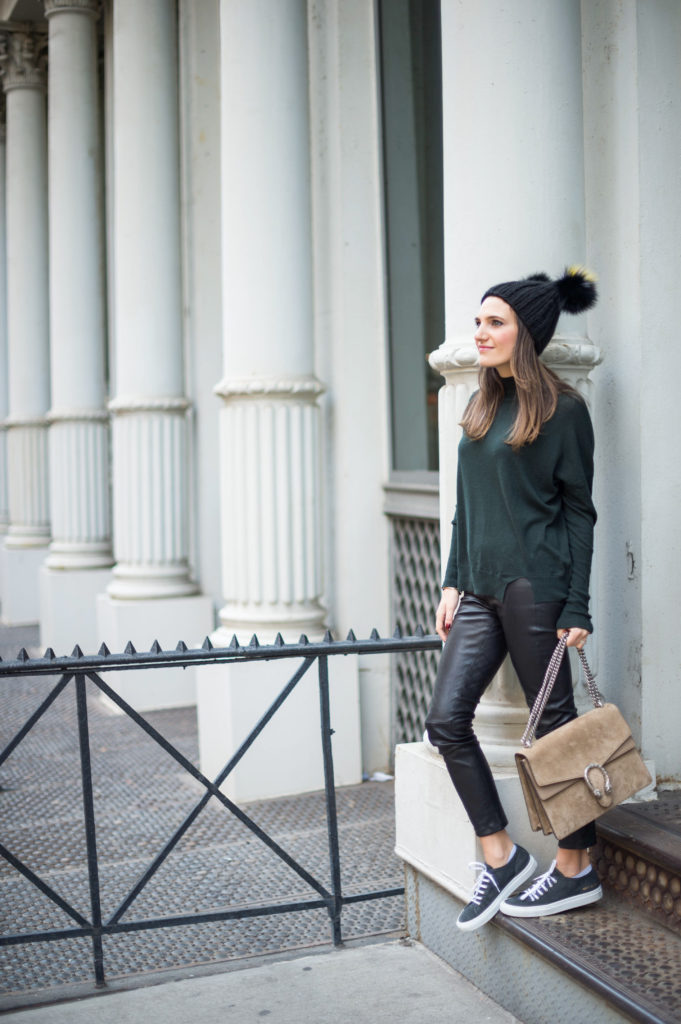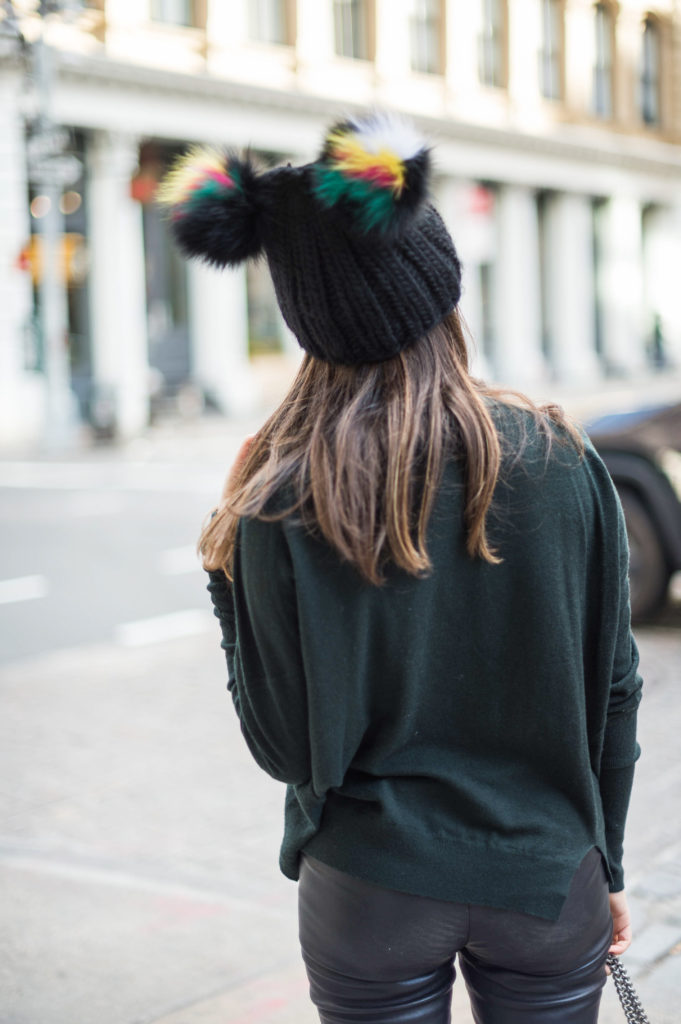 Wearing: leather pants | turtleneck | hat | sneakers | bag
Shop the look below – and Happy Thanksgiving!! XO