With Black Friday 5 days away, let's talk sale strategy! Over the next five days, I will feature different topics to focus on as you browse through sale options. One thing I always try to remember is to buy things that you truly LOVE and not things that are just deeply discounted. One way to guarantee you are buying what you love is to fill up your shopping carts now and check them on Friday and see which prices have come down, and then decide what to purchase. You are better off buying only one, less discounted item that you have wanted forever, than 10 deeply discounted items that lured you in by their prices and will sit in the back of your closet for the next year. With that said, let's talk holiday style, and what items you can add to your wardrobe to amp up your holiday look:
PLEATED MIDI SKIRTS
There are two trends for the holiday season that I am obsessed with right now (1) pleated midi skirts and (2) metallic everything. I think you can sense where I'm going with this one… why not incorporate both trends with a  festive than a metallic pleated midi skirt? The skirt I am wearing below is from Zara, but I found a very similar one on Asos. The fabric on the Zara skirt is a little thick and doesn't move as much as I would like, and I've hear the Asos option is better. A metallic pleated midi skirts is so much fun to wear and is definitely a show stopper. You could dress it up with a camisole and leather jacket (as worn below) or make it more casual with a chunky knit sweater.
SALE ALERT!!! One sale that is already in full force is SheIn. If you are on a tight budget, or just love a great deal, SheIn has all of the trends for a fraction of the price and is 40% off for the next 24 hours with the code FU40. This pleated midi skirt is almost identical to the Asos one for a fraction of the price.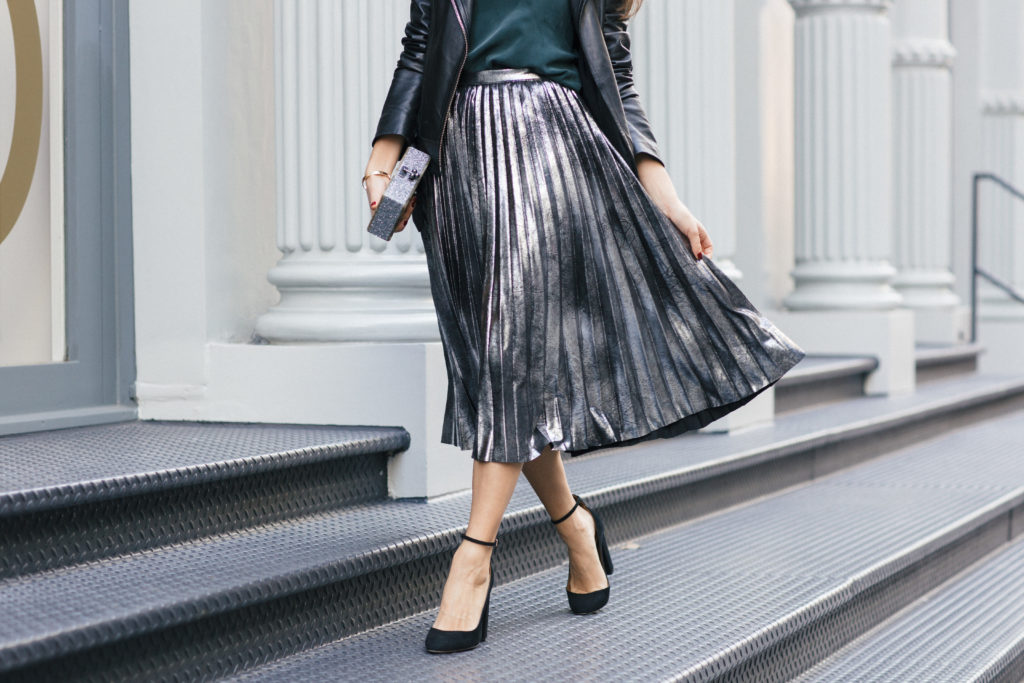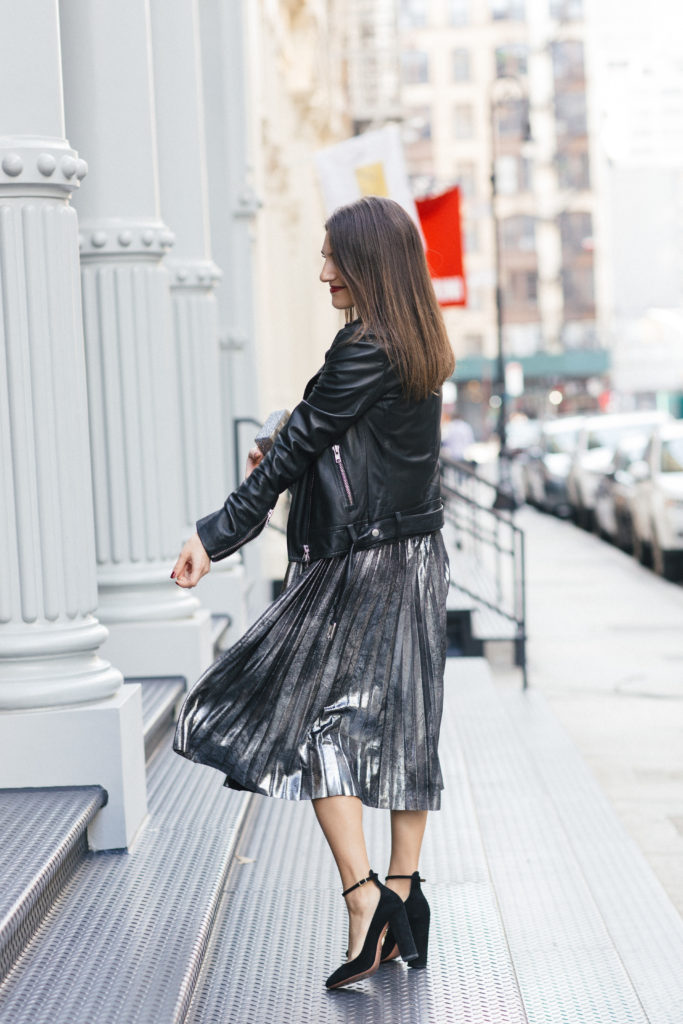 CROPPED LEATHER JACKETS
Leather jackets are perfect items to buy on sale. In the winter, I'll oftentimes wear mine under a winter coat and keep it on indoors when I got out at night. A leather jacket is so versatile, and if you already have a great black leather jacket, you could consider adding a colored one to your wardrobe (I love navy leather jackets and have a feeling this one may go on sale this week) Many leather jackets will go on sale this week, and I've had my eye on a few. The leather jacket I am wearing here was bought on the streets of Florence and is so old! Although I absolutely love it, I wish it was a bit more cropped. I found this AMAZING BlankNYC faux leather cropped jacket that is currently in my Nordstrom shopping cart! BlankNYC has made amazing faux leather and suede jackets that are really reasonably priced this season and I will be monitoring them through the week to see if they go on sale! Even at full price, the jacket I like is under $150.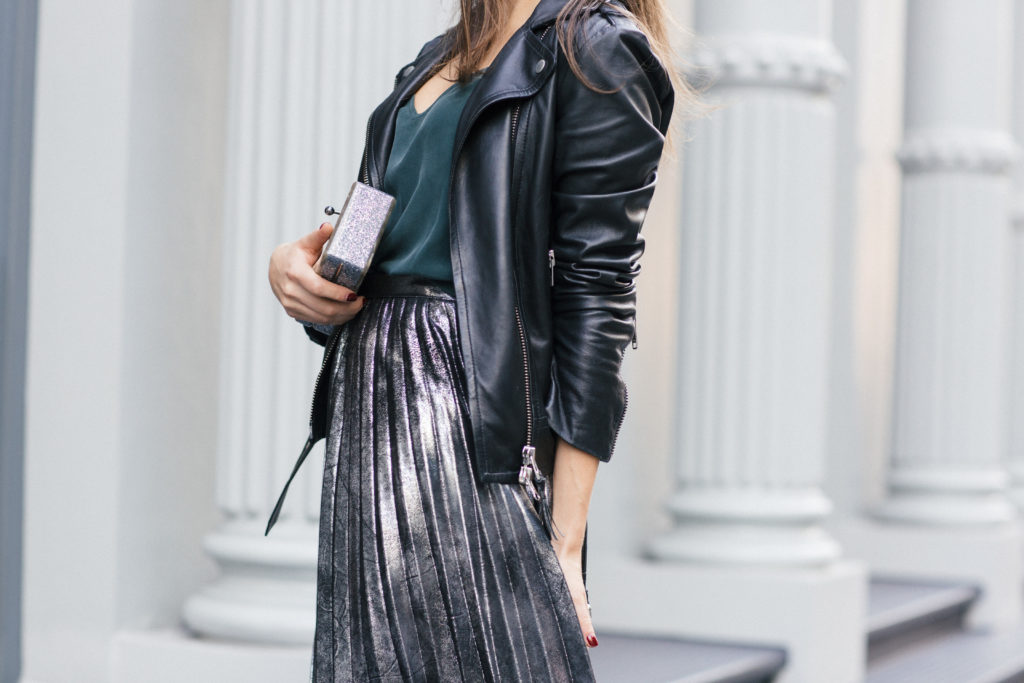 HOLIDAY CAMISOLE
I spent some time this weekend walking up the streets of Madison Avenue in New York city (I LOVE window shopping the amazing storefronts this time of year.) Even though we are approaching winter, camisoles flooded the windows. In this look, I am wearing an Equipment dark green camisole with a lace trim. The color makes a seemingly summery top perfectly appropriate for winter. I think a simple camisole, is a sexy, simple look for a night out, but could be layered with a turtleneck underneath if you are going for a more casual look. Another way to incorporate a camisole into your holiday style is to find one that comes in a wintery fabric. I love this long, black velvet camisole that I found at Nordstroms. Nordstoms is amazing because they will price match if your item goes on sale just about anywhere else! As I mentioned earlier, when you find something you like, just stick it in your shopping cart and check your cart throughout the week for discounts!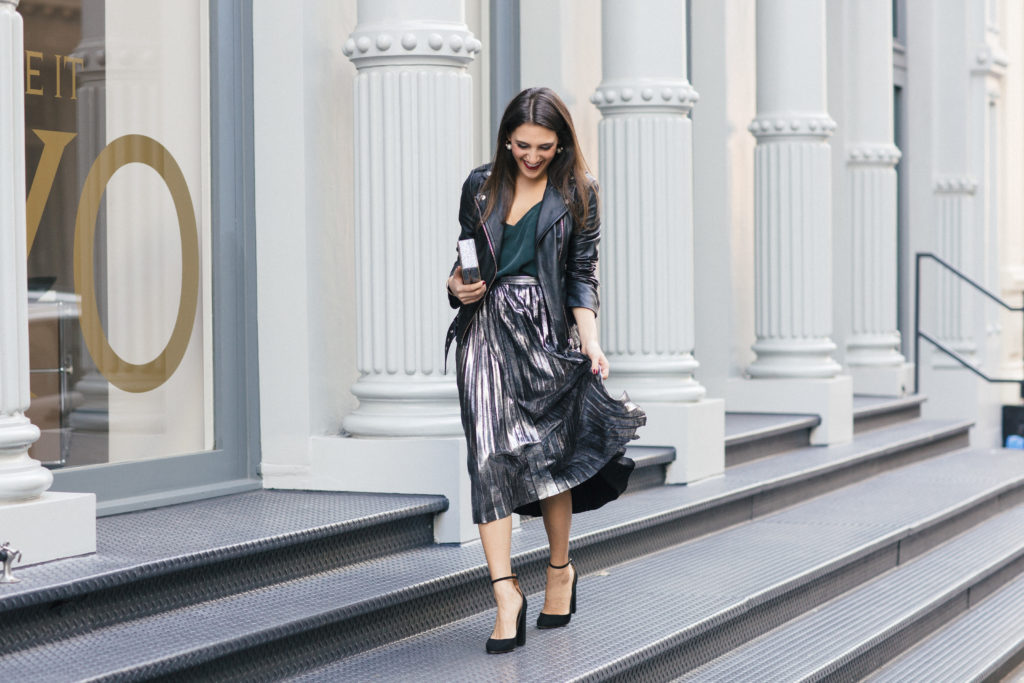 SPARKLY CLUTCH
A sparkly clutch can make any look feel festive! I bought this Edie Parker clutch last year and have worn it on the weekends, to charity events, to black tie weddings… the list goes on and on. Especially during the holiday season, I love adding sparkle to any look and adding a clutch to any look is a very easy way to do that. If you didn't want to splurge on Edie Parker, I also love this Rebecca Minkoff sparky envelope clutch sold at Nordstroms.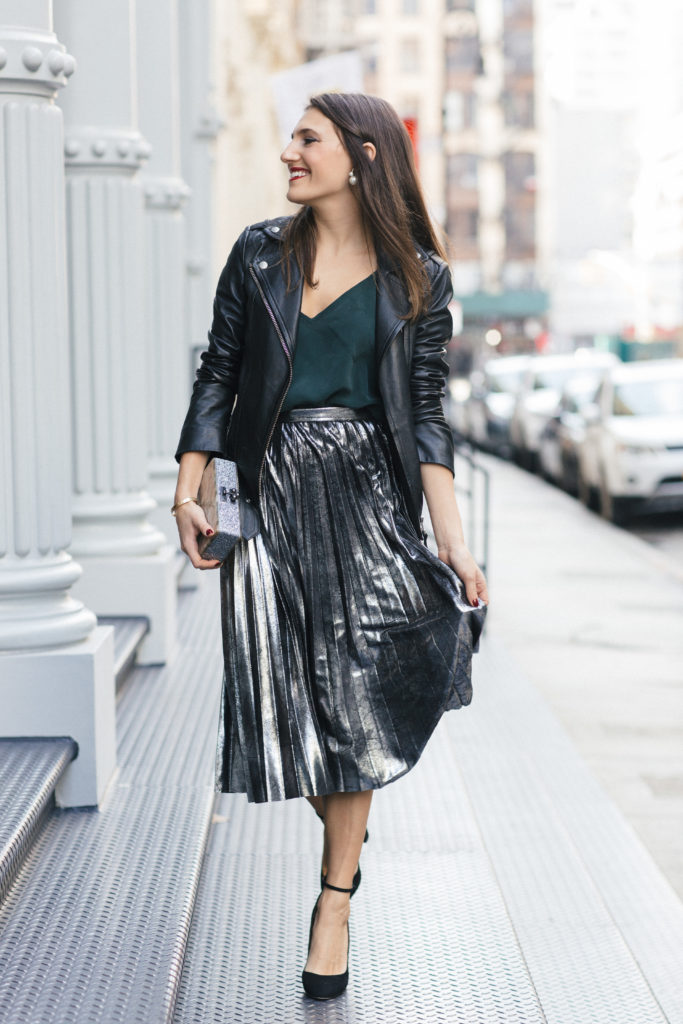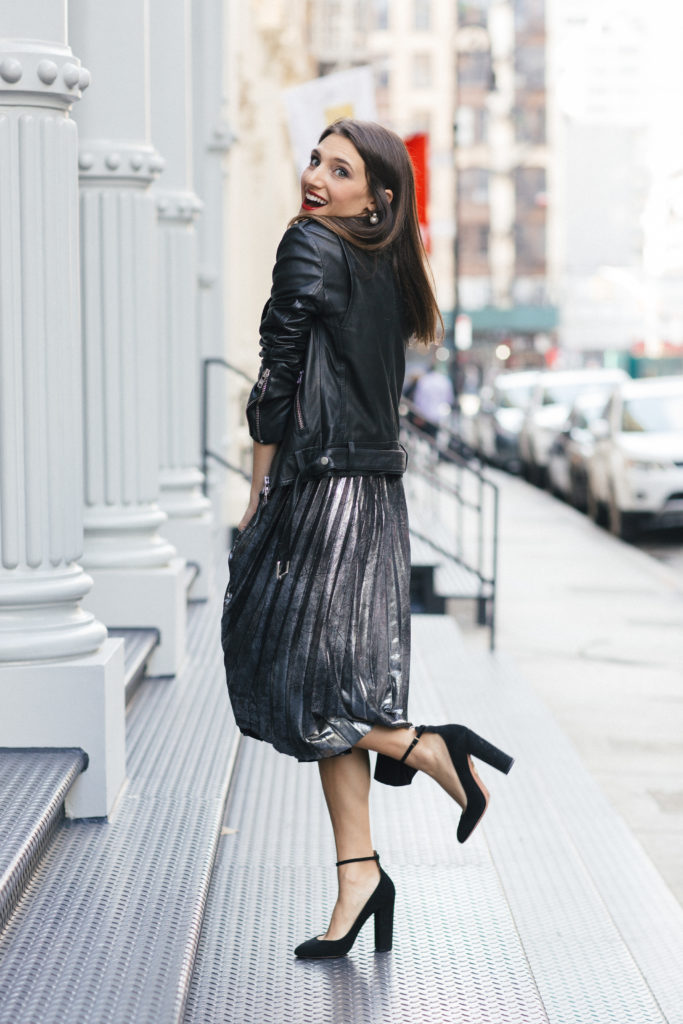 Wearing: Midi skirt | camisole| leather jacket | clutch | mary-jane pumps (back in stock!)
Shop the look – and these trends – below. And PLEASE shoot me an email if you have any "black Friday week" post requests!