Two years ago was the best night of my life – and I realize I have never shared details from my wedding with any of you! I apologize that this is NOT a work post, but hope you enjoy seeing some photos from my very special day!
Our wedding was on October 25, 2014 at the Plaza Hotel in New York City. It was a perfect day – 72 degrees and beautifully sunny. I woke up with a terrible migraine that morning (ugh.) The New York bagel I ate didn't help, neither did the 4 Advil I took, but the second I stepped into the hotel, I was overwhelmed with emotions and it magically went away (or I was just too distracted to think about it!!)
Getting ready in the bridal suite was surreal. My closest family and friends were popping in and out, eating french fries and laughing with me. I kept pinching myself asking how this could really be my day… my wedding. I gave all of my bridesmaids the cutest pink and white striped bathrobes – and a close friend gave me one that had "bride" blinged out on the back (that I still wear every day)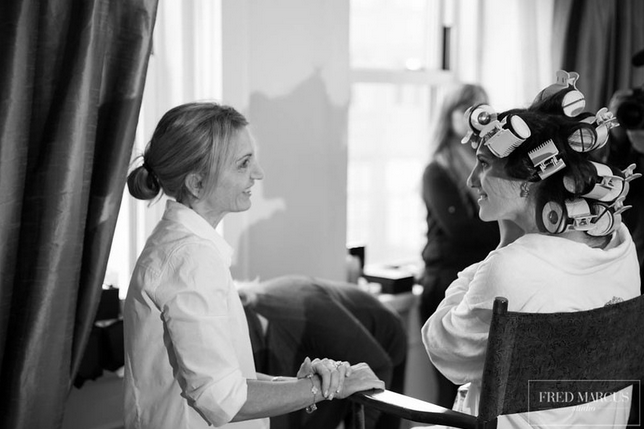 My dress was Reem Acra, and it was the first dress I tried on. I swear, I spotted it the second I walked into the bridal shop and knew instantly it would be mine. It just felt like me. Although I didn't want to be an overly "sexy" bride, my dress was definitely more conservative than I thought it would be. There was just something so romantic about the short sleeve lace top that I had never seen before, and I loved the movement in the skirt.
I wore extensions in my hair, which caused for some silly photos later in the night after all of my dancing caused some of the extensions to slip out of place! I decided once the party started, I was done with makeup, done with hair, and I was just going to party until I couldn't stand, and I wouldn't change a thing!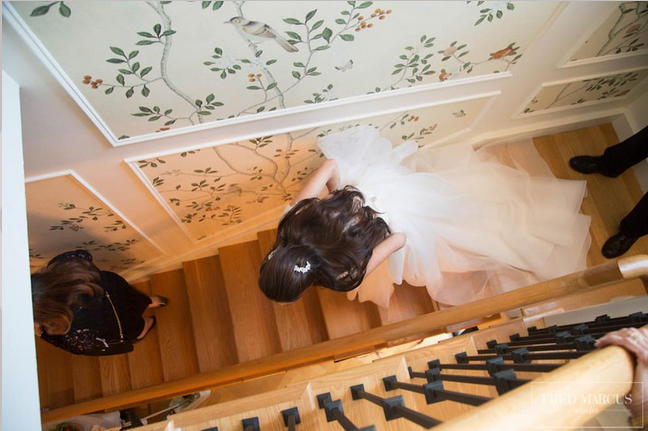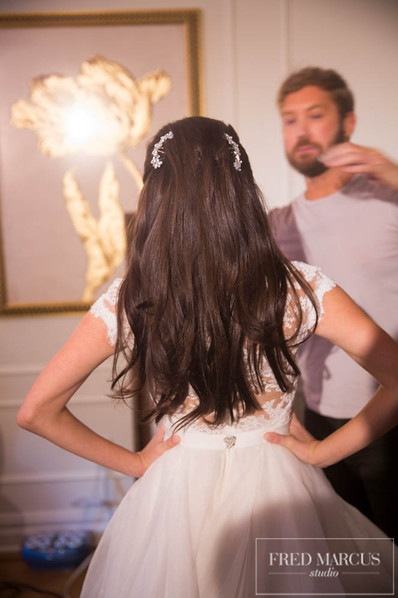 Jason and I did see each other before our ceremony because the day was too beautiful not to take photos! The photo below was from our first look.  You can't really tell from this photo but there were so many people crowding around cheering for us… it was such a special moment. This was a touch classier than the first time we met…. at a pool party at the Aria hotel in Las Vegas (not kidding.)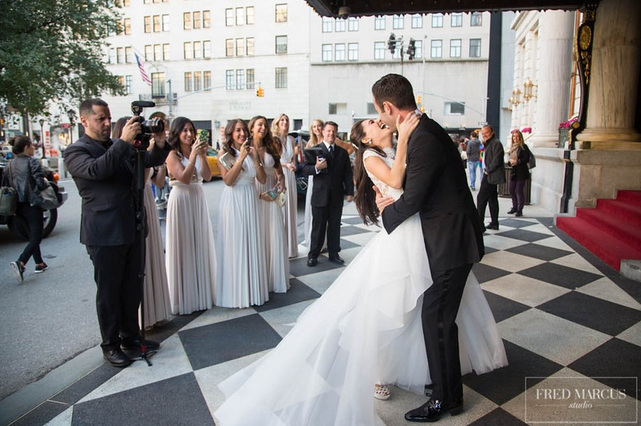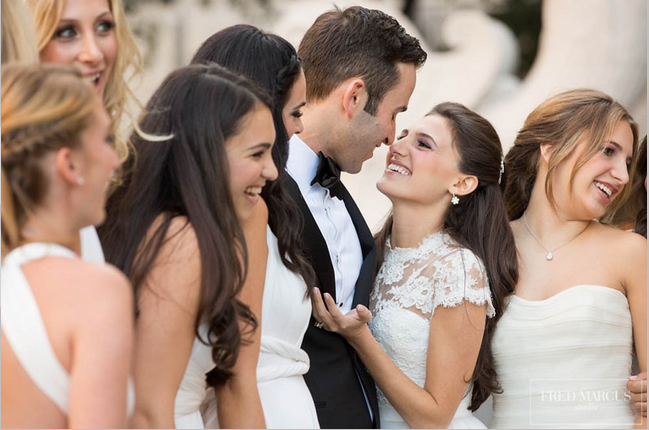 Walking through the park was really magical – I'm sorry I'm using all of these painfully cheesy adjectives (a la "magical") but I really can't find any other words to describe how I felt that day!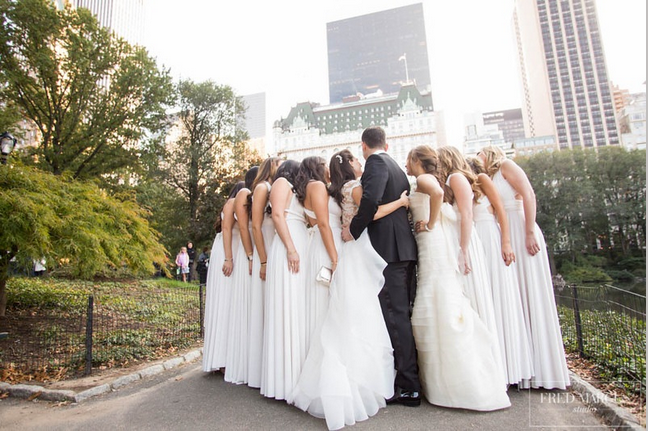 My bridesmaids wore Two Birds dresses, which are AMAZING because they are one size fits all (literally) and can be worn 12+ different ways. My sister and sister-in-law wore Vera Wang. All you have to do is take a scissor and cut the length for your height. I had girls ranging from 5″ tall to 5″9 and the same sized dress fit both. I choose to have the bridal party in white because I wanted them to feel really special. White stands out.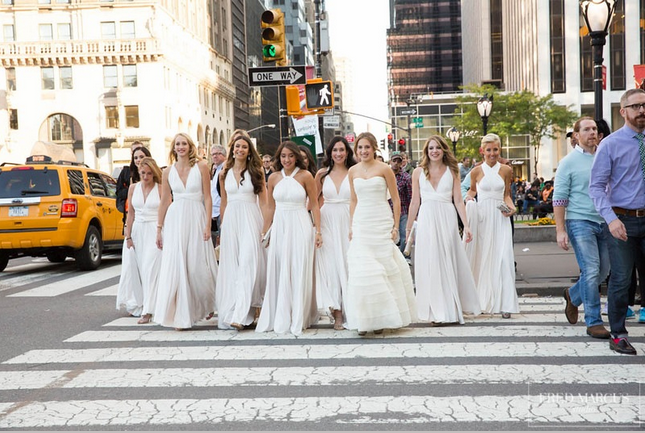 The ceremony was filled with white. I wanted a very traditional and romantic ceremony gushing with white flowers. We chose to use a mixture of orchids, white roses, and hydrangea.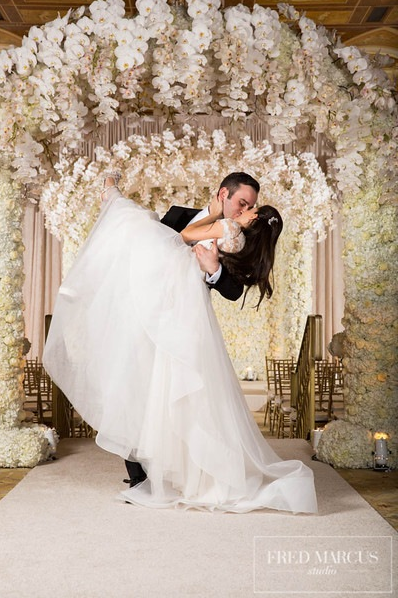 I smile every time I see this picture because I feel so lucky to have all of these amazing friends in our life!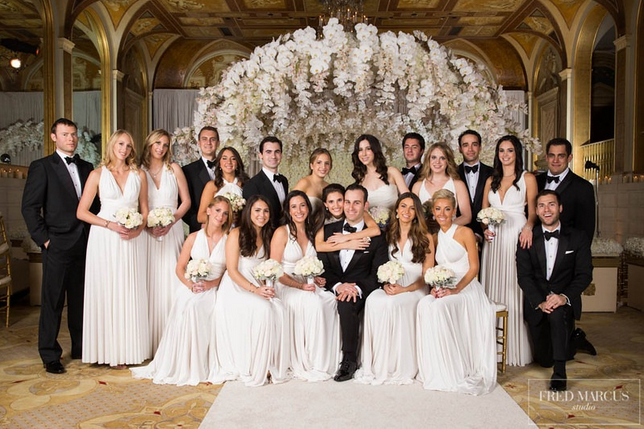 We are so lucky that our families had the best time TOGETHER that night (and every night we've been together since!)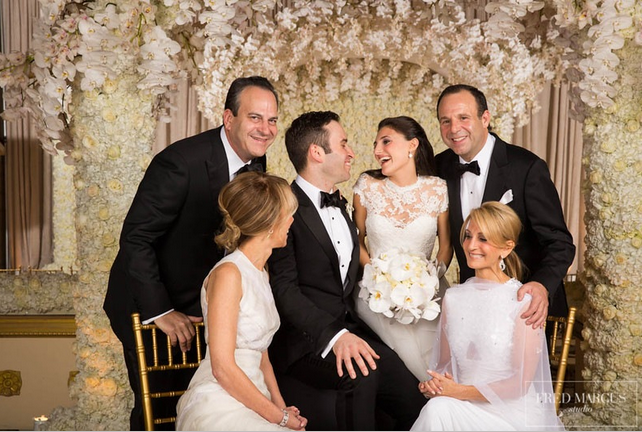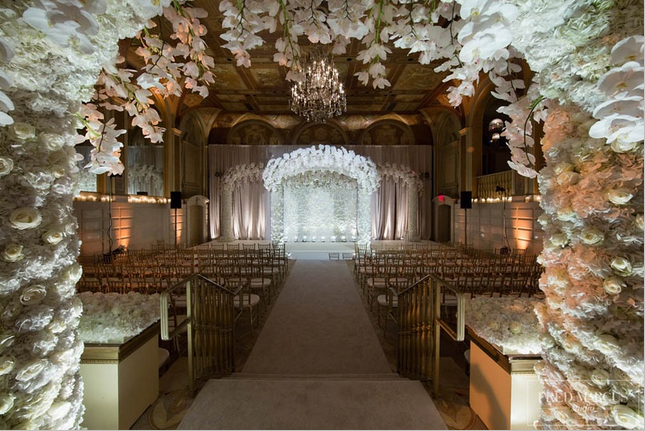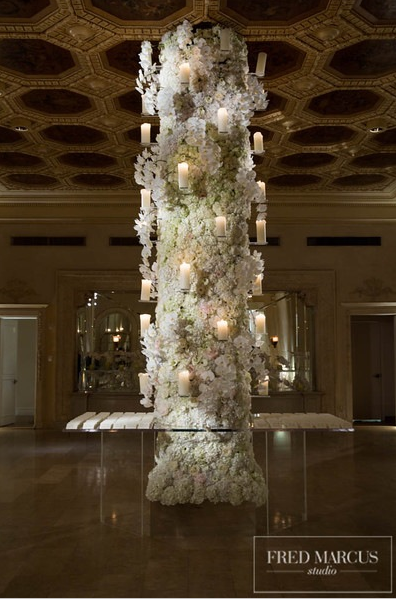 The whole gang lining up getting ready to walk down the aisle. At this point, my heart was racing so fast. I also love that when you look quickly, it looks like I'm in the picture because there are so many white dresses! (I'm not..)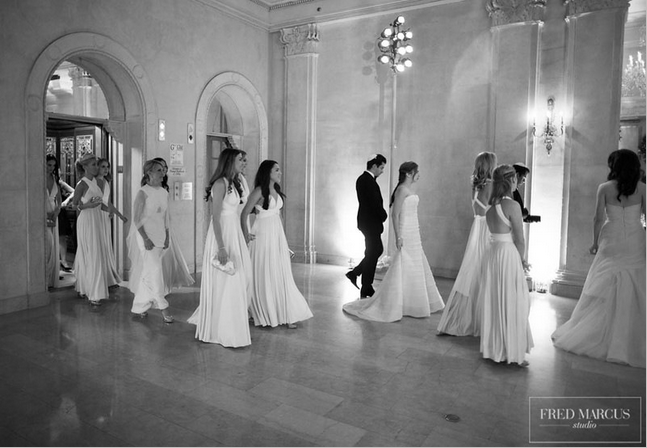 This is my favorite picture! This is Jason getting ready to walk down the aisle with his parents and me standing off to the side with the most perfect expression on my face!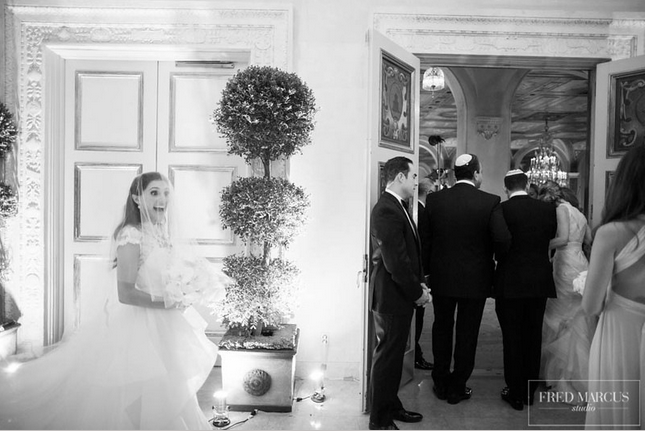 My dad walking me down the aisle. My parents play such a huge role in my life and my dad is someone I will always look up to. He walked me down halfway, and then my mom met us and we walked the remainder together. My parents met when they were young at summer camp and I admire their marriage. They were beaming just as much as I was the entire night and I know this was such a special moment for my dad.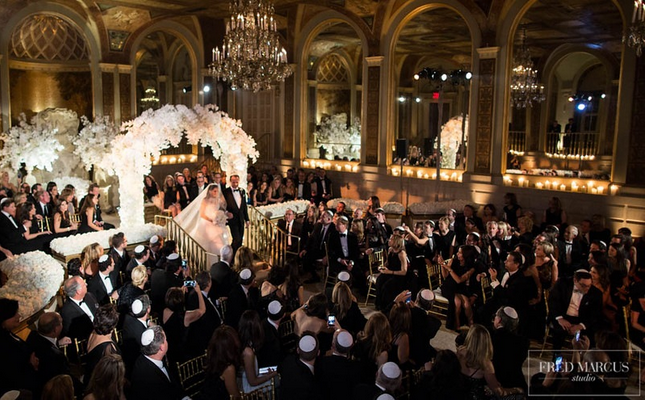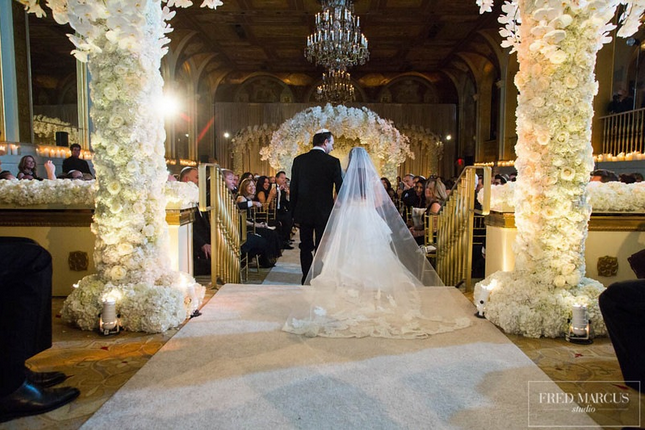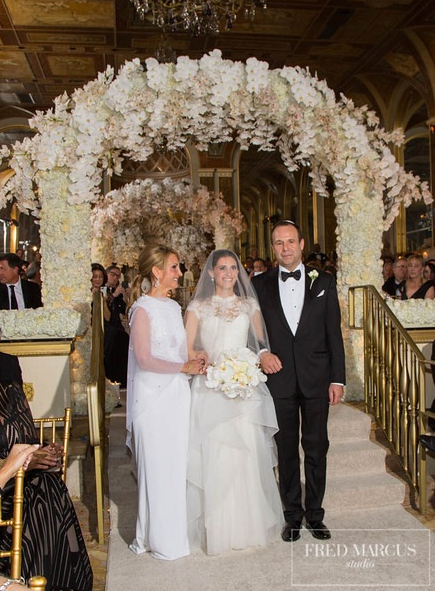 Ah… and now the party begins!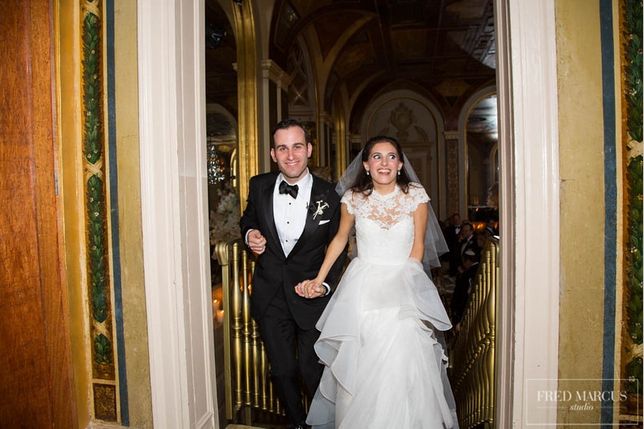 The white theme continued into the grand ballroom at the plaza. White flowers, white dance floor, white chairs, white lights… SBK did the flowers and I still cannot get over how talented he is.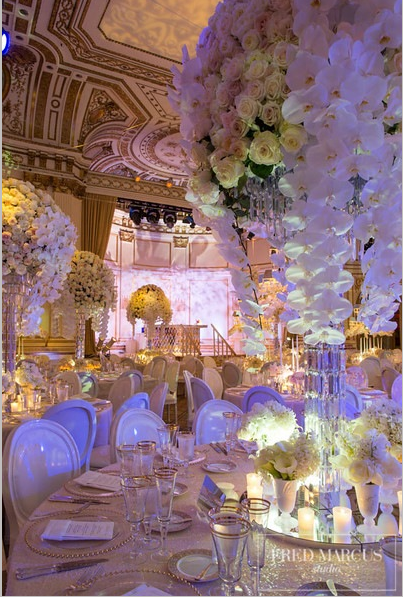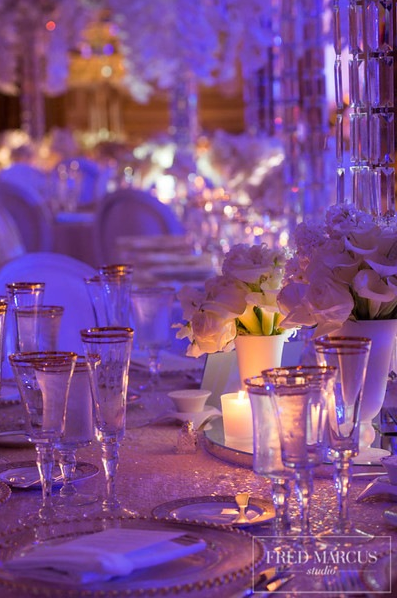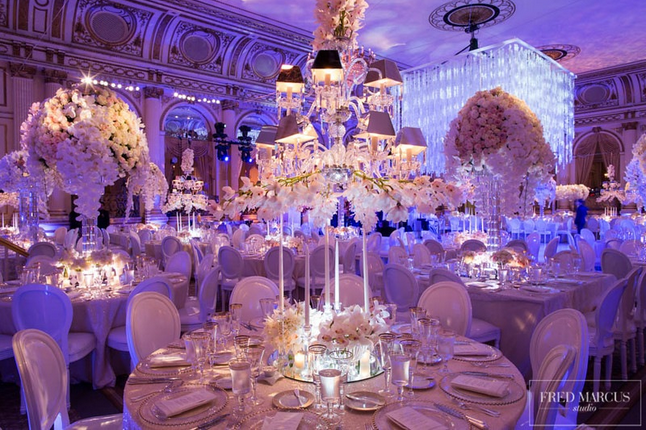 … and then we partied! And really, everyone danced all night! Harris Lane was our band. He asked us if we wanted to submit a playlist before the wedding so we spent hours trying to think of songs to choose. In the end, we decided to trust him and shred our lists. I am so happy we did. He just "got" our crowd and kept everyone on their feet all night, which was so important to me! I just wanted everyone to have fun!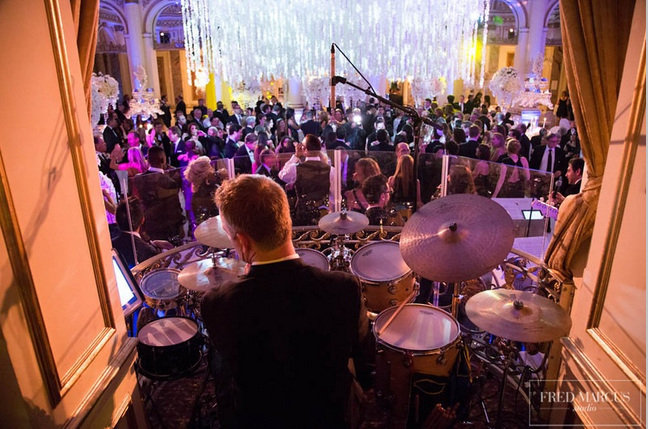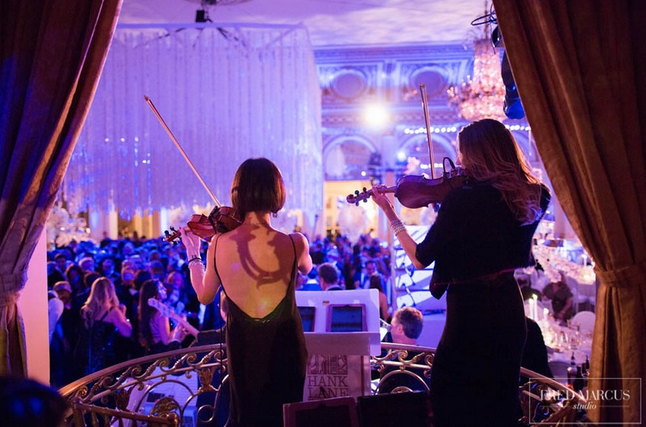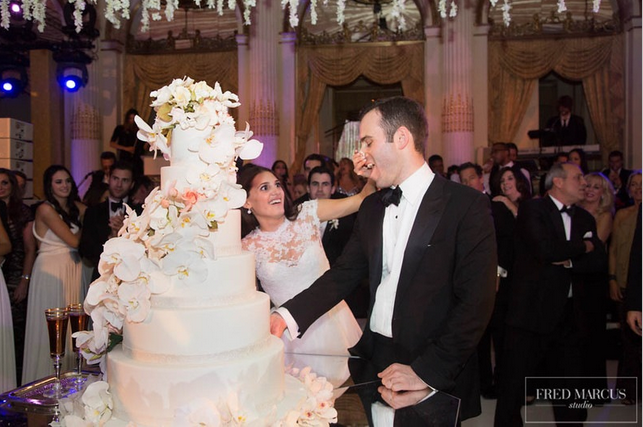 And after the party is the after party!! It was white too! JK! We decided it was (finally) time to switch it up and went with blues and reds to create a nightclub vibe right outside the ballroom. The lounge was filled with late night snacks like sliders and hot dogs and I will never forget eating a waffle like a slice of pizza. I need to do that again, it was awesome.
And I changed into a custom feather and sequin white mini dress right before the after party started! Because when else would I wear a feather and white sequin mini dress? The shoes are Sergio Rossi and I picked them primarily because they were super high and comfortable. I thought I would be changing into sneakers for the after party but my feet were actually totally fine! Maybe it was the adrenaline? Or all the Advil I took from my morning migraine…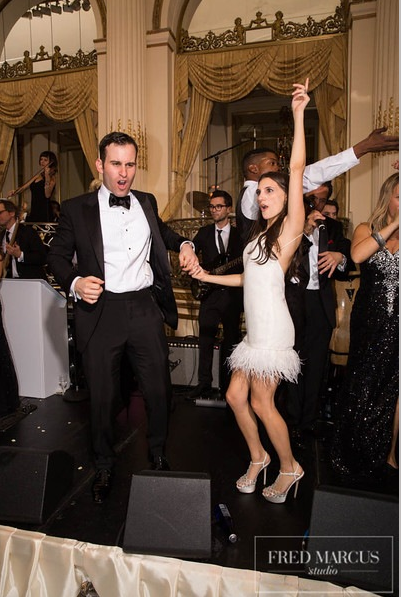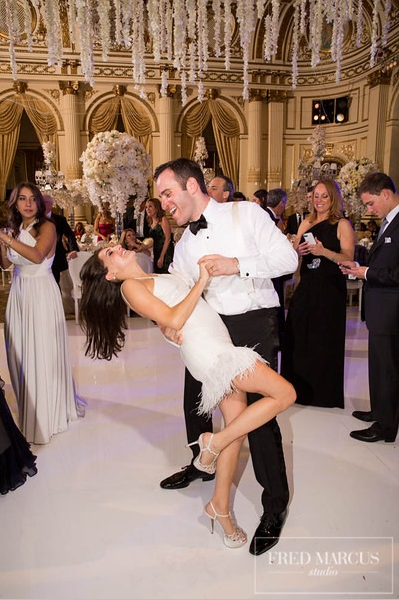 As amazing as my wedding was, and it truly was the best night of my life, it would have been nothing without my groom (yes, I know, another incredibly cheesy line..) Jason and I met totally by chance in Las Vegas, we were long distance and had no plans to be in the same city anytime soon when we met. It made no sense. Yet… here we are, and we make sense. I am a huge believer in fate and that some things just happen for a reason and there is nobody else I'd rather spend my days and nights with.