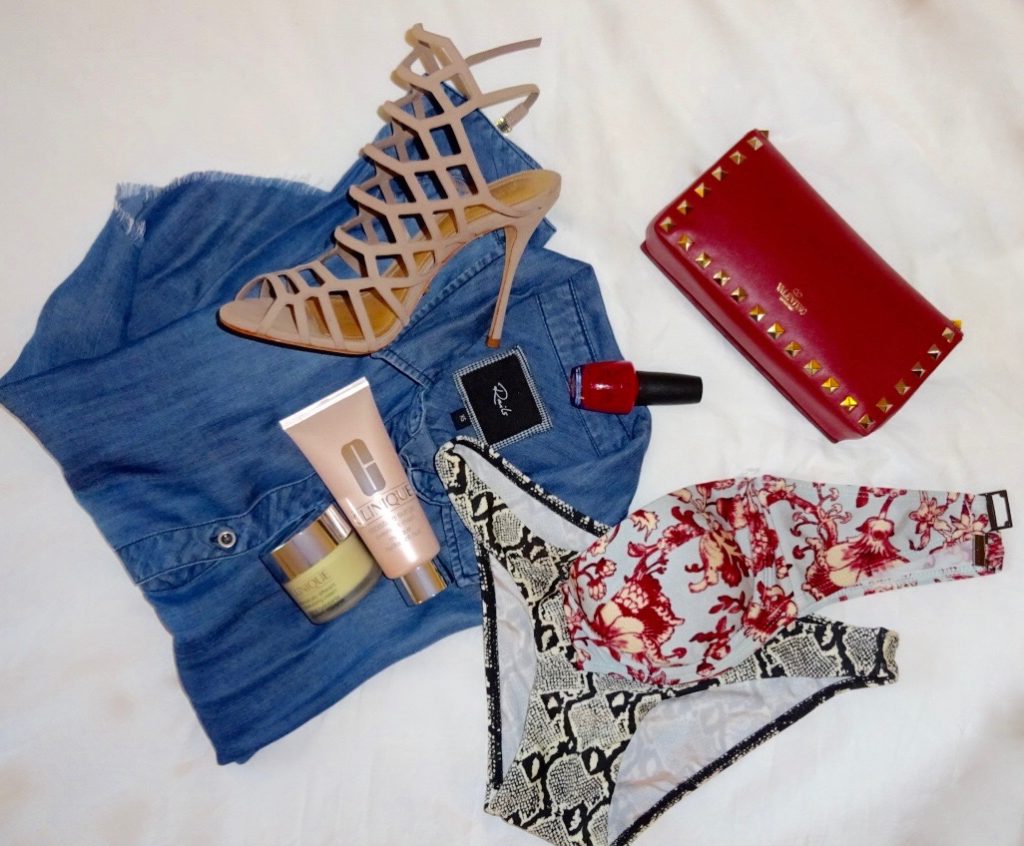 Okay, this may be a little weird about me but I actually love packing. I oddly love everything about it – the planning, the organization, trying on outfits… I admit, I hate unpacking – but I'll save that for another post 🙂 A (pretty awesome) reader of my blog requested that I write about some packing tips; and when I read the e-mail, I can't lie… I got pretty excited!
When I'm on vacation, I like having the right things to wear (of course… or I suppose I wouldn't be a fashion blogger), but I absolutely hate having to worry about it. Because of this – I go absolutely cray cray when I am packing to make sure every day is well thought out and easily planned for, for when I arrive at a destination. I've found the key to packing is finding things that are mutli-functional – plane to beach bags, day to night tops… you get the point. Some essentials:
1. Plastic bags should be your best friend – especially if you are going on a trip with longer than a weekend or with more than one destination. I don't even buy the compression ones – the regular ones are just fine. I squish different "types" of outfits into different bags (i.e. pool clothes, night clothes, sweaters/ jacket for when it gets chilly, workout gear) which makes finding things (and unpacking) incredibly easy. I also find that my clothes stay nicely folded in the bags and I could easily dig through tossing bags around without wrinkling anything.
2. Neutral strappy sandals – These instantly take a look day to night. I try to be as efficient a packer as possible and try to wear pieces more than once on a trip. Take an off the shoulder Poupette top (one of my all time favorite brands)… wear it as a cover up with flip flops during the day over a bathing suit but also turn it into a casual night time look with white skinny jeans and strappy sandals. The ones I have are from Schutz and under $200.
3. Denim shirt – Oh how I love Rails – their tops are the perfect length and fabric and look good over almost anything – literally. My favorite Rails shirt is currently on sale for under $100! I always throw one in my bag in case it gets chilly at night by the beach. It works with the more casual looks should it ever rain (thinking white jean shorts and a gray tank) but also looks chic (in my opinon) over a short dress and wedges.
4. Nail Polish – I'm a sucker for a bright nail color. The only issue is how noticeable chips are! Especially if I'm spending time in the water, my nails tend to start chipping in a few days. I've started carrying around 1 – 2 of my favorite nail polish colors in my makeup case for easy touch up throughout my time away. This may be a slight exaggeration, but I really do think that yucky nails can throw off a whole look!
Try OPI Cajun Shrimp
5. Moisturizer!!! – I have incredibly dry skin, so tropical destinations with lots of humidity are actually great for me (even with the sacrifice of my hair getting frizzy!) The only issue comes from spending time in the sun, which just completely dries me out. There are so many benefits I find from staying well moisturized… including longer lasting tans! I take the travel sized Clinique Dramatically Different Moisturizer with me EVERYWHERE and whip it out all the time mid flight while on the plane!
6. Clutch with color – I tend to pack a lot of neutrals for efficiency purposes (the more neutral colors you bring the more things you can mix and match!) A fun, colored clutch is an (easy to pack) and fun accessory to spice up any "all white" look (which I am a huge fan of)
Some other fun clutches are below:
7. Digital Camera – I recently started using a Sony CyberShot with wifi connectivity so I can snap high quality images and upload to my phone right away! I haven't owned a digital camera in quite some time and was so impressed with how small, light, and easy to use they are. iPhones are fantastic, but the picture quality on a digital camera is far superior.
Try the Sony Cybershot DSCWX220 with WiFi (which also makes a great holiday gift! … and comes in a pretty pink gold!)
8. "Mixed Match" bathing suits – Buying separates is a great way to get more "bang for your buck." My top pick of the season is this printed Zimmermann bandeau (on sale!) I love that the top and bottom are so different (yet work so well together) and could be mixed to wear with so many options of other bathing suits I already have.
Share the post "packing essentials: tropical weather getaways"